CEDIA 2009 Day One
CEDIA Expo 2009 was off and running on Thursday September 10. The two large convention floors in Atlanta are packed with displays and products. The focus, of course, is on video, home theater, home integration and, even, centralized vacuum-cleaning systems. Of greatest interest to audiophiles remains the obvious: we all need loudspeakers! (Well, perhaps not the vacuum cleaner systems.) Unfortunately, the buzz on the floor precludes useful auditions and is so great that even the dedicated sound-rooms suffer from excessive noise. So, you will understand that good looks grab my attention.
Two beautiful, new and special edition speakers stood out on Day 1. To celebrate their 30th Anniversary in the speaker business, Focal has introduced a special version in its Chorus line. Rather than jazz up an esoteric model, Focal adapted the "W" composite sandwich-cone woofer from their Electra and Utopia models for use in the the Chorus 826V and added a Satin Imperial Red finish to produce the Chorus 826W ($3495/pair). It is a showstopper.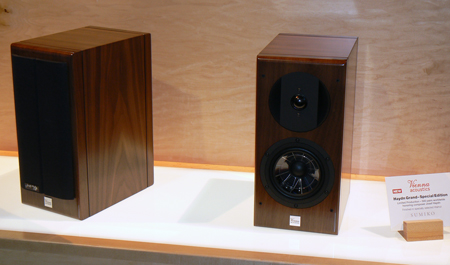 Another beaut is Vienna Acoustics' Haydn Grand Special Edition ($1800/pair). Only 500 pairs will be produced of this two-way stand-mount in a striking and elegant walnut veneer. How can something so small seem so luscious!