Music Lovers Audio Opens San Francisco Store
Don't bother to tell
Music Lovers Audio
that audio sales have slowed. At a time when many dealers have abandoned two-channel audio altogether or chosen between de-emphasizing music and calling it quits, this Bay Area audio retailer has opened a second store a mere 30 miles from the original North Berkeley location, across the Bay in San Francisco.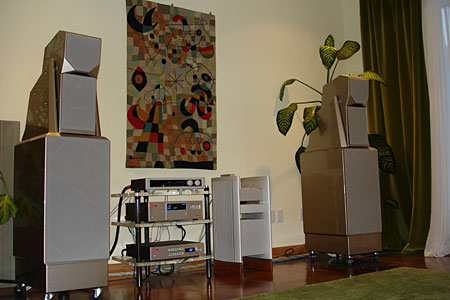 Despite having heard advance hype that Music Lovers' new San Francisco store is one of the five best retail audio outlets in the nation, I was unprepared for what I encountered. The huge lobby, which extends much of the length of the building, looks like something from the pages of Architectural Digest. Complete with modern lighting fixtures, beautiful carpets, handsome desks, comfortable chairs and stools, and accommodations for the handicapped, the only hints that it serves as an audio showroom are a plasma display suspended over the counter area to the right of the entrance, a gorgeous Pathos integrated amp and a pair of speakers tucked into an unobtrusive display niche midway down the long hallway, and a glass-enclosed "Lifestyle Room" at the far left end of the building.
The spare, modern look intentionally contrasts with Music Lovers' "very North Berkeley" gestalt. Co-owner Jae Wheeler describes that location as "a bit rustic, with a cozy, old feel like a vintage coffee shop." The original store's wood and earth tones match the look and feel of the area's older Craftsman-style homes, conveying the sense that music is inviting and warm. The Berkeley store may not be technologically up to the minute, but it's a comfy fit for the town's nonconformist, PhD-ridden demographic. The new San Francisco store, on the other hand, mirrors the larger city's feel and optimism.
"It's far newer and technologically hip," says co-owner Hugh Fountain. "Because we were able to purchase the building, we've had the freedom to create five distinctly modern showrooms that present the modern listening and viewing experience."
The names, dimensions, and residents of Music Lovers' five showrooms are:
"Audio Reference" (21' L by 15' W by 10' H)—Wilson Audio MAXX2, Halcro, EMM Labs, Nagra.
"Stereo" (16.8' L by 12.5' W by 9' H)—Conrad-Johnson, Levinson, Spectral, Wadia.
"Theater One" (a two-level, tapered trapezoid 23' L by 14' W by 9.5' H above lowest level)—Wilson Audio WATT/Puppys, other Wilson speakers, Revel in-wall speakers, Theta, Halcro Logic, Stewart screens, Runco projector.
"Theater Two" (a raked, two-level, tapered trapezoid 17.7' L by 14.5' W by 9' H above lowest level)—Arcam, Revel, Paradigm subwoofer, Runco, Stewart.
"Lifestyle"— (21.7' L by 16.8' W by 8' H);Hopefully demonstrating that you can enjoy good sound and home theater in a pseudo–living-room complete with coffee table, couch, front glass wall, side windows, Fujitsu plasma TV, and an equipment rack hidden way over to the side, this room includes a hodgepodge of electronics from Arcam and Music Fidelity, in-wall speakers by Revel, and floorstanding and bookshelf speakers by Paradigm.
"Our dream is to truthfully convey the experience of audiophile sound," Jae Wheeler explains. "Whether we're constructing a $5000 or a $250,000 system, we create the best-sounding room we can."
Most of Music Lovers' clients have read or plan to read reviews of the equipment the store carries, and they check out the Music Lovers website before or shortly after they drop by. While the majority of customers are local, some are tourists, some business professionals—even airline pilots visiting one of the biggest destination cities in the world. At a time when many shoppers prefer to purchase on the Web at discount prices, Music Lovers succeeds in drawing an educated clientele who understand that higher retail prices can come with dividends.
"We're a destination store," says Hugh. "People come because they want to come to Music Lovers. It would be a lot easier and more profitable for us to take a van around and say we install audio and video. Instead, we demonstrate in-house our ability to assemble really beautiful environments for our customers. This is our first opportunity to show the kind of work we've been doing in customers' homes for years."
"The value customers are the ones who really appreciate what we do here," Jae chimes in. "If it breaks down or it has a problem, we're here to help them, unlike people who sell via the Internet or telephone."
"The computer can't install it, service it, deliver it, or know where to put it in the room," says Hugh without missing a beat. "It can't get you a new remote control if yours doesn't work. Our emphasis is on service. The service we offer is worth more than 10% off the price. We have 12 employees, to enable us to keep up with technological advances."
Once a Music Lovers salesperson learns what equipment a potential customer owns and what more they'd like to experience, the staff proceeds to diagnose the situation, coming up with a different answer for each customer. Work may then shift to the customer's residence, where Music Lovers coordinates with architects and interior designers to ensure that the products sold fit the buyer's environment.
Music Lovers staff members visit more than 80% of customer residences at the time of purchase. Within two years of a sale, virtually every customer has received a follow-up visit. Jae, who once agreed to personally deliver equipment to a customer in Red Deer, Canada (in Alberta, between Calgary and Edmonton), swears he will never return there on January 2. "The snow doesn't fall," he says under his breath. "It comes from the ground up."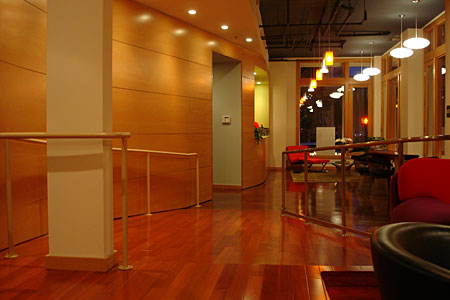 Hugh notes that "it's a total joy" to take a system to a customer's house and discover a diverse library of 1000 CDs plus a lot of vinyl. What he finds most interesting, however, is that these same customers feel "it's not kosher to audition high-end equipment by playing The Who or Led Zeppelin or the Stones." Perhaps because they've been conditioned by the typical demo at audio shows and showrooms, where the latest "audiophile quality" female vocalist or jazz trio CD is heard in room after room ad nauseum, they tote mostly audiophile quality discs to Music Lovers. At home, however, they listen to what they love, which often includes the Stones, Metallica, and a wide assortment of classical.
Over the last three years, Music Lovers' sales have shifted to roughly equal halves of two-channel and home theater. (The store claims to have given the first home-theater demo, at a Stereophile Show, in 1993 in San Francisco.) But despite the recent emphasis on home theater, the store's main focus remains the music.
"I always remind people that all these toys we carry are the window to the experience of music," says Hugh. "It's all about the music, and getting energy back from all the people who've spent years and years developing their craft. We want to connect with the emotional content of the music or the movie, and bring that to the customer's home."
When Music Lovers Audio began 16 years ago, most customers held musical enjoyment as their first and ultimate goal. Now many mainly want to own a fully automated system. "Younger kids are so hooked up to iPods," Jae laments. "I don't think they really recognize the quality of music. This country is so driven by marketing and inferior products."
Hugh acknowledges that it can take first-time customers a while to learn that they can sit in front of two speakers and have an emotional experience.
"There's a lot more to music than automation," says Jae Wheeler. "We go to homes with huge systems that cost hundreds of thousands of dollars and it sounds like a train station. The point of the music is missed."
Hugh Fountain agrees. "You'd never know someone has spent 25 years learning to play the violin. Eventually, if someone sees an explosion on the screen and it sounds like a Ping-Pong ball, they know there's a problem. Our job is to show people how to utilize the equipment they own to have a musical experience."