TMA: Business As Usual
On 28 July 2003, TAG McLaren Audio
issued a statement
saying that it had ceased the development of new products and was undertaking a full strategic review of its participation in the audio market.
The scrupulously worded statement, which, in light of the potential number of redundancies involved and the company's association with McLaren International, was drafted by lawyers, closed with a polite but, perhaps, ominous "TAG McLaren Audio would like to thank everybody for their kind support over the years." This provoked a great deal of speculation and rumour mongering, which CEO Udo Zucker was unable to counter because he, like everyone else at TMA, would not know the outcome of the strategic review until it was officially announced 30 days later.
When that announcement was made it revealed that, effectively, TMA would be carrying on business as usual. The company would simply be downsized to reflect its shift in focus to purely home cinema products.
Malcolm Steward: Your July 28 announcement created a lot of turbulence. Could the situation not have been dealt with in a way that would have avoided the speculation and panic that that statement created?
Udo Zucker: Under UK law, if you need potentially to make more than 30 people redundant you have to go through a very precise process, including informing people that you're undertaking a strategic review. That is what we did. What I would love to know—but will never find out—is what would have happened if we had kept that news within our workforce: it would have obviously leaked out and I wonder if that would have generated better publicity. When other companies in this position in our market have downsized their operations they have suffered bad publicity about possibly shutting down or not having any money. As a McLaren company, we could not afford that sort of publicity—especially when it was not the truth.
What we tried to achieve with that press release was to make people aware of what we were not doing. By the same token, it had to be very carefully formulated because of legal obligations and restrictions. Having said that, maybe there were too many lawyers involved in wording it. (Laughs) Nonetheless, it was full of positive statements but the market ignored those and focused on the negative inferences. We made no further statements other than to tell people not to jump to any conclusions and not to ask us for any further information because we wouldn't be able to tell them anything until the end of the thirty day review period.
Some journalists, unfortunately, didn't want to hear that. They didn't believe that we couldn't give them further details…because we didn't know any more. Only three magazines contacted us. That alone is sad: if I were a journalist and did not understand what was going on I would feel obliged to try to get more information—rather than simply speculate. Of those three parties, two published what I would consider to be a reasonable statement and the other did not. It waffled over two pages, making a lot of assumptions—including the really silly one that because there might be trouble in Formula 1 that could be affecting TMA. That's simply wrong. TMA and Formula 1 have nothing to do with each other. McLaren International is a highly profitable business…even if TMA sadly is not.
Other titles didn't even ask for more information: they just published what suited them to fill their magazines with something "exciting" during the quiet summer period. Even so, a lot of customers and retailers still didn't realise that anything was going on.
MS: I think the one comment in that press release that sparked off the greatest concern was the statement that there would be no new product development. Many people, I suspect, read that as a "going out of business" notice.
UZ: I would agree but lawyers tend to make statements that cover the worst possible scenario to avoid anyone subsequently claiming that they were misled. The lawyers couldn't imply anything: they had to wait for those involved in the strategic review to release their decision.
MS: Do you think that part of the problem is that our press and retailers are not used to dealing with companies that are in your position, companies whose responsibilities stretch way beyond the cloistered world of audio and AV?
UZ: I couldn't comment because I've only been involved in this industry for five years and I don't have sufficient insight into how it works. I've always made it my job to concentrate on making our products and not to get involved in what you might call the industry's politics. And being a foreigner hasn't helped in that respect.
McLaren isn't used to situations where it's necessary to make a significant number of people redundant. I can't remember any time when it faced potentially making thirty people redundant: when you have a factory like the McLaren facility in Woking, where you have many different activities housed under one roof, you can easily move people between companies when one of them needs fewer staff. Huntingdon is more exposed in that respect. Most of the people who work here couldn't move to Woking because of the differences in house prices. At the same time, there aren't many people at Woking who would want to move here—for reasons I can't appreciate because I'm a foreigner here…and it doesn't matter to me where I live because I'm always in the office.
I've seen over the past five years that it's almost impossible to move people. So I was faced with a situation where for 30 days we were threatened by the worst rumour mill, which might potentially affect other parties that are dealing with McLaren through our Formula 1 activities. I didn't want that. While TMA is important to our shareholders it is not so important to them that I could afford to let such rumours affect their core business. We sat in many meetings and asked ourselves what people could be concerned about. We were probably too close to it. We thought that if a customer bought a product, all he needs is service; that when there's a warranty claim somebody is there to honour it; that when a retailer orders a product, somebody can ship it to him. So, in our press release we basically wanted to say that "everything you know today is unaffected but we are questioning how the company will operate in the future."
And we're still questioning the future…but in a different way because we believe that the market is going through another series of major changes. In that respect TMA has an advantage over most other people in this business: we are in audio because we want to be in audio, not because we rely upon it for our living. Regardless, we are extremely concerned about the future of this industry for small-scale engineering companies in what is a rapidly changing world. I'll come back to this subject later.
If I'm honest, the customers were the only people who understood what we were doing and saying. We had virtually no negative feedback from them. We had a lot of consumers asking what the situation was—and we turned a lot of them into new customers. When they learned what we were doing, many of them appreciated our honesty and said that they were going to go straight to a retailer to buy a TMA product because they felt they could trust us.
As far as retailers are concerned, I would say we encountered three types: the retailer who was "on holiday" (and I say that just to inject some humour into this conversation); then there was the type who listened to our explanation of what we were doing and said they would stick with us; and then there were two chains of stores who dropped TMA straightaway…:one clearly making a decision without asking, which was pretty disappointing, and the other whose owner was on holiday and who suggested that there might have been some miscommunication and told me what message he thought had been sent to the stores in the group. The reality is that the message that was given by the regional managers of the chain was different. I have to say that today there are many retailers who are laughing for a number of reasons: primarily because those other retailers had sold TMA stock without making any money. This is great news for the consumers who bought it—I could never have sold it so cheaply. Some of those retailers were confused by how quickly our stock had sold because they had other manufacturers' stock that they'd marked down that hadn't sold. This showed that there was clearly consumer demand for TMA products that they had not satisfied.
We have not, despite rumours to the contrary, discounted any current product. In the process of reviewing our marketing expenditure, I discovered 230 units that had been used by our marketing department. Many had been stored away for years because after they had been used we didn't know what to do with them, so we dispensed with them through our website. We also told our retailers in March 2003 that we were going to be selling off some discontinued products that we needed to dispose of. These were the products that the retailers no longer wanted to sell.
MS: So you're saying categorically that no retailer has lost a sale because TMA has sold products directly.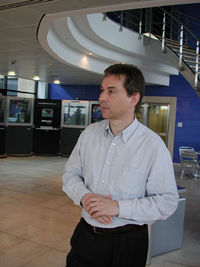 UZ: Yes. They have not lost any sales because we haven't sold any new or in-demand products. Certain dealers are simply paranoid about anyone else doing any business. The same people are incensed about people discounting…and they are doing that in their shops all the time. Everybody knows…What is their problem? We haven't sold any products that they were selling. They haven't ordered the products we sold directly since I can't remember when, because they thought they "weren't saleable." The fact is that you can sell anything. And those "unsaleable" products were good products; there may be better products—I'm not questioning that—and there may be products that are comparable or there may be better products that are cheaper—not that I know of any—but I do know that if your heart is in the right place you can sell anything that you believe in.
You would be amazed at how quickly we cleared our marketing stock. And, given the prevailing circumstances, I have to add that it was quite satisfying for us to see that you can sell a product that's five years old and not cosmetically perfect and still get more money for it than a retailer would pay for it when it was new. (Laughs)
To get back to being serious, during the review process—from the time of the first announcement to the day when we announced that TMA was to downsize—I have answered every e-mail, phone call and letter that came in. It took me almost 24 hours a day to do so and no matter what people asked me I never held anything back. At the start of the review process we wrote to our retailers and distributors immediately after we had informed our workforce. Then I shut down the telephone and e-mail systems for the rest of the day so that our people could recover from the news.
That evening, however, one of our UK retailers clearly had nothing better to do than to pass our correspondence to someone who's regularly found writing supportively of another AV brand on Internet forum sites—and he stupidly published it on the Internet without editing out the mentions of retailer margins, which were never intended for public viewing.
That encouraged a host of consumers to ask us if we could supply them directly because they objected to the percentage that retailers made from sales.
I explained that this process is not about saving the retailer margin. It's about asking ourselves if the chain of distribution is geared up for the high amount of technology you need to put in products today to stay at the forefront. I always explained that my belief is that the solution is higher retail prices. You cannot produce something of very high quality that requires a lot of technology but has a small market size—because of the cost but more because of the demand—if you don't have your prices adjusted. I explained exactly how the pricing structure works because what we apply—which is based on what Audiolab did—is the same as that of most other companies.
Other people have suggested that we might start selling on the Internet. They clearly never read what I have written. I've always said, quite categorically, that we're not interested in selling on the Internet. TMA is in the business of making products that are in demand; it's just struggling with its distribution. So, we can either look at the cost base or look at the distribution or look at the whole business…but you would be naive to think that the Internet would solve those problems. Of course you would find a few customers on the Internet who would buy if they were offered a discount, but we're not prepared to discount. We've had customers wanting to buy from us because they didn't have a retailer and we've told them that they had to pay full retail. At no time have we taken anything away from our retailers.
MS: Will TMA be changing its price structure in the future?
UZ: Yes. Although it is difficult to change the price of products that are in the market we will have a 10% price increase—on products that our customers have shown us offer good value for money—on October 15. Ten per cent is not a lot but it's extra money that will be moving in the right direction.
MS: Will that be 10% more for TMA alone?
UZ: No, that's 10% at retail price so the dealer profit also increases.
And there's something that I can't understand—why some retailers don't appreciate the difference between percentage and absolute value. If you offer them an expensive product on which they'll make £3000, they'll ask what the percentage is. If you say "20" they will say it's not a good deal. If you then offer them a product and tell them that they'll make 50 points on it, they'll say "That's great,"—even if it's only a £50 product.
In my opinion, as the product price increases the margin ought to go down—and in most businesses that's what happens. In our case, when we increase the retail price, the whole chain benefits.
MS: Surely that argument only works in a market where demand is completely inelastic?
UZ: When you look into the market for AV processors, which is our core market, you see that there are products ranging from those offering very low value for money to those offering very high value for money but there's no logical scale assigned to it because the audio industry doesn't work objectively. It works highly subjectively, often according to product reviews. As a result, people will buy products that offer poor value for money so long as they're "endorsed" by magazine reviews. I'm not criticising retailers here because they can sell anything provided they believe in it. I'm just talking about those sales generated by the way this business seems to run…advertising, editorial, awards and so on.
We have invested an awful lot of development time and money in our AV processors, and we put a lot of value into all our products: the buyer gets a huge amount for his money. Unfortunately, when we began we were influenced by the sense that we weren't a much liked company, so we launched the AV32R at £2000, which was a ridiculously low price. We realise that today. Now we have the AV32R Dual Processor that has features you'll only find—if you find them at all—in much more expensive products. We know what other manufacturers' costs are compared to their retail prices and that shows me that we have got it wrong—not other manufacturers but us: we have got it wrong. Our retail prices are too low for what we're providing. We can't correct that situation with products that are already in the stores but it is different for new products that aren't yet in the market.
Now we're looking at each and every product and considering how much development it has taken, what size market potentially exists for it and, hence, what is the return we can expect, before we set the price. If the customer doesn't like that price, so be it.
We're talking from a much stronger position now. We are also going to stop supplying free software upgrades: we are going to charge for them. We have customers who bought products in 1999 and can still upgrade them for free today. It's no longer sustainable. I'm sorry but our customers have to understand that the company has to pay salaries to the people who develop those software upgrades.
MS: You knew that at the outset, surely?
UZ: Yes, but the world was a very different place before 2001. Our turnover was growing nicely until the events of that year. Now all the world's markets—Asia, America, Europe—particularly Germany—are in decline or depression. The situation in the UK is far more positive than most. It might not feel that way but that's the reality.
Since 2001, although TMA had increased its turnover by about 10% each year, it hadn't grown in a real sense, and we had become increasingly concerned. So, in September 2002, when we sat down to define the budget for 2003, we couldn't agree because we didn't know what to do to halt what was looking like a downward spiral. We just hoped that the decision would be made for us; that the market would surprise us and recover. Things looked promising initially: January, February and March were 25% up on the previous year…and then the UK and USA decided to go to war in Iraq and everything plunged. Then we had a very hot Summer, which slowed things further…the market has yet to recover.
The market is down everywhere and the distribution has to change; the end prices have to change. In my opinion, it's no longer acceptable to spend a lot of money developing a product, such as a £2500 AV processor, to make £400. That's just not good enough.
One company proudly declared a while ago that it had spent $1,000,000 developing its AV processor. I would say that's not enough. The real cost of a highly qualified engineer alone can be more than £70,000 a year. For fun we worked out that, given how many people worked on that processor, the engineers must have been paid next to nothing or have been working part-time.
You can't escape the fact that this is a high-cost business—and in a high-cost business you have to set a realistic retail price. Some people have got that message. When I look at some imported amplifiers, which are sold here for over £10,000 a piece, I know that the manufacturers' margins are significantly higher because the component cost and development costs only represent tiny fractions of the cost of developing an AV processor. And what are the license costs? Zero.
MS: You told me that you have concerns for the future of all small-scale, specialist manufacturers.
UZ: Yes, I do. When you look at DVD players you find that there are very few small-scale manufacturers who have built players from first principles—I would guess just Meridian, Proceed and TMA. I would say we used a most advanced chipset then, but it can't do DVD-Audio and all further development on the chip has been stopped by the chip manufacturer. So let's imagine that these and other companies want to build a new player: they have two options—they put, for example, a modified Pioneer player in a different box, stick their badge on it and sell it for $30,000 as one high-end company has done, or they can build a universal player from first principles. The first thing they'll find is that it's not easy to get access to the software development kit to accompany the necessary chips. The companies who provide that will say that they don't have the facilities to provide support to customer companies' engineers: "We can give you the silicon but what will you do with it? You don't have the skills to work with it." We are very lucky, as we made a DVD player before and have been able to obtain a SDK from ESS, which is one of the leading chip manufacturers now in the market.
Then you need a drive, and, as far as I know, there's currently only one in the world that's suitable for an ESS chipset for a universal player. It comes from Sony who, when we approached them, told us that they would not supply any OEM manufacturers other than Linn. So, we looked at Linn's OEM solution and found that it cost more than the whole bill of materials for our DVD player.
For these and other reasons, I will almost guarantee that as new technology arrives there will be no access to it for small-scale manufacturers because the technology needs to be restricted, for reasons I'll explain shortly.
The good thing about universal players is that very soon the source component will make little difference to the performance of the system because it will be possible to get a true copy of the data on your disk from any player without the problems introduced by trying to transmit and rebuild data and timing information as we did with the CD player invented 25 years ago.
Soon consumers will be able to buy a player from a mass-market manufacturer that will output a true copy of the data on a disk. No specialist manufacturer will be able to add significant value to that player. The data will come out of the player in such a way that those manufacturers will not be able to access it—it will be securely copy-protected. If they don't have access to that technology the data will be useless. You might say that that is not a problem and that manufacturers will buy it. They will—if they can afford it. And licenses aren't cheap but you need them if you want to make a player.
And don't be mistaken, while in the past some small scale manufacturers might have got away with not complying with all licenses and rules, they will not in the future. Without complying with the copy protection laws your product becomes pretty much useless.
MS: By "rules" do you mean the way technology was implemented—things like the Red Book standard?
UZ: I'm thinking of things like Macrovision, for example, which is so easy not to apply it or to strip it off your DVD player that many people did just that. And if the manufacturer didn't do it then someone in a garage would remove it. But with HDCP (High-bandwidth Digital Content Protection) and HDMI (High-Definition Multimedia Interface) that's no longer possible. If you have access to that technology you will have to comply with it 100%: if you don't apply it properly your equipment won't work. Macrovision, in my opinion, by comparison, is a relatively primitive technology. Even though you have to pay an annual fee of thousands of dollars to use it, it can be circumvented for a few pence. However, HDCP is a protocol with complex devices handshaking in each component: individual devices that are assigned to, and can be traced to, the manufacturer. With HDMI the company even certifies that your products are in compliance.
It will become extremely difficult for small-scale manufacturers to access those technologies and if you have any product within the chain that doesn't comply then the chain will no longer work.
The world is changing and when we see a push towards, let's say, blue laser technology or HDMI, it's not driven by any desire for better sound quality: it's solely because the technology can apply copy protection effectively.
That's why we haven't built another DVD player. All we could add was DVD-Audio but we couldn't output that digitally, so there was no sense in doing it. In a while, when the appropriate technology is available, everything that has been produced to date will become obsolete overnight. It won't be upgradeable. The statements made by many companies about the upgradeability of their products will, in most instances, be proven untrue.
We, of course, have taken upgradeability very seriously but, unfortunately, I think the way we did it was commercially a mistake. We should have said "You can upgrade but it will cost you money to do so. And if you don't want to upgrade that's fine—buy a new product." So we kept the customer online but what would potentially have been a very competitive edge didn't work out because retailers weren't able to pass it on in such a way that everybody would have selected our products.
You could ask why I haven't yet said anything about sound or video quality. That's because I guarantee not a single one of those who say that these are the differentiating parameters could prove that in a blind test given the quality levels companies can achieve in high-level products these days. There comes a point where there's no return in sound and video quality and other important elements, such as user-friendliness, ergonomics and upgradeability, enter into the equation.
MS: Aesthetics, pride of ownership?
UZ: Yes, and having an Internet discussion forum, the feeling that the company cares about you as a consumer, that it can provide upgrades…. Things like this are, I think, essential. But the retailer needs to understand that and convey that to his customers. Retailers have said to us, "We like your AV processor but we prefer to sell it with the Meridian DVD player." The only problem with selling those products together is that because the Meridian player uses some pre-amplifier remote control codes you can never use them together properly: one remote controller will activate both products at the same time. We had dealers who sold Naim amplifiers with our AV processor and ended up with consumers who were unhappy because the processor wouldn't automatically switch on the amplifiers—obviously, because the TAGtronic bus doesn't work with Naim amplifiers.
So we encountered lots of incompatibility. And I'll bet that if you visit retailers, some of them won't have set up our products using the TAGtronic bus so that they can talk to each other. They can't, therefore, demonstrate to customers how easy it makes things if when you turn on the radio, that starts up the AV processor, which then switches automatically to the correct input. My wife—and I'm sure she's not alone in this—thinks it's completely illogical to have to press buttons on several boxes just to listen to the radio. Today's customer expects logic and ergonomics that the majority of hi-fi products don't have. We provide that but it cost a lot to develop the system and software. Our DVD player, for instance, tells the AV processor and video scaler that you have inserted a 4:3 disc or a 16:9 disc so that if you have a motorised screen the blinds can mask it correctly or the scaler can adjust the image as required. No other DVD player, of which I'm aware, does that.
MS: But that's only within the context of a complete TMA system?
UZ: Yes, but the TAGtronic bus—unlike those with which I'm familiar from other manufacturers—is an open platform. We have published the communication protocol to enable other manufacturers to be able to talk to TMA products. AMX can already control TMA products via the TAGtronic bus. Crestron is also implementing it. It's not a complex protocol but it has more power than RS232, which is a point to point connection, which sends a few messages only. Whereas TAGtronic is a multi-device system that allows you to have 256 devices communicating freely over the same bus.
Unfortunately, we have not always been able to pass on all of our products' features as the retailer is between us and the consumer. There are, however, some really good retailers who have got the message but there are too many who still want to talk to their customers about retro stuff—"Take a listen to the subtle difference in sound quality that this cable makes."
MS: We've just spent a lot of time talking off the record about highly technical stuff. Just to give my brain a rest may I switch the subject and say that as a person you have become significantly more approachable and relaxed since we first met? I think many people viewed you as arrogant and expected more humility from a company that was a newcomer to the industry.
UZ: I think the older one gets—and I mean that in terms of gaining experience—the more one realises that things have their own pace and one can't affect them as much as one would like. Having said that, quite a few people I have dealt with and worked with in the past were often very surprised at how different I was outside of work.
I think what you saw in the early days was a reaction to the overwhelming amount of negative energy that I was exposed to when TAG McLaren entered the audio business.
The last few weeks (the strategic review period) have been very helpful and worthwhile because primarily we are now refocused: we accept that things cost us an amount of money to produce and that if people don't want to pay for them, then they're probably not worth doing.
Secondly, people don't believe me when I say that I did not know the outcome of this strategic review until it was announced—nobody did. Waiting for the outcome of a review like that tends to make you reflect: were you actually following a dream? Did you try to do something that you wanted to do but couldn't?
Everything I had done before TMA was successful. I don't know if TAG McLaren Audio has been successful, but one thing I know for sure is that it has not been unsuccessful. Our consumers believe that we have made great products. The majority of people who have an opinion about our products—one that is not affected by relationships—have recognised that the AV192R is an absolutely outstanding piece of engineering—and if it hadn't been designed for upgrades we could have made it even better. It just won Audio Video Interior's "Excellence in Design" award at CEDIA USA. There were so many positive statements that I had to say to myself even if the company had to be erased I would not feel too sorry about it because the elements I had under my control were properly done. Having said all that, it would still have made me very upset because self-sufficiency is an essential part of success and obviously we haven't achieved that yet.
MS: Are you pretty confident that you will ultimately be successful?
UZ: I do not know at this time how long it will take, to use the marketing expression, to regain confidence. How long will it take the retailers to understand that if what we make doesn't sell then there's no need for anyone to make those products any more. That's basically what it is. There is not a single doubt in our mind that if the market doesn't pick up—and now that market can be smaller because we have downsized—and become sufficiently large to make TMA sustainable then we will have to close.
But every other company will have to close if there's no market. And people should not interpret that as anything other than a simple statement of fact.
MS:: So what else does TMA have to do now that it has downsized and refocused?
UZ: After the downsizing there's only one cost factor that's not under our control that is this building. But it's our building although we rent it from McLaren. We are looking for a tenant because we simply do not need all this space. I have to find someone to share it—which is something for which it is ideally suited with separate entrances and easily divisible floor space.
MS: Would you consider, if it would provide a substantial cost reduction, outsourcing your manufacturing?
UZ: I don't think it would make any difference because most of our manufacturing is already "outsourced" to TAG Electronics systems. All we do here is assembly.
MS: Will your loudspeaker production continue?
UZ: Yes, because our speakers are all made to order.
MS: One of the rumours that I heard was that TMA was only continuing in order to sell of the remaining stock.
UZ: Why would we do that when the value of the stock is inconsequential in relation to the value and reputation of McLaren.
MS: In talking to retailers one element that is possibly seen as a weakness of TMA is that it has not developed the strong personal ties that some other brands have worked hard to develop.
UZ: I wouldn't say that. We have relationships just as everybody else does, but we run the business as a business. I would never dream of spending my business hours socialising: it's not in my nature. Our reps have certainly built relationships with retailers. The only problem is that building worthwhile relationships takes much longer than the few years we've been in business. We may have made some mistakes over the years but hopefully have learnt from those now: the key point is that the retailers who have stayed with TMA are the ones who are definitely more in tune with us.
MS: Do you have any final comments? And I'm sorry if that sounds like the words of an executioner.
UZ: To be absolutely honest, I sometimes think that we should never have entered this business in the way we did. We, as TAG Electronic Systems, could have made a special product and offered it in specific, small outlets at ridiculous prices. Then we would have been able to demonstrate what we wanted to do.
Instead, the mistake I made—and I am the only person who is responsible for the decision—was to buy Audiolab. By doing so we entered the "normal" market and we suddenly had its expectations thrust upon us. And we just couldn't get into what we saw as its tremendously unprofessional, small niche market ways of doing business.
MS: Is there a silver lining to the cloud that's been hanging over TMA?
UZ: We are in a much better situation now than before. We've had a lot of very cheap PR: we've had the market talking about TMA from dusk to dawn; we've had a lot of retailers having to say we were either focused or defocused; we've had a lot of new customers gain by buying TMA products that were dumped into the market at stupidly low prices; we've sorted out our distribution problems in Germany and the USA such that those markets no longer present a risk to us. So I think we are in a better state than ever. We have good products, we know what we want to do, and we are a leaner organisation.
MS: And what's the position regarding new products?
UZ: Tomorrow at 9pm we will announce with Dolby a new format, which will be in our new processor and which will be at the show in the US. It will also be available as an upgrade to our products—Dolby Pro Logic IIx.
We have a few other things coming. Of course, the cynics will say that we have developed this over the years and kept it in a cupboard until now. In fact, the software was developed in the last few weeks—it's not even certified—because Dolby did not have time—so we can't ship it for another few weeks. Every AV192R or AV32R DP processor shipped after September 1, though, gets it for free as an upgrade.
MS: Can you clarify the situation regarding how TMA will be affected if Mercedes Benz takes a bigger shareholding in the McLaren Formula 1 team?
UZ: That's simple. The answer is there'll be no change whatsoever except that the TMA shareholders—who also happen to own the F1 team—will become considerably wealthier. TAG McLaren Audio is an independent company.
MS: So, after the recent "restructure" there's still going to be product development?
UZ: Yes, of course there will. Otherwise our technical director, our chief software engineer and our designers can all expect a kick in the arse. (Laughs)