Linn's Akurate Line
If you've been hunting for loudspeakers that sound fantastic, look gorgeous, and don't require a second mortgage,
Linn Products, Ltd.
may have the solution.
On August 14, the UK audio company launched its new "Akurate" series of high-performance loudspeakers at Definitive Audio's sleek showroom in Seattle. (The company has more than 120 US dealers, and more than 500 worldwide, according to public relations manager Brian Morris.) Consisting of a full-range five-way column speaker (model 242), a compact 4-way minimonitor (212), a subwoofer (221), and a center channel speaker (225) the Akurate line is the result of more than a year's development work, according to Phillip Hobbs, who led the five-member "forward engineering team" that brought the speakers to life.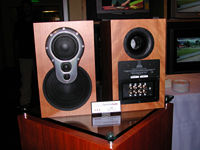 Based on Linn's heavyweight full-range model the Komri, Akurate speakers were created with the goal of combining world-class sound with a reasonable degree of portability, Hobbs told a half-dozen hi-fi and home-theater writers assembled for the debut. That goal appears to have been achieved—the Akurate 242 sounded wonderful during an afternoon listening session, and weighs only 32kg (70.5 lbs) compared to the Komri's 80kg (176 lbs).
All Akurate speakers, save the subwoofer, share a unique integrated high frequency/midrange assembly called the "3K Driver Array"—a Euro-styled non-resonant metal flange sculpted to accommodate super tweeter, tweeter, and midrange driver, spaced as closely together as their high-efficiency niobium magnets will allow. The 3K array's tweeter pair is mounted over a scoop in the Akurate speaker's front baffle, a unique arrangement that reduces "image smearing" caused by high frequency reflections, Hobbs explained. The close spacing of the tweeters and midrange drivers lets Linn achieve what Hobbs claims is nearly ideal vertical and horizontal dispersion. The audible result is an image both huge and precise, and an exceptional ability to reveal layers of detail. Among the several demonstration pieces we heard was "Down To The River To Pray," (sung by Alison Krauss and a large chorus) from the O Brother, Where Art Thou? soundtrack. I had never heard the individual voices of the chorus so clearly revealed.
In the 242, the 3K Array resides above a pair of 6.5" bass drivers, made with a stiff "sandwich cone" comprised of three differing layers of polymer. One woofer rolls off at 250Hz, the other at 500Hz, with separate tuned ports for each woofer and differing crossover slopes—all designed to generate the smoothest, deepest bass possible given the limitations of the cabinet volume. Low bass isn't the 242's strong suit: The Akurate spec sheet lists a bottom end limit of 49Hz in "passive" mode and 40Hz in "active" mode (Linn typically uses the designation to differentiate between internal (passive) and external (active) crossovers). Multiple inputs allow for bi- tri- or quad-wiring or amping, and a separate set of inputs provides bass boost when the speaker is to be used in a large room.
The 242 has a volume of 42 liters—hence, the model designation, with the first "2" indicating that the Akurate line was the second iteration in a product development cycle. (Hobbs wouldn't reveal what the first one was, but we inferred that it didn't see daylight.) The 212 minimonitor has a volume of 12 liters, and one woofer; the 225 center channel has the same driver array as the 242, but a smaller volume cabinet with horizontal orientation. The 221 "bass extension speaker" is a cubic-foot enclosure housing an 8" high-excursion woofer and an internal amplifier claimed capable of 1000W peaks. The little powerhouse can reach as low as 10Hz, Linn's Bill Armstrong told us.
If the all-Linn two-channel system we heard first—Sondek CD-12 disc player, Klimax Kontrol preamp, Klimax power amps, and Akurate 242 speakers—was a paragon of transparent audio, the company's surround system was the definition of impact with elegance. Set up in Definitive's beautiful home-theater room, the system included a pair of 242s up front, a 225 center channel hidden below a large screen, a pair of 212s in the rear, and a 221 subwoofer, also hidden below the screen. More than 50' of Linn speaker cable snaked through the ceiling back to a rack full of Linn electronics, including the company's new Unidisk 1.1 universal disc player and new Kisto surround sound processor/preamp. The whole setup was Linn's "first 5.1 system out of the factory," Hobbs said.
Armstrong explained that they had wanted to demonstrate that an all-Linn system could compete with the best home theater gear at any price. A demo clip from The Matrix went far to validate that. The Akurate 242, with integrated aluminum stand, is priced at $9495/pair in black, or $9545 in cherry, maple, or rosenut. The 225 center channel is $3750; the 212s are $5750/pair, with optional bolt-on aluminum stands available at $450 each. The 212 subwoofer is $3750.