2003 CES, Day Four
Quad's David Patching was all smiles as he showed off the company's new CD player, called simply the CD-P. No SACD or DVD-A, said Patching, who says they'll wait until either a ton of high-rez discs are sold (not just produced) or until the format war is over and a clear winner emerges.
In the meantime, the CD-P sells for $1500, and unlike the previous Quad CD spinner, has its own power supply. It is based on the top-of-the-line Philips laser mechanism, which has the added benefit of playing unfinalized CD-Rs and CD-RWs. The player also sports a Crystal delta-sigma hybrid DAC that employs 2x upsampling and can operate at 24/192. Patching says this has clear sonic benefits and also allows the player to serve as a DAC with upsampling for other digital front ends. The CD-P has six digital inputs, switchable from the remote, and a variable output that is run through an analog control.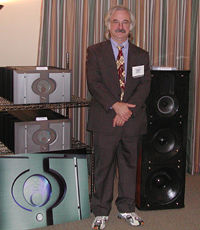 Pass Labs has created a new active speaker, the Rushmore, which will be available sometime in March for $40,000/pair. What makes this design unique are the special Pass amplifiers built into in the cabinet that power each of the four drivers: three Aleph amps for the top three speakers and an XA for the woofer–each driven from a four-way active electronic crossover. Each 250 lb. speaker has a frequency response extending out to 40kHz, and includes a 15" woofer, 10" lower midrange, 5" upper midrange, and a 4" ribbon tweeter.
Other new speakers at the Alexis Park include Chesky Audio's first venture out of the software garden and into the hardware jungle in the form of the C-1 loudspeaker. Priced at $5500/pair, the new design utilizes two 6.5" woofers and a 1" cloth dome tweeter. The cabinets are both simple and sleek.
Silverline's Alan Yun had two new models on display: the flagship Grande La Folia at $28,000/pair and the more modestly-priced Bolero at eight grand. The Bolero on hand featured a gorgeous one-off special finish called Tiger Wood ("not the golfer!" notes Yun) coated with a "piano" finish. The Bolero, driven by Conrad-Johnson electronics, sounded promising—even in its small room.
VTL introduced what it terms a "revolutionary" new reference series amplifier, its 800 watt all-tube monoblock "Siegfried." The company calls the $40,000 amp a "smart" product, since it uses "intelligent logic" to monitor and adjust its electronics (including tube biasing). This provides continuous, real-time feedback of performance parameters and automatically self-adjusts to maintain optimum settings, according to the company, dramatically improving sonic performance and extending tube life.
Next, we headed to the San Remo hotel where we first stopped into see and hear the new Edge Reference Mono Block Amplifier from Edge Electronics. Built as an imposing silver pyramid, the amp, available this week, retails for $75,000/pair and produces 800W per unit. The sides of the pyramid also function as heatsinks, which appear as sculptural vertical waves rising 33" to the top. The amp's power supply consists of dual toroidal transformers which are "quad filar-wound, high-nickel content cores with electrostatic shields."
The amps were hooked up to a one-off speaker design created just for the show by Edge's Steven Norber. The entire system was extremely dynamic and detailed yet smooth even at loud levels.
Audio Research was showing off a prototype preamp design in order to get feedback about putting it into production. Clearly aimed at the multi-channel high-resolution enthusiast with multiple sources, the product is called the MF-1 and features three sets of up to eight inputs (including one balanced set), along with several stereo pairs and one set of up to eight outputs. AR's Terry Dorn explained that each channel was on a card, so that the preamp could be ordered stock with five channels—at any time, any or all of the open slots could filled. Dorn also pointed out that the entire circuit path is analog and discrete, with absolutely no digital processing. Projected retail, providing ARC goes ahead and builds it, will be around $6500.
Finally, we ventured into the Halcro exhibit, which earned raves last year. We were not dissapointed, since the company introduced its new preamp, which is known as either the dm8 or the dm10, depending on whether or not it contains a phono stage. The company had two rooms going: one devoted to two-channel; the other to surround. The two-channel room featured Eggleston Works Savoy Reference Speakers mated with four Halcro dm68 Super-Fidelity power amplifiers. Completing the system was an EMS preamp and Phillips 1000 SACD player, custom-modified by Ed Meitner.
The multichannel room featured Wilson Audio speakers exclusively, powered by Halcro amps and the new preamp, as well as the Phillips/Meitner combination and a turntable as the front end. The dm8 is now shipping and will retail for $13,000, while the dm10 with phono section (Halcro's Bruce Candy calls it a "world-class piece") will go for $16,000. Both preamps have remote control. They were under development for two years, and, as with their amplifiers, the Halcro preamps feature incredibly low distortion specs.