2003 CES, Day Three
Back to the Alexis Park for a press conference with Classic Records, which has decided to release its first DVD-Audio disc around February 15. Classic was one of the very first labels to take advantage of the original DVD specification's ability to hold a 24/96 two-channel audio track, and it started releasing DAD discs exactly five years ago. The company's first DVD-A release will be the Vanguard title
Songs of the Auvergne
, which will feature a 24/192 two-channel DVD-A track and 24/96 two-channel DVD-V track.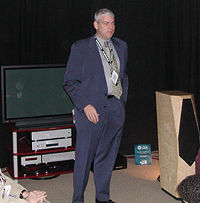 Classic's Mike Hobson says that the decision to jump into DVD-A was not made lightly and that he consulted many technical experts in the industry, not to mention mathematicians, before determining that PCM was the way to go. He then got together with Muse's Kevin Halverson and developed a special battery-powered analog-to-digital 24/192 converter in order to master his discs.
Hobson also announced that his label will be releasing about a dozen discs over the coming year, with titles from Pete Townsend, Procol Harum, Vanguard's catalog, and other sources. Hobson did suggest that he would be doing multichannel discs in the future, if the multichannel mix was available. As an example, he mentioned Vanguard's recording of Berlioz's Requiem which exists as a quadrophonic master.
Because Songs of The Auvergne is a relatively short work, Classic will not be using MLP, nor will they add watermarking or include a Dolby Digital track. Hobson stated that his goal was to present his DVD-A's in a manner "faithful to the LP mix."
Mobile Fidelity Sound Lab is jumping back into the audiophile market in a big way, and has so far released several SACD titles including Isaac Hayes' 1969 release Hot Buttered Soul, Sonny Rollin's 1957 recording plus 4, and Dave Alvin's more recent Blackjack David. The company also exhibited some advance SACD pressings of the Kinks Low Budget, which features not only the original British mixes, but bonus remixes as well. Mofi's John Wood says the company has its eye on some other Kinks works for future release.
Also attending a small get-together in the MoFi suite was Ed Meitner from EMM Labs. Meitner had with him his DAC6 six-channel D/A converter based on the same technology used to encode the DSD tracks for the MoFi SACD releases. The DAC6, available now, retails for $6500 and uses a proprietary optical glass interface to receive the data from a specially modified SACD transport. Meitner explained that the converter also uses an optical link to send sync back to the transport so the two can be run from the same clock without any electrical connection.
AIX Records had its complete collection of DVD-Audio discs on display, and they were also promoting a brand new DVD-A sampler and test disc that includes just about every variation the format offers. AIX was also selling their Nitty Gritty Surround DVD-A which took the first place prize at the recent Surround Awards. Sharing the booth with AIX was Hi-Res Music which was featuring its brand new DVD-Audio release of the Ray Brown Trio's Soular Energy.
The Acoustic Sounds booth featured the five new Creedence Clearwater Revival SACD titles, as well as piles of audiophile LPs, CDs, and DVD-As. The company's Chad Kassem was particularly excited about the "TOP 25 titles from Fantasy" 45 rpm vinyl reissues, explaining that over 250 of the 1000 discs being pressed of each title have already been pre-sold. These classics will include Sony Rollins Way Out West, along with titles from Thelonius Monk, John Coltrane, and others.
At the end of the day, Sony and Philips held their SACD event at the Hard Rock Hotel and announced that 15 Bob Dylan titles, several Police discs, and Pink Floyd's Dark Side of the Moon will all appear on SACD in 2003.