Canadian Audio Report
Is it the low exhibitor rates? The excuse to visit Montreal, perhaps North America's most cosmopolitan city? The efficiency and charm of organizer Marie-Christine Prin and her assistants? Whatever the reason(s), Montreal's
Festival Son & Image
has become a real success story, attracting an ever-increasing array of exhibitors and audiophiles from far and wide. Last year, the Festival spilled over from the downtown Delta Hotel to the Four Points Sheraton across the street; this year, there were exhibits in the Holiday Inn next door as well.
The Montreal show may have changed its moniker to read Son & Image rather than just Son, but it remains, in its essence, an audio show: Home-theater exhibits were featured in only a minority of rooms, and the busiest rooms were the ones devoted to two-channel stereo. And tubes—boy, were there tubes! Signs in the Manley Labs exhibit said "Tubes Rule," and that might have been a slogan for the entire show. EveAnna Manley herself was on hand, demonstrating a wide range of Manley products; the one that caught my eye was the Neo-Classic SE/PP 300B monoblock ($11,500—all prices are in CN$, unless otherwise specified), switchable from single-ended (11W) to push-pull (24W), with variable feedback. Cary Audio's new "Rocket 88" CAD-808 ($3995) offers a choice between Ultralinear (40W) and triode (20W) modes.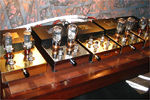 Coincident Speaker Technology has been doing well with their latest high-sensitivity speakers; they now have matching amps: the SIP300B integrated ($3749) and MP300B monoblock ($5499/pair). Crisp, dynamic sound was the hallmark of Coincident's Victory loudspeakers ($6999). Montreal-based Tenor Audio has four amplifier models, all using the Russian 6C33C output tube in various configurations. The 75 Wi is an "integrated mono" amplifier (volume control on each chassis), US$19,900/pair. The 6C33C is also used in Phoenix Acoustics' new SE-15 amplifier (US$10,000/pair), which features a proprietary polarized output transformer. Although rated at only 15W, the SE-15s had no trouble driving Meadowlark Shearwaters cleanly to prodigious levels, providing good bass extension and tightness. Audion has tube amps using a variety of output tubes, with different models designated as "extended triode," "super extended triode," "parallel extended triode," and "self-canceling."
Jolida is known for their ultra-affordable tube electronics, so for them the US$5400/pair 3000A amplifier represents a major move up-market. It's a 200W monoblock using two 211 output tubes per channel in ultralinear mode. Set to go into production in April, the 3000A gave an excellent account of itself driving the 81dB sensitive (and very good-sounding) Cliffhanger Audio Bulldogs. The companion 3000B stays true to Jolida's roots by being priced at US$800.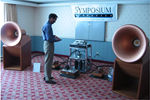 Tube amplifiers of the single-ended triode variety are associated with horn loudspeakers, and there was a good selection of these at the Festival. The very striking-looking Moondog Audio Maya Horn ($24,995, 106dB sensitivity) was being driven by Moondog Audio's own Yote ($6595) 2A3-based SET amp.
But the Festival was not just a tube fans' love-in. A line of high-quality solid-state electronics that is not distributed in the US yet—but, from what I heard at the Festival, certainly deserves to be—is that by MDG Audio. Their latest product is the Accolade Integro 80 ($2700), a 75Wpc integrated amp that—wadda ya know—uses tubes in the input stage. One of my most pleasant listening experiences at the show was listening to a pair of Opera Super Pavarottis driven by the Accolade Integro 80, with an ancient Audio Alchemy CD player as the source.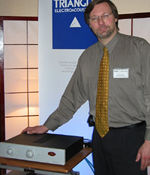 Another tube hybrid integrated amp that impressed me greatly was the Unico from Unison. (I have to thank www.soundstage.com's Marc Mickelson and Doug Schneider for alerting me to this product, which I missed on my initial go-around.) Built in Italy to the same high standard as other Unison products, the Unico has an output of 80Wpc and features an RF-operated remote, so it can be controlled from anywhere in the house. Although not yet broken in or warmed up, the Unico still sounded very good with the Triangle Celius speakers. At US$1295, the Unico seems to offer exceptional value.
In addition to the Triangle Celius, whose sound in this system and in two others at the show provided support for the praise heaped upon it by Sam Tellig, there were a number of speakers at the show that impressed me. Verity Audio's floorstanding Parsifal Encore sounded smooth, wide-ranging, and dynamic with YBA equipment, with the Tenor monoblocks, and also with Bel Canto's electronics. The smaller Fidelio sounded terrific with Balanced Audio Technology's VK-300x integrated amp and VK-D5SE CD player. High sensitivity (94dB) and sophisticated technology (custom-built Supravox woofer, HiVi ribbon tweeter, unique cabinet shape) are offered by the very promising Maät (US$6500), from Maät Audio Group, headed by Jacques Riendeau, formerly of Oracle. And I heard consistently natural, exceptionally well-focused sound from the Amphion loudspeakers from Finland. The price for the top-of-the-line Xenons is only $5000. They look great, too.
Judging by the size and enthusiasm of the crowds, the 2002 Festival Son & Image was a rousing success. Marie-Christine Prin should feel proud.