2002 CES Day Five
The last day at CES always feels like one of those half-days at school: you may be getting out only a couple of hours early, but everyone starts thinking about going home way before the bell rings. Nonetheless, the die-hard audiophile exhibitors were working up to the last minute and confirmed that show attendance increased steadily right up to the end.
Inspired by a story on the importance of impedance matching by Hervé Deletraz that appeared in the November issue of Stereophile, PBN audio's Peter Noerbaek showed a prototype preamplifier and modified Everest power amp with what he called "true 75 ohm" input and output capabilities. Noerbaek offered a very convincing demonstration of the sonic potential of impedance matching by first playing a selection of music using a balanced cable (with audiophile pedigree—we neglected to note the make), then switched to 75-ohm mode using an "off-the-shelf $50 RG-59." Everyone in the room immediately agreed that the music improved: better bass articulation, detail, and image stability. Noerbaek doesn't believe that, in this situation, improving the quality of the cable would make much of a difference. XLO's Roger Skoff disagrees, however, having just come out with an audiophile-grade 75-ohm cable. The challenge continues.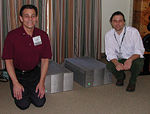 Some of audio's seasoned players' have regrouped to form a new company called Viola Audio Laboratories. Tom Colangelo, Paul Jayson, and Tony Disalvo, who had previously worked together as Cello, were on hand to launch several amplification products. In their room were hot-off-the-bench versions of the Spirito preamp, which sports an interesting touch-screen front panel and is fully configurable starting at around $18,000. On the floor was the two-piece stereo Bravo Amplifier which is comprised of the amp and power supply boxes at a retail price of $17,990. Both amp and preamp were put together with very thick unfinished face plates, which had a stone-like patina. The company says they will finish the metal off for production versions of each product, but we admit to liking the raw look of the current prototypes.
North Carolina's Cary Audio was lighting up their room with several new products including the SLP-2002 vacuum tube, balanced, stereo preamp for $3000, the SLP-88 tube power stereo preamp for $2000, the V-12 Mono triode tube power amplifiers and "carnival red" color chassis at $8000/pair, the CD-306/200 CD player at $5000, and the CD-303/200 CD player priced at $3000. What really caught our eye was the company's new "Rocket 88" CAD-808 200Wpc tube stereo power amp at $2500 using KT-88 output tubes operating in triode or ultralinear modes.
Steve McCormack was also proudly displaying new hardware in the form of the DNA-500 power amp which boasts 500Wpc into 8 ohms. McCormack calls this amp the "proverbial iron fist in a silk glove," and expects it to ship sometime in February for $6795. Also in the room was McCormack's new multichannel analog preamp called the MAP-1 which is slated for release in March at $2395.
mbl had another stylish display this year with several new products in the mix. The German company was showing a prototype of a multichannel analog preamp called the mbl 1001 A-MAP (analog multi-channel audio processor), which should be available in about three months for around $5000. Wired into the main demonstration system was the company's new mbl 9011 mono power amp, which retails for $28,800 each and produces 400W with a "Peak Pulse Power" of 5000W. The rather large amp is finished to mbl's always high standards and weighs in at 260 lbs.

Simaudio's new equipment is looking and sounding more wonderful than ever, and the new products at the CES were no exception. The company was showing its latest, a beautifully-styled monoblock amplifier, the Moon Rock, which generates 1000W into 8 ohms and retails for $29,900/pair. Also on display were the company's Moon Stellar DVD player at $5995 and the Moon Attraction 7.1 A/V processor priced at $6295.

Continuing their comeback, Threshold had new blood in the line, including the Stasis-R 5.0 stereo preamp, which is shipping now for $5000, and the handsome Stasis 7.0 100Wpc power amplifier, which is also currently available at $7000 retail. Threshold partner Nova Audio was testing response at the show to its Applause XP "concept" loudspeaker, which if interest is sufficient, should see production later this year at around $10,000 a pair.