2002 CES Day Three
There's no denying that traffic at the Alexis Park is down from last year. But in spite of this, high-end audio continues to evolve and impress. There were plenty of two-channel audio systems to go around, including vinyl front-ends, while multichannel and video made a modest showing. It's hard enough to get decent sound out of two speakers in a hotel demo room, let alone five or six.
Braving the multichannel waters, however, were companies like Bel Canto Design, which had its new PRE6 multichannel balanced analog preamplifier on display. The new preamp is expected to ship in a couple of months at an estimated $3000. Also in the Bel Canto room were the new eVo2 120Wpc stereo digital amplifier at $2900 and the eVo2i 120Wpc integrated version coming in at $3200.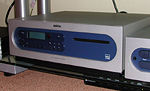 Revox is also stepping up to the surround sound plate with the brand new M51 five-channel AV system. The M51 includes a DVD/CD player, FM tuner, five 60W amplifiers, optional phono stage, and preamp—all in one $7000 box. The modular architecture should allow for future upgrades or multiroom configurations. Revox is also jumping into the hard-disk-based audio market with the new M 57 multiroom server. Based on the iMerge platform, the M 57 should arrive sometime in February for around $6500 and features several Revox tweaks intended to upgrade the machine's performance.
Speaking of multichannel, DTS had singer/songwriter Graham Nash on hand to introduce his latest collection of songs which is appearing first as a DVD-Audio disc. The company was also selling copies of its various DVD-A releases and offering a glimpse at the multichannel DVD-A version of Queen's A Night at the Opera, which has been slated for a February street date.
Nagra is also getting ready to test the multichannel waters. At the show, the company quietly unveiled its "future high-end product," an eight-channel D/A converter that is intended to work with a DVD player. Nagra says the new converter will be available sometime next year at around the $11,000 price point. As with anything the Swiss company designs and builds, the DA prototype is a gorgeous example of clean, almost scientific test instrument-like design. Along with six different digital inputs, the converter also has room for future digital interconnect developments.
Back in the two-channel camp, Korea's April Music displayed their beautifully designed Eximus A1 Reference Preamplifier, M150 Monoblock power amps, and Stello CDA200 CD player. The A1 sports an external power supply and balanced operation and is planned for a March release at $3000. The M150 puts out 150Wpc and will retail for $8000/pair, while the CD payer should also appear in March for around $2000.
For the well-heeled vinyl fan, Boulder was all smiles about its new $29,000 2008 phono preamp which features an independent power supply, inputs for three turntables or tonearm/cartridges, a "personality card" for each input, and three equalization curves. The 2008 should be available at the end of January.