2002 CES Day One
The audio tribe is converging once again in Las Vegas for one of its its three annual gatherings (the others being CEDIA-Expo and the Home Entertainment Show, of course), and so far so good. Although the show officially opens Tuesday this year, several of the major manufacturers took advantage of the calm before the storm to hold their press conferences on Monday.
First stop was a Panasonic presentation in the main convention center, where, in spite of the noise of booths being assembled all around, the company outlined its goals for a timid economy. DVD-Audio made its biggest splash in the Panasonic booth last year, but was conspicuous by its absence in this year's opening presentation. New DVD-A products are appearing however, and include the 1.7"-high "ultra-thin" DVD-XP50 at $399. The XP-50 also plays back DVD-Video, DVD-R, CD, MP3, and DVD-RAM.
Only a short hop from the Panasonic booth, Pioneer emphasized several products of interest to audio fans—including its latest universal format audio product, the DV-47A. The new player features DVD-Video, DVD-Audio, and multi-channel SACD for a retail price of $1200. Pioneer also joins the rush to bring a hard-disk-based playback system to consumers with its "Digital Library" media server, which can store up to 1500 compressed CDs and then be networked throughout the house.
Across the convention center at the North Hall, packed with outrageously equipped automobiles, XM Radio was officially patting itself on the back for the launch of its new service late last year. The company reports 30,000 subscribers in the first month of operation—a number, XM points out, larger than the initial number of CD players or Satellite Video Dish systems sold in the same time frame. But what the long-term future holds for the innovative company once competitor Sirius gets its system up and running is anyone's guess. XM has a small fleet of Cadillacs ready to go for reviewers who want to take the service for a test drive.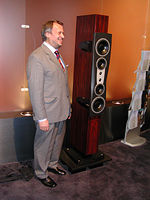 Dynaudio is celebrating its 25th year in business and is marking the event with a new array of speakers, the Confidence Line, intended to bridge the gap between the Contour and cost-no-object Evidence lines. On hand for the presentation were the beautiful and impressively constructed two-way C2, and three-way C4, both of them with separate, sleekly contoured front baffles claimed to perfectly integrate the outputs of the twin tweeters. The company says a third model, the C7, is planned for August and will have a built-in powered woofer. Dynaudio's CEO Wilfried Ehrenholz says that they learned a lot building the Evidence, and incorporated much of its technology into the Confidence.