Dealer Profile—Ultimate Audio Video
What is the best environment in which to demonstrate and enjoy high-quality audio gear? According to Richard Rives Bird, founder and president of
Rives Audio
, the answer is simple: an acoustically engineered room.
Stereophile recently sent me to the Chicago 'burbs to check out the two no-holds-barred, acoustically engineered listening rooms of Ultimate Audio Video. Both rooms have been designed to Rives Audio's highest standard, which Bird calls Level 3. Located in the basements of private homes in Deerfield and nearby Northbrook, the rooms represent the realization of dreams long held by devoted audiophile brothers Ron and Rob Lapporte.
Ron, 47, began his "never-ending pursuit of better audio" at age eight, after being introduced to horn loudspeakers by a close family friend. Years later, while earning his PhD as a child psychologist, he spent six years running an audio store in Michigan. Moving to Chicago with his wife, Ginny, to build a burgeoning practice in child psychology, Ron built his house over 10 years ago with the express goal of converting the garage into a dedicated listening room. Ginny, who knew full well what she was getting into, continues to offer support on every level, including helping to dial in speakers, designing Ultimate's brochures, and handling the company's books.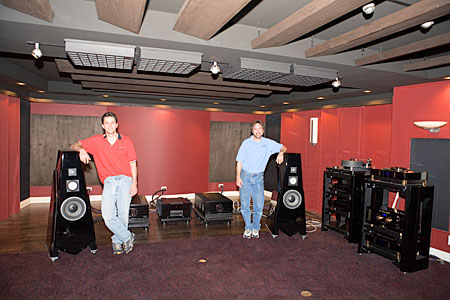 Thanks to his brother's influence, Rob Lapporte, 37, got into music at the onset of adolescence. He, too, became passionate about music and obsessed with acquiring recorded media. Trained in emergency-room medicine—he has recently cut back from 60 to 40 hours a week in order to devote more time to audio—he bought his house six years ago based on the layout of its basement. A few years later, he contacted Richard Rives Bird to enlist his assistance in designing and building a dedicated audio room.
Bird, 40 (right), founded Rives Audio in April 2003 with the goals of marketing the award-winning Parc bass-equalizing device and launching a cost-effective design and consulting service. To his surprise, it has been the design service, not the universally praised Parc, that has taken off big time.
"Acoustic design is not something you can dabble in," Bird told me. "Few custom installers do thorough acoustic design. To my knowledge, no one else does it through a dealer network as we do. Rob and Ron approached me not as dealers, but as end users who wanted extraordinary listening rooms for their own purposes. During the process, they decided to do this as a business. It's unique for a dealership to invest in this high a level of design acoustics."
Bird's Level 3 service includes full architectural-level construction documents, in-process and final inspections, and the highest level of sound isolation. While most Rives rooms are designed around specific preferences of speakers and music genre, Ron's and Rob's spaces were engineered to showcase a wide range of both. "When you design a room for two-channel correctly," Bird notes, "multichannel will fall into place. But if you design a multichannel room, the converse is not necessarily true."
As it turned out, Bird's $10,000 Level 3 charge was the least of the brothers' costs. Their 100% wool carpeting, for example, chosen for its particular sonic properties, cost $240/square foot. The combination of wool and wood flooring in just one of the rooms cost $30,000. Rob's room necessitated moving air-conditioning ducts and water pipes, shifting the house ventilation system, and hiring a structural engineer to strengthen the ceiling and move a support column 3'.
Nothing was left to chance. Rob's burgundy walls and lighting sconces, which imitate the ambience of classic movie theaters, were chosen to best showcase a moveable home theater set-up that includes Meridian electronics and Runco VX-40D video projector. The middle of the front walls behind the speakers are convex to eliminate slap echo; flanking that convex center are affixed panels of Baltic birch, a wood specifically chosen for its resonant properties. The sidewalls are intentionally not parallel, and the ceilings are irregular. Ninety-five percent of the sound treatments in one of the rooms were built on-site by local contractors to Rives' specifications. Most other treatments came from RPG Diffusor Systems, whose website lists the diffusion and absorption characteristics of each of their devices.
Ron's room, specifically designed around the Rockport Arrakis loudspeakers ($145,000/pair), includes hidden bass trapping behind the back wall, and built-in record cabinets sloped at 15% for diffraction purposes. Some diffuser panels had been added only two weeks before my visit, and other acoustic modifications were still being considered.
Without its owners' full-time careers in the health professions, Ultimate Audio Video might have remained an ultimate dream. "We couldn't skimp," Ron explained. "We did the same thing that has made us successful professionally: don't cut corners, pay your dues, do it right, be compulsive, and don't settle for less."
"When people don't like the sound of something at a dealer's," Rob added, "what they don't take into account is how it's interacting with the room. It's much easier to assess equipment in a room such as ours."
"I liken trying to enjoy equipment in an untreated room to looking through binoculars with one lens out of focus," says Ron. "When the clarity hits, and suddenly everything arrives at you at the same time, it makes or breaks everything."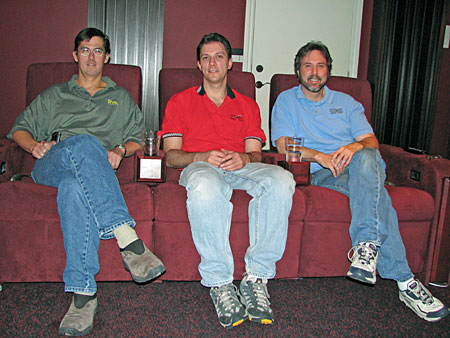 I'll say. Although the Lapportes carry less expensive lines, we went right to the big stuff. For our listening sessions, Talon, Rockport, and mbl speakers were paired with a combination of top- and next-to-top-of-the-line mbl and Gryphon electronics; TARA, Kubala-Sosna, and Dynamic Design cables; and Harmonic Resolution systems racks and isolation devices.
It all sounded about a thousand times better than I'd feared it might. Rather than being overdamped to achieve bass control at the expense of life, air, and top-end extension—something too easily accomplished by overdependence on absorptive panels, thick curtains and upholstery, and the desperate pillow treatment encountered in one room at this year's Rocky Mountain Audiofest—both Ultimate Audio Video showrooms sounded refreshingly alive. Even when switching from amplified music to the real thing—as we did when I whistled along to an opera recording—the sound was naturally resonant, vibrant, and gratifying.
But the only truly mind-blowing sound I heard in my two days in the Ultimate rooms came from a speaker that the Lapportes were barely familiar with: the recently arrived Talon Firebird ($35,000/pair). As I was soon to learn, Richard Rives Bird is willing to sacrifice ultimate richness on the altar of absolute bass control, and so had placed the Firebirds close to the front wall. Heard from a listening couch a considerable distance from the back wall, the sound was totally controlled but disappointingly lean.
After I expressed disappointment, the Lapportes dragged the speakers forward several feet on sliders and moved the couch back accordingly. The difference was profound. Yes, now there may have been the teeniest bit of boom in one very narrow place in the audio spectrum. But the sound was so full, rich, and extended in both directions that minimal boom was easily overlooked in a showroom whose acoustics are superior to those in the majority of American concert and club venues.
Then came the inevitable switching game. First, they replaced the mbl preamp with the Gryphon, which to my ears produced far more neutral and less artificially euphonic sound. Then came the ultimate magic: replacing the TARA Labs .8 Onboard interconnects ($3495/meter), which sounded somewhat congested, with TARA's The Zero analog interconnects ($14,000/2m pair).
Immediately I heard the most thrillingly detailed, vibrant, and awesomely three-dimensional sound I have ever experienced from a two-channel system. The amount of low-level information I heard for the first time from Eiji Oue and the Minnesota Orchestra's recording of Rachmaninoff's Symphonic Dances (CD, Reference Recordings RR-96HDCD)—a disc I've carried from room to room and from system to system for years—was a revelation. Never before had I encountered a home system that could begin to replicate the visceral impact and mind-boggling clarity of the San Francisco Symphony when I hear it from eighth-row center in Davies Symphony Hall. I was so stunned that I called John Atkinson in the middle of his dinner to share my excitement. ("Good, Jason. I'm glad you're happy. Now, back to my food.")
Had I not been on assignment, I would have gladly listened to Mahler, Shostakovich, and Patricia Barber all night. As it was, after less than a half hour, we needed to move on.
I wish I could explain why it took a $14,000 interconnect to pull everything together, let alone why only the Talon Firebird began to approach this level of musicality. Not even the $145,000/pair Arrakis, paired with the same amps, preamp, and cables, produced anywhere near the Firebird's beauty of tone and musical coherence despite being moved back and forth incrementally over the course of several frustrating hours. Clearly the brothers had yet to find ideal positioning for speakers in showrooms where even a ¼" shift makes an audible difference.
[Note: After my visit, Ron postponed all requests to audition the Arrakis for well over a month while he searched for the best position for the behemoths. As with the Firebirds, he ended up placing them well forward into the room, in this case on the carpet].
Regardless, having experienced the extraordinary sound made possible by acoustically engineered showrooms, I can only hope that more dealerships and audiophiles avail themselves of acoustic design services such as those offered by Rives Audio. Given what an acoustically engineered room can accomplish, I can't comprehend why dealers and owners of ultra-expensive equipment continue to sabotage themselves by listening in acoustic nightmares. Boys and girls, there is a way out of sonic hell.