Historic Jazz Recordings from Montreux
On Ella Fitzgerald and Oscar Peterson's
Swiss Radio Days, Vol.15: JATP Lausanne 1953
(TCB 02152), the performances are so extraordinary that only the music itself can fully tell the tale.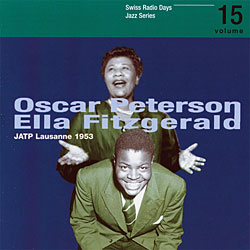 This latest release in the Swiss Radio Days series from TCB: The Montreux Jazz Label, reveals Fitzgerald and Peterson in their youthful primes. That they even performed together was something of a miracle. Fitzgerald, who in this period usually traveled with her own trio, was in no financial position to engage the famed Peterson to accompany her on piano. Leave it jazz impresario Norman Granz to pair the two in one of his famed Jazz at the Philharmonic (JATP) worldwide concert tours. Granz, long a champion of black artists, went on to found both the Verve and Pablo labels, become Ella's manager, and record her incomparable series of Songbook albums.
The concert, recorded at the Theâtre de Beaulieu in Lausanne during the 1953 JATP tour, captures Fitzgerald's artistry at a remarkable point of transition. That she still had her unmistakably youthful girlishness is nowhere more evident than in the first track, "It's Only a Paper Moon," and in the fabulously scatted "Lady Be Good" and her signature tune, "A Tisket, A Tasket" (on which she does an amazing imitation of a five-year-old). Yet she effortlessly switches gears without blinking an eye, channeling her inimitable brand of unforced sophistication into a disarmingly sultry "Someone to Watch Over Me."
Her performance of "You Belong to Me," another classic tune, is voiced with endearing warmth. With the audience going wild, she sings a great "Why Don't You Do Right," and a "St. Louis Blues" so supercharged by the combination of impeccable backup and audience frenzy that you have to remind yourself that this tour de force is made possible only by her impeccable breath control and tip-top vocal shape.
After seven major contributions, Fitzgerald gracefully bows out midstream, during tenor saxophonist Lester Young's and trumpeter Charlie Shavers' guest appearances in "Lester Leaps In." Then the spotlight is turned on the core trio of Peterson, guitarist Barney Kessel, and bassist Ray Brown. At last given a more forward placement closer to the mikes, the three cut loose on five selections, including "Oscar's Tune." Peterson matches Fitzgerald's smooth delivery in his impeccable toying with "The Continental."
Other volumes in TCB's series of live Swiss Radio Days concert recordings range from the Don Redman Orchestra's Geneva 1946 to Clark Terry and the Chris Woods Quintet's Lucerne 1978. Sampling five of the series' 15 discs reveals a wide range in sound quality, from the passable low fidelity of the "historic" Redman and the Fitzgerald-Peterson's basic mono (no match for the fullness of the best studio recordings of the era, but unquestionably satisfying), to the high-quality, 1960s-vintage stereo of the Quincy Jones Big Band and the Cannonball Adderley Sextet. Everything is recorded live, as opposed to having been captured via shortwave transcription, so there's no need to overlook hideous crackling and hiss. What you do hear are audiences driven to near-frenzies of excitement, all of which contributes to the extra frisson of these live recordings.
TCB has other series: Swing Era (mainly Benny Goodman), Bebob, Hard and Postbop, Contemporary Jazz, and World-Jazz Music. Among many gems is Heartdrops, Diana Krall's very first recording, from 1990 (TCB 22182). You can find it all at www.tcb.ch or www.allegro-music.com. (TCB is imported by Allegro Distributing, of Portland, Oregon.)