Focal-JMlab Does It All In-House
A four-day break between the Top Audio Show in Milan (September 14–17) and the
Hi-Fi News
Show in London (September 22–24) presented the perfect opportunity to accept a longstanding invitation from speaker manufacturer Focal-JMlab to visit its manufacturing facilities in France.
After the short flight from Milan, Todd Hurry, of the company's US distributor AudioPlus Services, met me at the Lyon airport and we drove for a few hours to the picturesque French village of Bourbon-Lancy (pop. 7000) on the Loire River, near the wine regions of Dijon and Beaujolais. That evening we wined and dined with Jean-Paul Guy, who next morning took me on a tour of Guy.HF, the high-tech woodworking and cabinetmaking facility founded by his furniture-maker father, Emile Guy, in 1945, and where Focal-JMlab cabinets have been made since the company was founded in 1980.
Jean-Paul Guy, a furniture craftsman himself and a lifelong audiophile and speaker builder, originally produced cabinets for a variety of electronics companies, but with Focal-JMlab accounting for 95% of Guy.HF's production by 2001, Focal bought a 49% stake in the firm. Today Guy's Bourbon-Lancy factory employs more than 35 people and builds cabinets exclusively for Focal. Given Focal's mind-numbing array of lines and models, including a pro-audio division, it's doubtful Guy.HF would have time to do anything else, despite the recent expansion of the plant.
The facilities for MDF machining, veneering, painting, and lacquering were impressive by any standard, and while the high quality and superb fit'n'finish of Focal's cabinets are obvious on the showroom floor, a full appreciation comes only from actually seeing how it's done.
That afternoon we made the long drive to Focal headquarters in St. Etienne. After meeting with managing director Gérard Chrétien—he's a former audio journalist, Saab owner, and Apple computer enthusiast, so we didn't have too much to talk about—I was given a tour of the off-site facility where Focal speaker cones are made. I watched the process used to create Focal's "W"-sandwich composite cones, which can be customized for size, mass, rigidity, and damping, depending on application. This gives the speaker designer tremendous flexibility and helps simplify the designs of both crossover and cabinet. The sandwich combines light, stiff, aircraft-grade, plastic foam—cut by water jet to the precise required thickness—with a glass-fiber material impregnated with a bonding agent. The complex forming process, which took years to perfect, results in cones built to exacting tolerances; they are, Focal claims, the lightest, stiffest, best-damped cones in the business.
The next day was devoted to a tour of Focal headquarters, a complex of buildings in which drivers are assembled, crossovers constructed, cabinets filled, and finished speakers tested and boxed.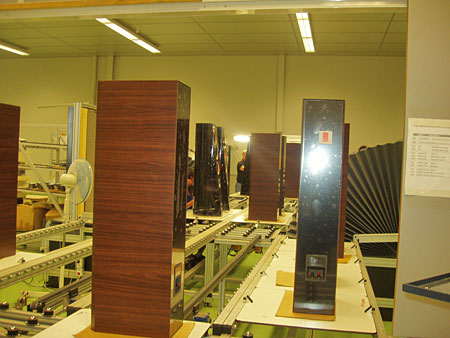 I lunched with Todd Hurry, Gérard Chrétien, and Focal founder Jacques Mahul at a modern-art museum, and in the afternoon watched Focal building its inverted-dome tweeters—including the exclusive one made of beryllium, said to be the lightest, stiffest, highest-tech tweeter in audio. I also watched a semi-automated assembly line, designed and built by Focal, putting drivers together in a fraction of the time it used to take Focal to make them by hand. Such efficiencies make it possible for Focal to continue to make drivers of ultra-high quality in France for its lower-priced Chorus line instead of having them built in China.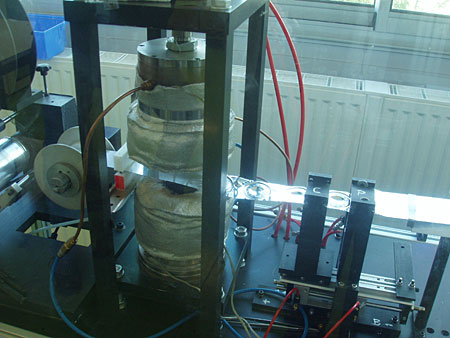 Finally, after stepping into Focal's anechoic chamber and hearing just how much my head was still ringing after all the air travel (and years) I've racked up, I spent a few hours in the company's sumptuous listening room. We began with the floorstanding Chorus 836V, which I believe retails for $2795/pair. These sounded incredibly good for the money—or even not considering the price. We then moved up to the Electra 1027 Be ($7495/pair), which Sam Tellig reviewed last year. They were really spectacular. Finally, we listened to the big Grand Utopia Be speakers (if you have to ask the price, you can't afford them), which were impressive in scale and weight but sounded too "relaxed" for my tastes. (See footnote 1.)
If Focal's intention in inviting me on this junket was to impress me with its considerable design and manufacturing expertise, mission accomplished. If the point was to wow me with its seamless vertical integration—Focal-JMlab is one of the few speaker companies in the world that designs and builds everything in-house, from cabinets to crossovers to drivers—I was wowed. If the point was to prime me to review a new speaker, still to be launched and about which I'm not at liberty to speak, I'm primed. And if the point was to make me aware of just what nice people are behind Focal-JMlab, point made.
---
Footnote 1: Other Focal-JMlab speakers recently reviewed by
Stereophile
are the
Electra 1007 Be
and the
Nova Utopia Be
.—
Ed.