F. Alton Everest: 1909–2005
We were saddened to learn just this week that F. Alton Everest died earlier in the month. Like many audiophiles, much of what we know about acoustics was gleaned from Everest's authoritative books on the subject, including several editions of his
Master Handbook of Acoustics
,
Critical Listening and Auditory Perception
, and
Acoustical Techniques for Home and Studio
. Everest packed a lot of living into 95 years, earning a BSc in EE from Oregon State and an EE from Stanford. He taught at Oregon State and Hong Kong Baptist Universities, worked in film production for 25 years, and was an acoustic consultant for 15. During WWII, he spent four years in undersea acoustic research. He was an Emeritus Member of the Acoustical Society, Life Member of the IEEE, Life Fellow of the Society of Motion Picture and Television Engineers, Member of the Audio Engineering Society, and cofounder and past president of American Scientific Affiliation.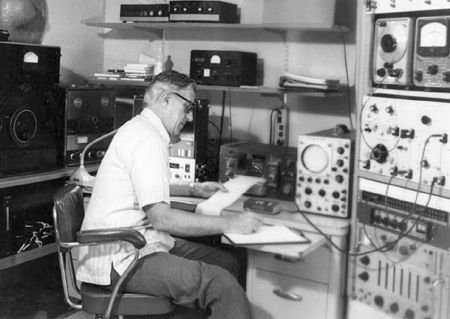 We learned of Everest's death when we received the following appreciation from Acoustical Research Associates' Geoff Goacher, who signs himself "Alton's privileged protégé and friend."–Wes Phillips
Remembering F. Alton Everest (1909–2005)
On September 5, 2005, renowned audio veteran F. Alton Everest passed away at his home in Santa Barbara, CA. Having published over 20 popular books on audio and acoustics, he was a familiar figure to many people throughout the industry.
Alton witnessed firsthand the birth of the audio industry while starting his career as a Stanford-trained electrical engineer in the 1930s. His early work was conducted with such legends as Dr. Lee DeForest, the famed inventor of the triode vacuum tube, and his schoolmates William Hewlett and David Packard, the famous founders of Hewlett-Packard.
In World War II, the legendary UCLA physics professor Vern Knudsen sought out Alton to head up an underwater sound research team to support the Navy's war efforts. Having accepted this challenge, he spent the war years throughout the Pacific studying acoustics for the government. This experience fueled the fire for his lifelong love of the subject.
From 1945 until 1971, he branched out as the director of production for the Moody Institute of Science. This was a Christian evangelical ministry that produced scores of award-winning science films that were shown to millions of people around the world. Alton was supremely flattered when American Cinematographer called his film studio "the biggest little studio in the world" in the 1960s.
Following his filmmaking experience, Alton then worked as an acoustical consultant during the 1970s and 1980s. During this time, he found that he enjoyed writing about his unique research, experiences, and solutions as a means of helping others. Therefore, in his later "retirement" Alton focused his efforts on writing. He published scores of technical articles and books.
His book Master Handbook of Acoustics (McGraw-Hill) is now in its fourth edition and has been the best-selling book on the subject of acoustics for more than 20 years. Although his writings represent only a small fraction of his many contributions to the industry, it is perhaps these classic "how-to" texts for which he will be best remembered.
Alton Everest was 95 years old and is survived by his wife, Bonnie Gail, and his three children, Mona, Rebecca, and Daniel.