CEDIA Day Four
Well, I cannot say that I saw everything at the 2008 CEDIA Expo, nor can I say that my dreams came true. However, my major expectation for this show was to see that the major high-end manufacturers had bitten the bullet for HDMI and HD audio. I am happy to say, almost all have: some with products ready to ship; some with availabilities before the end of the year; and some with prototypes and promises for the 2009 CES in January. To list and illustrate them all would take more energy than I can conjure at this late day but here are a few.
Simaudio showed an array of components including a full-feature AV preamp/processor, the CP-8 ($18,000), a matching HDMI switcher to expand the number of inputs, the HDS-8 ($2000), and a modular 250Wpc power amp, the MC-8 ($20,000).
B&K unveiled a similarly-full featured pre/pro, the Reference 70, that, I understand is ready for shipment. It presents a very uncluttered appearance that disguises a sophisticated control and configuration capability.
The greatly anticipated Classé SSP-800 made its appearance in a stack capped by a matching DVD player and supported by a prototype multichannel power amplifier.
The biggest surprise, for me, was the totally unanticipated appearance of the Anthem D2v2 which, despite the Star Wars allusions, looks just like the D2 I recently reviewed. What Anthem has added are, possibly, the only important features that the D2 lacked: more HDMI inputs (now 8) and decoding for Dolby TrueHD and DTS-HD MA.
Bryston showed a prototype of the new SP3 pre/pro which they promise for CES. It includes all the expected features, including Bryston's meticulous attention to analog audio and is available in three configurations: All audio with only a single HDMI in/out; A/V with multiple HDMI inputs; and, umm, a third with video processing, as well. Nice to have the choice of getting just what you want.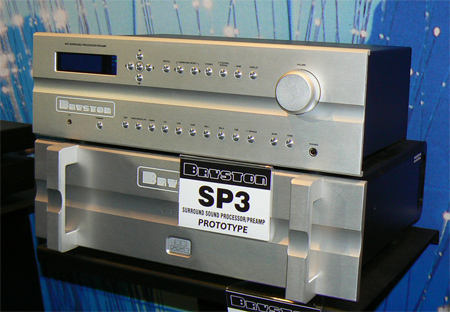 Other items I saw, but didn't photograph, include the Mark Levinson 502, which offers one of the most conveniently configurable display interfaces, Parasound's New Classic HDP70, and the Integra DHC-9.9. The latter is an upgrade to the Integra DTC-9.8 I have reported on in "Music in the Round," with major improvements in video processing and the addition of Audyssey Dynamic EQ and Dynamic Volume. It looks pretty much the same as its predecessor.
Finally, I offer you the picture of a new turntable from Pro-Ject, the Perspex, which is described as the entry model to their high-end line. It looks really striking, it costs $2000, and I can't wait to hear what Michael Fremer has to say about it.