Nonesuch Donates $1 Million to Katrina Relief
On August 29, Nonesuch Records gave its first donation of $1 million to Habitat for Humanity International. The funds, raised in only eight months through sales of 150,000 copies of Nonesuch's superb benefit album
Our New Orleans 2005
, will be used to build homes for displaced musicians and others in the New Orleans Habitat Musicians' Village, whose centerpiece will be the Ellis Marsalis Center for Music.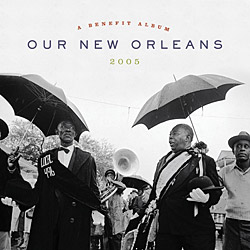 Nonesuch began work on the album just a few days after Katrina struck. The brainstorm of Nonesuch president Robert Hurwitz, Our New Orleans 2005 consists solely of new tracks recorded in one-day sessions in 15 different studios over the course of a month. With participating musicians receiving what Hurwitz calls "generous honorariums," the album was made possible by major contributions from Nonesuch's parent company, the Warner Music Group, as well as from studios, engineers, producers, caterers, photographers, and videographers.
Although Bob Ludwig did much of the final mastering, Hurwitz had no desire to create a uniform sound. Rather, by bringing in a host of different producers, and working with musicians who, with the exception of Randy Newman, had not previously recorded for Nonesuch, Hurwitz's goal was to record music-making in the most immediate fashion.
"We went into this project thinking of this as a record in the traditional sense: an actual record of what musicians do on a daily basis," Hurwitz told Stereophile. "Rather than creating a studio product of what was never there before, we wanted to offer a testament to how great these musicians are."
It doesn't take an expert on New Orleans jazz to realize why the album continues to sell thousands of copies each week. In addition to such classic, upbeat New Orleans numbers as Dr. Michael White's "Canal Street Blues," it offers such deeply moving tracks as Buckwheat Zydeco's heartrending "Cryin' in the Streets" and Charlie Miller's unaccompanied "Prayer for New Orleans." The Wardell Querzergue Orchestra doing Donald Harrison's "What a Wonderful World" makes me want to cry. Even "When the Saints Go Marching In" takes on unexpected poignancy when Eddie Bo sings, in a voice in which optimism and pain comingle as weatherworn bedfellows, "When the sun begins to shine, and everyone gets in that line."
Beginning with Allen Toussaint's beautiful invocation of sisterhood and brotherhood, "Yes We Can Can," Our New Orleans 2005 addresses the tragedy head on. Toussaint lost his Steinway, his records, his arrangements, and his studio when his house was flooded with eight feet of water. As Soul Queen Irma Thomas recorded her track, "Back Water Blues," her home and club were still submerged, and she was living with relatives halfway to Baton Rouge. This stuff is real.
Ironies, too, abound. When, in "Tou' les Jours C'est Pas la méme," Carol Fran sings "Don't tell me no lies . . . Where were you last night?," you can't help wondering to whom she's singing. The same goes for the Dirty Dozen Brass Band's raucous "My Feet Can't Fail Me Now." Even when spirits are high, this is honky-tonk with a pull, upbeat jazz with an undertow.
If you want straight ahead, classic New Orleans jazz of the kind that has for so long resounded in the clubs of Bourbon Street and the French Quarter, you'd do well to check out Jackie Coon: The Joys of New Orleans (Arbors Records), a benefit for Wendy Oxenhorn's invaluable Jazz Foundation of America New Orleans Musicians' Relief Fund. Nor would I be without New Orleans Will Rise Again (Night Train), a benefit for the New Orleans Musicians' Clinic that includes rare, historic, and unreleased tracks by Aaron Neville, Ernie K-Doe, and others.
But the Nonesuch effort is in a class by itself—there isn't a lame track on this beautifully recorded, bass-rich album. And as Our New Orleans 2005's journey through the present concludes with Randy Newman, backed by the Louisiana Philharmonic Orchestra and the New York Philharmonic, singing "They're trying to wash us away," in Newman's "Louisiana 1927," you too may want to hang your head in shame for a year of government mismanagement and neglect.