Rives Audio Buys Talon
Just as the mythical Phoenix arose from its own ashes, the birds of the Talon Audio line have again taken flight, this time as Talon Loudspeakers. As of August 7, Rives Audio (www.rivesaudio.com) has acquired Talon Audio and plans to reintroduce many of the company's most successful models.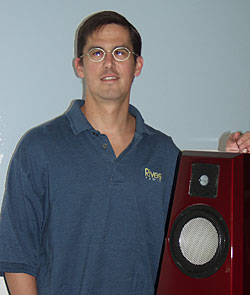 Richard Rives Bird, who founded Rives Audio in April 2002, first encountered Talon Audio co-founder Mike Farnsworth at the 2003 Consumer Electronics Show. Rives had brought several of his Parametric Adaptive Room Compensation (PARC) units to the show, planning to demonstrate them in several rooms. (The Rives PARC, which adjusts and controls bass in the analog domain, so impressed Stereophile's Kal Rubinson that it received the magazine's 2003 Accessory Product of the Year Award.) Farnsworth asked to try a PARC, in hopes of correcting a serious, room-related bass issue in the room Talon Audio was sharing with Tenor Audio.
"The PARC enabled Mike's Firebird [loudspeaker] to perform as it was intended to perform, without fighting the room," says Bird. "When he heard the difference, he was so impressed that he asked to keep the unit. I, in turn, felt Mike's speakers were really quite incredible at their price point. We quickly became really good friends."
As the years progressed, it became apparent that Farnsworth's forte was making speakers, not running a business. "I wish I'd sold the company to Richard three years ago," Farnsworth acknowledges. "I'm glad to have someone who appreciates the technology and innovation of the designs and doesn't want to compromise the sound. We've worked very hard, through trial and error, to get the sound we really like. Now, hopefully, more people will be able to hear what the Talon sound is all about."
Talon Loudspeakers is being launched with two speaker series. The Performance line includes the Raven two-way floorstander, the Falcon two-way stand-mounted monitor, and the active Roc subwoofer. The Reference line is the Hawk stand-mount, Hawk Cinema, and the top of the line, the Firebird. No longer in production are the Khorus and Khorus X (which, with its final, 2005 upgrade, serves as my reference loudspeaker), or the Firehawk prototype that was displayed at the 2005 and 2006 CES.
Richard Rives Bird acknowledges that Talon Audio made some poor marketing decisions. The company sometimes released speakers before perfecting their designs (eg, the Khorus and Khorus X). Loudspeakers also used drivers that required so long to break in that some consumers threw in the towel before ever hearing their full potential. As a result, Talon was impelled to make several significant design changes and modifications in the first year or two of a model's life, and to break in the drivers for extended periods before assembly.
Another problem was Talon Audio's marketing strategy. Some of its dealers offered deep discounts on the Web and via mail order, undercutting other dealers and eroding consumer confidence. Claims of model misrepresentation also surfaced.
As a result, Rives Audio has pledged to manufacture only "mature" models whose time-tested and perfected designs will yield exceptional performance. These speakers will bear the new company's insignia: "Talon Loudspeakers: A Rives Audio Company."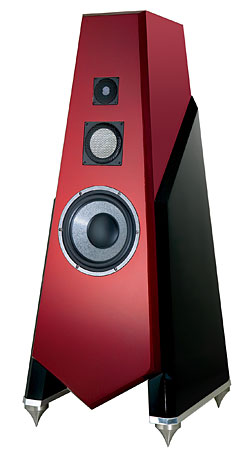 Farnsworth, who continues to work with Talon as a design consultant, assures consumers that all Talon speakers manufactured since January 2005 include the latest design modifications. (Rives Audio should be able to track the manufacturing date of most speakers by their serial numbers.) If significant numbers of owners of earlier Talons request upgrades, Rives hopes to be able to make them available in the future. Speaking from my own experience, the latest mods to the Khorus and Khorus X have made all the difference in the world, from a more open, light-filled treble to far more profound bass.
Talon Loudspeakers' distribution network will be protected in the same way Rives Audio protects its own current network. Only dealers who can demonstrate fully broken-in speakers and offer a very high level of customer service will be accepted. Neither Internet/mail-order dealers nor those who transship across state lines to customers they have never met will be accepted into the network.
Asked what makes Talon speakers unique, Farnsworth cites advances in crossover design. "We offer a phase-accurate crossover with steep slopes. There's less phase shift in our crossover than in a first-order (6dB/octave) crossover. The less the phase shift, the less the loss of information, color, and timbre, and the more analog-like the sound. We also use the same common-mode rejection circuitry to lower noise as that employed in military circuits. I don't know of other manufacturers who use such circuitry, because it requires the same amount of parts as a third-order crossover, and demands extensive experience and knowledge to pull off successfully."
Farnsworth also claims that his latest designs, including his modifications of older models and pre-2005 production runs, boast far more efficient circuits, with far more even impedance responses, than his earlier designs.
For his part, Richard Rives Bird is thrilled to be able to further expand a company that, in a little over four years, has not only produced the PARC but has also established a 60 dealer network in the US alone, and become the country's leading acoustical engineering and design firm for small-room acoustics. (Rives Audio is responsible for a good 40 acoustic room designs a month, over 90% of which are residential.)
"Over the years, we've exhibited a lot at shows with Talon loudspeakers," he says. "I have the Thunderbirds in my reference system and Hawks in my office. I bought them because I thought they were the most fabulous speakers out there. I love their sound. When I decided to use the Talon Hawk at my CES 2006 demo, I had no idea I'd buy the company eight months later."