Lorraine Hunt Lieberson
We have lost a great artist. Mezzo-soprano Lorraine Hunt Lieberson, 52, who had previously triumphed over breast cancer, died at her home in Santa Fe on July 3. While
The New York Times
obituary did not specify the cause of death, other reports suggest she died from cancer, leading to speculation that the claims of back trouble and gall bladder inflammation that led to a string of cancellations in the past few years were related to a recurrence of the disease.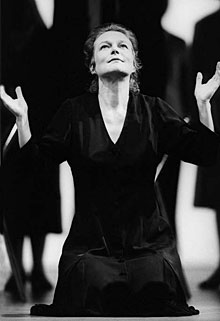 Raised in the Bay Area by musician parents, Lorraine Hunt originally studied and performed as a violist. When, at the age of 26, she undertook singing, her voice conveyed the heart-tugging depth and dry, velvet smoothness of the viola at its best. Known equally for her ability to articulate the florid runs of baroque composers such as Handel, Purcell, Bach, and Charpentier as though navigating untroubled waters, and for instilling her interpretations with a transcendent, breath-arresting intensity, her loss leaves an ache in the hearts of those privileged enough to have witnessed her perform in person.
Hunt Lieberson's gifts as a spiritual singer—one capable of addressing realities beyond those of our temporal, earthbound existence—can be heard in her most recent release, a recording of her husband, composer Peter Lieberson's, Rilke Songs (Bridge 1978). Recorded at Chicago's Ravinia Festival in 2004, the songs were written for Lorraine by Peter, whom she met in 1997 during preparations for the Santa Fe Opera's world premiere of his opera, Ashoka's Dream, in which she sang. Peter's 30-year practice of Tibetan Vajrayana Buddhism—he was once International Director of Shambhala Training—is reflected both in the mystical content of the songs, and in Lorraine's otherworldly response. One can only hope that a recording of the composer's Neruda Songs, which his wife premiered at the Los Angeles Philharmonic in May 2005, will be released. Lorraine Hunt Lieberson's performances of these songs in Boston and Carnegie Hall with the Boston Symphony Orchestra late last year were among her last stage appearances. Plans to perform and record Mahler's achingly moving Rückert Lieder with Michael Tilson Thomas and the San Francisco Symphony, as well as an engagement at the Tanglewood Festival next month, were abandoned in the face of illness.
I attended Lorraine Hunt Lieberson's Cal Performances recital of April 29, 2001, and reviewed it for andante.com. After opening with an aria from Handel's Ariodante—her 1996 Harmonia Mundi recording of the opera with Nicholas McGegan has received its due share of praise—and singing excerpts from her husband's Rilke Songs and Ashoka's Dream, Hunt Lieberson devoted the second half of the concert to a mesmerizing performance of Robert Schumann's song cycle of love and loss, Frauenliebe und Leben. All distance between performer and audience vanished as she lived the life of a woman first beloved, then abandoned. The singer's naked honesty, emotional directness, and wealth of softly breathed nuance not only moved many present to tears, but also served to communicate the depth of her love for her husband, whom she introduced to the audience.
The brilliant director Peter Sellars recognized Hunt Lieberson's gifts in 1985, directing her in his controversial production of Mozart's Don Giovanni (Universal Classics DVD), which daringly plays on racial stereotypes; in Handel's Giulio Cesare and Theodora; in John Adams' El Niño (Arthaus Musik/Nonesuch DVD); and in a gut-wrenching staging of cantatas by J.S .Bach in which she appeared in a hospital gown with medical tubes emerging from her body as she sang of her readiness to die. Another Hunt Lieberson champion was conductor Nicholas McGegan, who worked with her in a series of marvelous Handel recordings, many with the Philharmonia Baroque Orchestra. Indispensable to her far-too-small discography are two Grammy-nominated discs: Bach Cantatas (Nonesuch), and a transcendently beautiful, audiophile-quality multichannel SACD, Handel Arias (Avie). The latter, in particular, offers a rare marriage of superb sound and unrivaled artistry and serves as more than one Stereophile writer's reference, John Marks in particular. Also notable in that regard are her brief contributions to Michael Tilson Thomas' multichannel SACD of Mahler's remarkable Symphony 2, "Resurrection," with the San Francisco Symphony.
I spoke with Nic McGegan at his Bay Area home: "She was the most passionate singer I have ever heard. I was just amazed that she could transform the simple notes on the page into such ravishing and heartfelt music. It took one's breath away!
"One of the highlights of my entire life was performing Berlioz' Les Nuits d'Été with her in 1995. On stage she was absolutely electrifying. Whatever the emotion of the music, she made you feel it to the utmost degree. I feel so lucky to have known and worked with her."
Stereophile's copy editor, Richard Lehnert, had the following comment to add: "I thought it might be coming. One of my wife, Susannah's close friends sang with Hunt Lieberson a few years ago in Germany, when the cancer first appeared, and thought she wouldn't be with us much longer. I'm grateful she did what she did in the time remaining to her.
We saw her in recital in 2001 during the Santa Fe Chamber Music Festival, in her husband's Rilke Songs. It was a perfect example of how to create art with everything essential and nothing added: She just stood there, feet planted and arms at her sides the entire time, dropped deep within herself, and sang. No show biz, no indicating or demonstrating, no having the audience's emotional response for them. It was one of the most powerful concerts either of us has ever attended. Good for her: a short life lived truly, deeply, memorably."
(Nonesuch has compiled many tributes to Ms. Hunt Lieberson on its site and is streaming her glorious Bach cantatas on Nonesuchradio. National Public Radio is also streaming Ms. Hunt Lieberson's performance of husband Peter Lieberson's "If Your Eyes Were Not the Color of the Moon," one of the Neruda Songs. Words, even as eloquent and heartfelt as Jason's and RL's, pale in comparison with Ms. Hunt Lieberson's luminous artistry.—Wes Phillips.)