Home Entertainment 2004—Day Two
Friday, the first public day of HE2004, was entirely different from the press-only day that preceded it. Friday, the audiophiles arrived and the excitement was palpable. Rooms filled with music lovers; halls thronged with excited gear-heads. Now
that's
entertainment.
And with press conferences out of the way, we could finally get own to the business of listening to some of the systems set up for public consumption.
THEMUSIC.com was showing a nifty little system built around reference 3A Royal Virtuosos ($4000/pair); Antique Sound Labs' AQ 1009 stereo triode power amp ($5995), Antique Sound Labs' autoformer switch-based passive preamplifier, the Passive 2 ($795); and the Kuzma Reference/Reference Airline/KC reference turntable/tonearm/cartridge combination ($7000, $8000, and $2000, respectively).
Mike Hobson cued the Masked and Anonymous LP and watched John Atkinson's and my jaws hit the floor. The sound was sumptuous, bold, and powerful—hard to believe we were listening to 6Wpc! The push-pull AQ1009 has a choke power supply and separable high- and low-level transformers, which seems to translate into sound that certainly doesn't sound small by any definition.
The Ref 3A Royal Virtuosos are wideband, stand-mounted monitors that don't have conventional electronic crossovers. They sport modified versions of SEAS's Millennium tweeter without the ring radiator and they had bottom-end response that was surprisingly robust for such a compact monitor. We liked 'em.
Next door, they were running the $1695/pair Reference 3A Dulcets, which knocked Bob Deutsch out at this year's Montreal Festival Son et Image. We completely understand why. Detail without fatigue ought to be on the Dulcet's coat of arms.
Innersound continues to amaze us with the wide range of offerings they have already brought to market. The floorstanding, hybrid Kayas ($20,000/pair) marries large electrostatic panels to an 8' transmission line woofer, and an outboard active crossover/600Wpc bass amplifier. Also included in the system were Innersound's DPR-500 stereo power amplifier ($12,000), RCP-1 Reference preamplifier (price tbd), with its neat optical encoder volume control, and a Linn Unidisk universal player.
Listening to Theodore DuBois' Les sept paroles du Christ (Fidelio FACD 008), we were struck by the uncanny power and focus of the system. Few stereos do justice to the sheer physical intensity of a tenor's voice, but this one sure did—and when the pipe organ kicked in, we were rocked by the Kaya's bottom-end solidity.
Like many large-panel electrostats, however, the Kayas had a fairly cramped sweet spot, although within that spot, the soundstage seemed to go one forever. We were surprised to discover that the $13,000/pair Kachinas were far more forgiving in this regard. The Kachinas have a smaller 'stat panel and passive subwoofers, but they do house the crossovers outboard. Tandem listeners should check 'em out.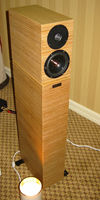 North Carolina's Portal Audio brought production samples of its new Paladin fully balanced monoblock power amplifiers ($3500/pair), which were driving Penaudio's Charisma loudspeaker ($2995/pair)/Chara subwoofer ($2500/pair) combo. The Charas were shown in a new laminated plywood veneer, which matches the Charismas better than the old Finnish Birch veneer.
The sound these slender floorstanders were producing had listeners scratching their heads and looking for the "real" subwoofers. Powered by the hefty Paladins, they produced hard-driving sound completely out of proportion with their dimensions. When Robert J. Reina entered the room during our audition, we completely hijacked the presentation, playing "Baby Please Don't Go" by the Amboy Dukes and "I Had Too Much To Dream Last Night" by the Electric Prunes, causing a few exhibitors from down the hall to walk by the room, peering into the door to see who was recreating the original Fillmore East so far uptown.
No, it wasn't high-end audition material. Yes, we were being very silly, but it was fun. And if you can't have fun at a hi-fi show, what's the point?
Speaking of fun, we had a ball pestering Portal's Joe Abrams, trying to extract the name of the well-known, but unnamed audio designer who spec'd the Paladin for Portal. We even tried the torture of 100 puns, which, unfortunately doesn't work on Abrams, who came up with worse ones than we do.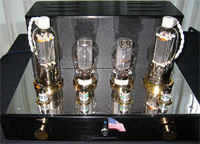 What is it with all the over-performing micro-output tube amps we're seeing these days? The indefatigable Alan Yun of Silverline was showing a new push/pull 20Wpc tube amp, the Moto ($15,000), which uses both 300Bs and 805s (the tube formerly known as VT143). The input stage is built around 12AXT voltage amplifiers, which drive 12AU7s in an SRPP circuit, which drives the 300Bs, which, in turn, feed the 805 output tubes.
Powering a pair of Silverline Boleros ($8500/pair), the Moto laid out an immense soundstage on Yun's recording of Kodo, the Japanese taiko ensemble. The sound was dynamic and startling in its transient delivery—almost too much of a good thing, in fact. When Yun switched to John Coltrane & Johnny Hartman, a recording with which we are intimately familiar, our doubts were put to rest. The sound was warm and the timbres were lifelike. We had a hard time leaving the sweet spot.
As we left, Yun tried to explain why he built an amplifier. "My left brain argued with my right brain about whether people would accept a new amplifier from a speaker manufacturer, but my heart told me I had to try."
You probably haven't heard of Tetra, but if you're more a music lover than an audiophile, you should seek the company out. Oh, its 505 Live ($10,000/pair) floorstanding speaker has audiophile cred galore, with a 1" ScanSpeak tweeter, 8" Morel NeoLin woofer, Chateauroux polypropylene and Solen Fast caps, and Hepta-Litz Air-Core inductors, not to mention point-to-point wiring with Cardas cable and gold-plated rhodium binding posts, but it's the sound that will really impress you. Actually, the more you know what music really sounds like, the more the Tetras will impress you. They don't sound like speakers at all.
Tetra's Adrian Butts says he began building speakers because he wanted the speed and silkiness of the best electrostatics, without sacrificing the dispersion, drive, and harmonic fullness of dynamic speakers. "Is that asking too much?"
Butts laughed. "I had no idea how much that really was asking—but after thousands of hours of work, now I do. I still don't think it's too much to ask, but it's not as easy as it sounds."
There's certainly no effort involved in the listening, which was timbrally accurate, completely natural, and quite lively. Watch out for Tetra, we think it's a comer.
After all the listening we did today, the coolest product we saw was Ron Sutherland's battery-powered line section ($5000). Powered by 24 alkaline D cells, the Director has a power management system that powers on when it senses signal and powers down one hour after its last input. Battery life should be 1000 hours per set. Sutherland says he chose alkalines because they held power better than rechargeables and his power management scheme gave such prolonged battery life that most users wouldn't use that many sets in a lifetime.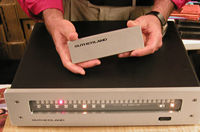 "If you want to escape the noisy and pernicious influence of the Ac line, you have two options," Sutherland said. "You can filter or you can go with batteries. I think batteries are better."
The Director has 256 0.5dB steps in its volume control and features 12V RMS overload protection on its inputs. It remembers the volume levels last used on each of its seven inputs (there's an eighth input for a $1200 phono module). For HT use, it also features unity gain. "Actually," Sutherland said, "you could set it up to have seven unity-gain inputs, although I can't imagine why you would."
The neatest part, however, is the Director's no-button remote. Simply rotate the remote clockwise to raise the volume and rotate it counterclockwise (anticlockwise for our British cousins) to ramp the level back down. We couldn't stop playing with it—hours of mindless fun!
Which, come to think of it, is a pretty good description of day two at HE2004.