Home Entertainment 2004—Day One
Today marked the opening of Home Entertainment 2004 East, held at Manhattan's Hilton Hotel on 6th Avenue in Midtown. By long tradition, the first press conference in The Home Entertainment Show's busy press day has always been occupied by Sony and this year was no different. As we entered the Sony Suite, we were greeted by a wall display of over 2000 SACD titles—surely enough to be considered a down-payment on the critical mass that will be necessary for any high-rez format to survive. But any hopes that Sony would address SACD were quickly dashed in the press conference itself, which was primarily devoted to news of Sony's new broadband "location free" video systems, which allow consumers to carry 12.1" or 7" LCD video tablets anywhere they might wish to access their home-entertainment options. The data transfer is accomplished through the dual-band IEEE 802.11a/11g protocol. The 12" LF-X1 will retail for $1500 and the 7" widescreen LF-X5 will go for $1000.
And, yes, in case anyone is curious, Sony did mention SACD, although no specific plans were described.
Monster Cable announced an ambitious program to educate consumers about the advantages of high-end audio and video equipment. Charismatic head Monster Noel Lee gave a stump burner of a speech in which he blamed the high-end industry for failing to persuade the general public about the rewards of high-quality music and sound. Singling out the complexity and clunkiness of the typical sales experience, he asked rhetorically, "Can we make the process any more difficult for the consumer?"
The answer, Lee maintains, is emulating the success of the "Rooms to Go" store model. In which systems are set up intact and all consumers have to do is to identify their needs and then have a solution demonstrated to them. Lee pointed out that most audio consumers never even get the chance to experience SACD or DVD-A sound, despite the audible superiority of both formats over Red Book CDs—and that many families never get a surround-sound gaming demo, which would turn young gamers into instant audio fans.
Monster's High-End Home Theater and Music Demonstration Experience will debut at specially trained Monster dealers later this summer.
Lee also blamed the "bigger is better" décor-unfriendly attitude of most manufacturers for A/V's slipping popularity; he has embarked on a program of Monster M-Design products—ranging from line-source loudspeakers to hand-rubbed lacquer audio furniture and matching subwoofers. "Let's make the speakers disappear," Lee chortled.
Monstrous Speaker systems include the Eleganza StreamlineLine Tower Speaker System. Which use a line array of up to 40 drivers in 5', 6', and 7' towers (prices range from $4499.95/pair to $5995.95/pair). Eleganza also includes a center channel ($1499.95), surrounds ($999.95/pair), and InvisiSound Frames (speakers designed to compliment flatscreen video displays). Prices for the InvisiSound line range from $3999.95/pair to $6999.95/pair.
But it was obvious that Lee was proudest of the Eleganza subwoofers, which are designed to fit in corners (both left and right facing versions are available). The Godfather features a 15" driver and a 100W amplifier, the Bella has a 12" cone and a 500W amp, and the StreamLine Bass Modules (which attach to the Tower Speaker System) drive a 10" ultra-rigid aluminum cone with a 250W amp. There's even a component rack with "invisible" subwoofers: two 10" drivers driven by 250Wpc amplifiers.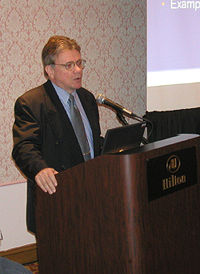 Microsoft's Pat Griffis, vice-chairman of the Digital Home Working Group (DHWG), gave the keynote address at this year's Press Luncheon. The DHWG is a cross-industry consortium of technology leaders advocating interoperability and open, fair standard that will allow consumers to integrate all the digital media in their homes—such as broadband, broadcast, mobile multimedia, and traditional media. Griffis pointed out that there is a good news/bad news" scenario: "We have lots of standards, but we also have needless differentiations with competitive advantage."
The DHWG's brief is to ensure that all the consumer needs to do is choose his entertainment format without worrying bout how it will work, while also assuring the big media corporations that their intellectual property will be maintained. Griffiths reported that both goals seem within reach.
VTL's Luke Manley showed a production model of his "Son of Siegfried" S400 400Wpc stereo amplifier—and it was even better-sounding than the concept piece he demonstrated at CES2004. His aim was to "engineer out the drawbacks of tubes, while preserving what they do best—like voltage amplification." The S400 has an RS232 control port and user adjustable phase inversion, not to mention VTL's usual parlor trick of triode/pentode operation, the changeover initiated by a button push but then under the control of the amplifier's microprocessor, which adjusts all the necessary operating parameters.
We were fascinated by a demonstration of the last feature. We listened to the Tomasz Stanko Quartet's Suspended Night, first with pentode operation, then with triode. Pentode mode was more dynamic and forceful, but there was an undeniable "rightness" to the triode mode. The midrange was rounder and fuller-bodied and the timbre was far more natural. What has sounded like a buzzing snare drum in pentode was clearly revealed to be breath spillage from Stanko's embouchure in triode. Manley pointed out, however, that for big orchestral works and rampaging jazz bands, pentode was frequently the right "horse for the course."
Choice isgood.
Jim Thiel has been obsessing over bass. He tantalized the assembled press with three bass tools that were, as always with Thiel, different and impressive.
Thiel introduced a passive two-channel PX02 crossover ($350). The PX02 comes in different models, each designed to integrate a different Thiel loudspeaker with the company's SW1 subwoofer. The demo which used a pair of CS 7.2s was absolutely convincing: bass was integrated and global, we heard nothing from the subwoofer off to the side—all the music came from the soundstage in front of us. Thiel also has developed a 5.1 version called the PX05 ($500).
However, it was the Thiel Integrator ($4400) that had us all going "wow!" The Integrator is a microprocessor-based active crossover that can analyze the characteristics of any loudspeaker it is paired with to control high- and low-pass filters and seamlessly integrate speaker to subwoofer for "one-speaker" response. The Integrator is RS232 controllable, accommodates balanced and single-ended signals, allows up to six preset contours, and is remote-capable.
But wait, there's more!
Thiel also introduced a new wall-mounted loudspeaker called the Viewpoint ($1990/each), designed to compliment (you guessed it) flat-panel video displays. Housed in extruded, anodized aluminum cabinets (manufactured to match the customer's video display), the Viewpoint mounts its concentric driver on an angled baffle in order to eliminate "rear-wall bounce." Thiel cited the 60Hz -3dB down point, but said that, thanks to boundary reinforcement, it was subjectively lower.
An intriguing product—but we'd already told you it was a Jim Thiel design, hadn't we?