Gear Shop Opens
We were startled to receive an email announcement recently informing us that Scot Markwell, long-time set-up and equipment maven for
The Abso!ute Sound
's erstwhile editor Harry Pearson, had joined the staff at
www.themusic.com
to manage its Gear Shop division.
Markwell, an Air Force veteran and audio lifer, has been widely acknowledged as one of the leading turntable set-up technicians in the industry, as well as an audio generalist, familiar with a staggering range of audio exotica of every stripe. After all, it was his job to tweak and fine-tune the best of the best for Pearson himself—a notoriously discerning listener.
Unfamiliar with the Gear Shop, we called Mike Hobson at www.themusic.com, only to discover that there's a lot we didn't know.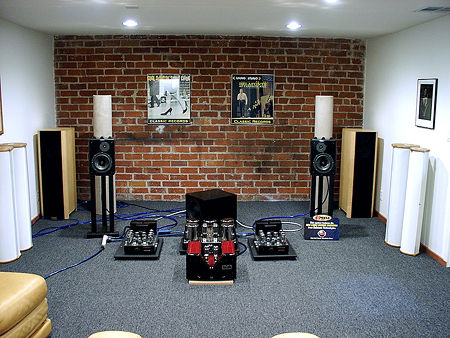 "We originally envisioned the site as an artist development opportunity—what we refer to as 'Motown meets the Internet'—and I still think that approach is viable and that somebody will figure out how to do it when the time is right, but that's not where we're headed.
"We decided to focus on three areas. The Groove Shop is intended to offer all things vinyl—new, used, audiophile, regular weight, imports (and we also carry CDs). We wanted to create the virtual equivalent of the cool local record shop we all grew up with. In fact, we've now created a brick & mortar version of that in our new facility, which is the old RCA Records warehouse building in Hollywood.
"It's one of those record shops you have to know about in order to get there (1027 N. Orange Drive, Los Angeles, CA 90038-2317. Tel: (800) 457-2577—by appointment). In Chris Ashford and Brian Tipton, we have two of the real record experts out there. Chris used to run Aaron's Records' rare room and Brian Tipton used to work at Audiophile International.
"The Encore Shop is the newest of the ventures and it arose out of the Scoop Series we'd done with Pete Townshend, releasing some of his solo activity and some of his work that predated The Who. We discovered that The Who were going out on tour, so we pitched the idea of recording the shows and marketing them to people at the venue and then delivering the CDs within three weeks of the event.
"What made the Encore Shop so different from the other attempts at the same thing was our idea of advertising it at the venue. We'd post the details up on the Jumbotron and people could then later log onto www.themusic.com and order the concert that they'd just heard.
"Since The Who, we've done a Peter Gabriel series and a Duran-Duran series, and this year, we're doing 40 more Peter Gabriel dates, 60 Phil Collins concerts, and every The Who concert from now on—including the four dates they recently did in the UK.
"Even though ClearChannel is now competing with us, we're still considered the premier company doing this—we use high-rez digital, professionally mastered, pressed onto high-quality CDs, and then packaged in genuine, high-quality, bootleg-type packaging, which we hand stamp with the date, set-list, and venue."
We certainly found all of that fascinating, but what about Markwell and the Gear Shop?
"I was slow in getting The Gear Shop portion of the business off the ground because I needed exactly the right person to run it. Scot Markwell was the right person.
"I think the audio industry absolutely has to return to the days when it gave consumers experts who could help them assemble their systems—and then get the best sound possible out of them. Scot does that better than anyone I've ever met.
"The Gear Shop is an Internet retailer, but we also have a brick & mortar facilty in our converted warehouse—by appointment only. And we also distribute most of the products we stock. If someone wants to buy a Kuzma Stabi Reference and he doesn't have a local dealer, he can buy it from us and we'll send one of the greatest turntable set-up experts in the world to set it up in his home. We did that recently for a customer in Hawaii. That was the good news for Scot—he got to fly to Hawaii—the bad news was that it was for 48 hours.
"Or someone might want to come to the store and experience a real hi-fi demonstration in a great sounding, comfortable sound room. When you're buying a $7000 turntable, what's the downside in buying a ticket to LA? We'll pick you up and bring you to Hollywood, where you can hear impressive high-end systems set up right, hang out with some real record nerds, and have a day or two in La-La land—heck I've spent a lot more on a worse deal than that!"
Seems like Mr. Hobson was leaving out another crucial component in his Gear Shop equation: In himself, he's got one heck of a salesman.