2005 CES: Day Two
Every few years the Las Vegas Consumer Electronics Show turns cold and wet, and it looks like this will be one of those years. Still, audio is largely an indoor activity, and despite chilly, damp weather, ongoing format turmoil, and pressure from home theater, rooms at CES's high end audio venue, the Alexis Park hotel, are hopping as normal.
Simaudio's Lionel Goodfield was beaming with pride as he beckoned us to his room. A new stack of products waited inside: the Moon Andromeda CD player, Moon P-8 preamplifier, and Moon W-8 amplifier. Added together, the total price for Simaudio's trio of sonic goods could buy you a fully tricked-out Mini Cooper, but anyone with their priorities straightened out would no doubt shoot for the Moon(s).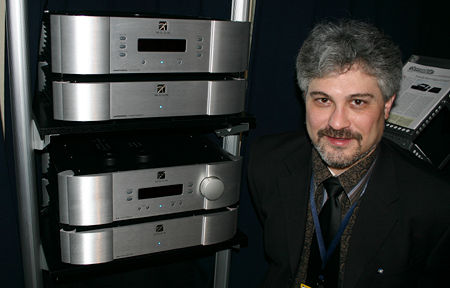 A newcomer to CES, Lipinski impressed with its L-707 Studio Monitors all around. The demo also featured the company's L-150G Sub and a L-505 Studio Monitor serving as a height channel in the rear. Inspired by Dunlavy, the Lipinskis were designed with the pro recording market in mind, but will likely find their way into more than a few domestic environments where detail and sonic precision rule the roost. Pricing for the L707 (pictured below with recording engineer Lukas Lipinski) is $2295 each with the sub retailing for $2495.
Still not sure if "high-end" and "universal disc player" belong in the same sentence? Conrad-Johnson puts your doubts to rest with the new AVP1 universal disc player, appearing here in full mock-up regalia. Lew Johnson says the final product, sporting 6 analog outs, is expected sometime after the middle of next year for around $8500. To go with it will be the new MET1 6-channel analog "enhanced-triode" preamplifier that can accommodate two multi-channel inputs and three stereo inputs for eight grand. Expect this one in March.
New products from Krell are always newsworthy, but the company was obviously pink with pride over its new Evolution series, which is available in both discrete black and shiny silver finishes. Krell faceplates that gleam? That's a horse of a different color.
The Evolution One is a 450W class-A monophonic power amplifier that uses proprietary current-gain topologies from its input to output to keep the audio signal in the current domain all the way through. The result is an amplifier said to have unrestrained power on tap—one that uses virtually no negative feedback and boasts extraordinary bandwidth.
The Evolution Two monophonic preamplifier operates in full balanced mode from input to output, also employing Krell's Current Tunnel topology. The volume control employs a 16-bit balanced resistor ladder that features low-resistance, high-linearity solid-state switches and precision resistors.
Both the Es One and Two house their power supplies in separate massively shielded chassis. Krell engineered its own power supplies, including a dedicated 165VA toroidal transformer on the preamp and two gonzo 2100VA toroidal transformers for the Evolution One. Each PS also boasts internal high-current line conditioning circuitry to filter RF noise and smooth line anomalies.
The two products will ship in March 2005. The Evolution One will cost $45,000/pair and the Evolution Two $35,000/pair.
It was 20 years ago today that Bob Stuart taught the CD to play. Actually, it was 20 years ago last October, but Meridian felt that two decades of high-resolution CD playback were worth celebrating, so the company released the 808 Reference CD Player. "We never stopped receiving customer requests for an 'ultimate' CD player," Bob Stuart said softly. "We felt we had to honor that level of interest."
The $13,000 808 certainly looked impressive, although it was a bit difficult to hear it in the noisy confines of the Las Vegas Convention Center's South Hall. But when we remember how the original Meridian 208 caused us to re-evaluate our initial perceptions of what was actually on those early CDs, it makes us want to take the 808 home and make it sing.
Escaping from the LVCC, we sought respite in the Linn Suite on a high floor of the Bellagio. There, Brian Morris showed us the $25,000/pair Artikulat 350A (the "A" stands for "Active," since each driver has its own amplifier).
Actually, I cheated, since I'd already heard the same pair of Artikulat 350As in John Atkinson's listening room when he was reviewing the pair that Linn had at the show. You'll need to read John's upcoming review for the complete story on these full-range floorstanders, but once again I was impressed with how dynamic the speakers sounded—and how much presence they had. My CES audition was the second time I had to tear myself away from these speakers—and how bad is that for a recommendation?
Almost as an afterthought, Brian Morris showed me Linn's Komponent line of "lifestyle" loudspeakers. These babies were a lot more affordable that the Artikulats—although final pricing has not been set. An audition of the floorstanding Komponent 110s was pretty startling, although Morris had connected them to a $12,000 Unidisk SC and a pair of $12,000 Klimax-Chakra monoblocks, which has to be considered cheating, or else a definition of "lifestyle" that I can only hope to aspire towards.
Once again, I had to tear myself away.
And then I saw the Komponent subwoofer, which has to be the coolest looking sub ever. I think the Green Goblin will be riding one in Spider-Man 3.
THOOM. THOOM
And away we go.