Live at Otto's: a New Stereophile Jazz CD
Released in July,
Live at Otto's Shrunken Head
(STPH020-2) is the latest Stereophile CD from reviewer Bob Reina's jazz quartet, Attention Screen. Unlike the group's first CD,
Live at Merkin Hall
(STPH018-2, released in 2007), which was recorded with multiple microphones, I captured the eight improvisations on
Live at Otto's
using a single pair of mikes.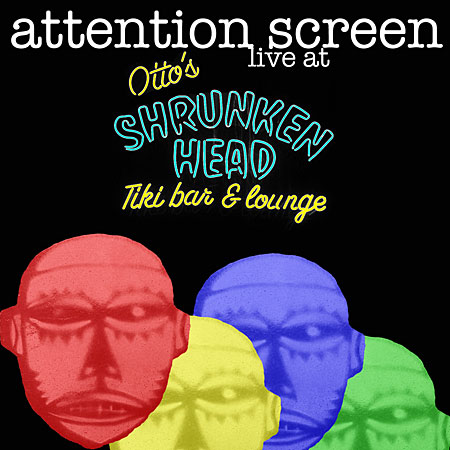 Otto's Shrunken Head, of course, is nothing like Merkin Hall. Near Lincoln Center, Merkin is a proper concert hall with plush seating for about 450 people. It features a stage large enough for an entire orchestra, and is known for its outstanding acoustics. By contrast, Otto's, on Manhattan's Lower East Side, is a Tiki Bar with leopard-skin chairs for about 25 people, plus standing room for another 25. A small, triangular platform for the band in one corner of the room barely separates the musicians from the audience. There are beaded curtains with paintings of exotic mermaids and hula girls. The room is "treated," so to speak, with straw, grass, and bamboo. While Attention Screen was undoubtedly excited to play in Merkin's grand space, notes Stephen Mejias, he sensed that the band was more comfortable in the intimate, playful atmosphere of Otto's.
I recorded Attention Screen at Otto's five times, but the improvisations on this CD date from just three of those gigs: October 27, 2006; December 4, 2007; and April 11, 2008. The outputs of the two mikes, DPA 4011 cardioids arranged as an ORTF pair, were captured on my Macintosh laptop's hard drive using a Metric Halo ULN-2 FireWire audio interface running at 88.2kHz with 24-bit resolution.
Why just two mikes? Those used to the New York club scene will appreciate that with the crowded bills, there is rarely more than 30 minutes available for a band to set up, and even less time to strike the gear before the next act goes on. Therefore, my recording rig had to be pretty much plug'n'play. There was the added benefit that, other than the microphone stand, all the gear fit into a backpack. I took the subway to the gigs.
While the new CD doesn't have the clean, open clarity of Merkin, the documentary approach used to create Otto's vividly captures the ambiance of the band playing balls to the wall in the confined space of the famed tiki bar. You can hear the audience, the clinking of glasses, the sounds of the bar's pinball machine—even some acoustic breakthrough from the jukebox next door. But most of all, you can hear a solid, almost three-dimensional image of the band: Mark Flynn's waywardly explosive drums, bassist Chris Jones's fretless grooves and explorations, guitarist Don Fiorino's out-there improvising, and the supporting framework of Bob Reina's Kurzweil electronic piano (footnote 1). The louder you play the CD, the more there is to hear—which is pretty much the definition of a high-end recording.
If you're unfamiliar with Attention Screen's music or haven't listened to Live at Merkin Hall, start listening to Otto's with track 8, "Packing Nightmare." This begins with a rollicking pattern on the drums that Mark Flynn sustains all the way through. Don Fiorino is playing a fretless acoustic guitar and at first had feedback problems with the rented Marshall stack the club had installed that night for the next act, a German band making their New York debut. Yet Don plays with the feedback, providing watercolorish washes of sound to overlay both the drum pattern and Chris Jones's questioning bass riffs, which pay homage to Jimi Hendrix before Chris settles into the groove. Bob Reina sits all this out for a while, before beginning to add flippant arpeggios that culminate in a figure reminiscent of "Don't Cry for Me Argentina," over which the bass and drums start to cook, with Flynn climaxing the resultant shuffle with mighty flams on toms and snare. A brief, contemplative coda reprises the "Argentina" piano figure and one of the opening bass riffs in counterpoint, over which Don adds another touch of controlled feedback. The coda fades into the sound of the jukebox in the bar next door, and the improvisation—as structured as classical music yet as spontaneous and rhythmically complex as modern rock—is done. And there are seven other tracks, each unique, each as musically satisfying.
Live at Otto's Shrunken Head is presented in a Digipak made from recycled materials and is available from the magazine's e-commerce page. Price is $9.99 plus S&H. But as a special introductory offer, you can save $4 by purchasing Live at Otto's with Live at Merkin Hall for the special twofer price of just $18, again plus S&H.
---
Footnote 1: Bob used a superb Steinway D for the Merkin concert. By contrast, the stage at Otto's is so small that there was hardly room for his electronic piano, let alone an acoustic one. Nevertheless, his instrument, an 88-key, touch-sensitive Yamaha keyboard driving Kurweil samples via MIDI and amplified with a Roland two-way amplifier/speaker combo, sounds surprisingly convincing.