The Unmaking of Elvis Presley: New Reissues 1960-1972
No artist in the history of sound recordings has a more confused recorded legacy than Elvis Presley. Thanks to several generations' worth of ruthless avarice by his label, the constant machinations and eventual fire sale by his manager, Col. Tom Parker, and his own pathetic sloth, due in part by a 20-year addiction to prescription drugs, Elvis's recorded catalog is an absolute disaster: cut and pasted, issued and reissued as both budget and full-priced collections, exploited beyond all recognition. Keeping track of Elvis's catalog is one of, if not the most, labyrinthine discography in rock 'n' roll history. When all the foreign issues and reissues of his work are taken into account, it is, (speaking from recent experience) an endeavor which severely tasks the human capacity for tedium.
But in the past year a number of new Elvis compilations have been released that contain music that has never been released before, or never in this form, and in vastly improved sound. By trying to replicate what an Elvis recording session was like, several of these new collections even work from an intriguing, thoughtful concept, a state almost unknown in the repackaging history of the Elvis catalog. Except for Home Recordings, I've limited my discussion to the discs recorded during the time covered (1960-1977)in Peter Guralnick's newly published second volume of his Elvis Biography, Careless Love: The Unmaking of Elvis Presley, discussed elsewhere in this issue.
In terms of recording dates, the first collection of "new" Elvis recordings is Elvis Presley—The Home Recordings. It is also the worst-sounding. Considering the source material that they had to work with, however, producers Ernst Mikael Jorgensen and Roger Semon (who worked on all the reissues mentioned here) have done a fair job of sonic reclamation.
The songs on Home Recordings date from 1956 to 1966—the last 14 of the 22 tracks were recorded in 1966 in Los Angeles, at Elvis's house on Rocco Way. The disc opens with a very sonically rough version of "When the Saints Go Marching In," recorded in Memphis in 1956 with Presley pals (and future Memphis Mafiosi) Red West and Arthur Hooten. On many songs Elvis is joined vocally by West and Charlie Hodge, who sometimes sing harmony, sometimes background. The tunes range from the early-'60s pop hit "Mona Lisa" (this version recorded in Germany while Elvis was in the army), to such western classics as "Tumblin' Tumbleweeds" and Bob Wills' "San Antonio Rose," to inevitable (for Elvis) gospel numbers like "Show Me Thy Ways, O Lord." Given the condition of some of the source tapes, this collection gives new meaning, at least for the engineers, to the word "project."
"A nightmare, I think you'd call it," Jorgensen says with a snort. "Not only do you have technical quality problems, but then everyone recorded over these tapes. You hear half an hour of people talking, but then you put on the headphones and realize that they recorded over Elvis at home in 1956 at Christmas singing Pat Boone songs, and it makes you think of killing someone...or crying."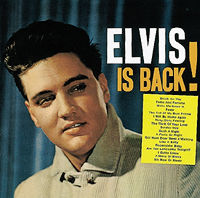 Outside of such sonic dredging, the primary value of this collection—definitely a collectors-only item—is that it captures the sheer joy in singing that Elvis obviously felt. More than once in "Tennessee Waltz," for example, he breaks into belly laughs over muffed lyrics. These admittedly amateurish recordings also function as a window on one of the more benign activities that Elvis and the MM shared during the "legendary" Los Angeles nights of pills, starlets, and song that took place during the years he was filming there. In some, a party can be heard going on in the background. In one of the early recordings, made at an army base in Killeen, Texas, a baby wakes from a nap and bursts into tears.
Some of what's on Home Recordings has been released before. The final three tracks, for example, first appeared on the excellent but out-of-print boxed set Elvis—A Golden Celebration (which also contains a wealth of very early live material), but appear here in better but still coarse sound. A second volume of these recordings was released only to members of Elvis's fan club. "It's more a historic piece than a record," Jorgensen explains. "We couldn't justify marketing more than one."
Several of these recent reissues seek to correct or at least tinker with the philosophy that guided Elvis's career for its entirety. The music business of the early '60s was driven by singles. What were considered the best tunes were, of course, released as singles; only later would these tracks be available on LPs, which were usually best-of collections. In Elvis's case, many singles B-were also used to flesh out and create a selling point for otherwise lackluster movie soundtracks. This practice ended in the late '60s, when rock artists assumed increasing control over their own careers and began making coherent albums instead of just cutting hit singles.