David Chesky: A Portrait of the Artist as His Own Man
David Chesky, whose company has been making superior recordings for nearly 20 years now, isn't from the engineering side of the business. He's talent—a pianist who sometimes performs on his label, a composer of classical and jazz selections integral to its catalog, and an arranger as well.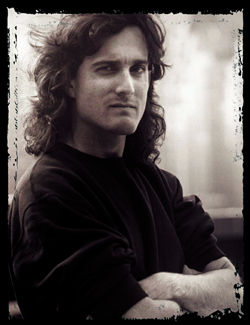 Chesky was born in October 1956, grew up in Miami, and began studying piano at age five because his mother, an eighth-grade teacher, decreed that "everybody in the house is going to take piano lessons, so when you become a doctor you can play as an avocation." She also felt that the pursuit would help her children develop discipline and good study habits. The formula pretty much worked for her oldest son, Jeffrey, who became a physiologist, but David cast a cold eye on college and, at 17, ventured north to New York City. Their younger brother, Norman, with whom David founded Chesky Records in 1986, followed two years later.
Before long, David was playing jazz professionally and leading a big band. After being introduced to the record executive Bruce Lundvall, he signed with Columbia and recorded one album for the label. For about a decade or more, he did studio work, composing music for commercials and TV movies, which he sometimes arranged for orchestras that he'd then conduct for the recording sessions. For many years, "television was a living" for David as well as for his brother Norman, who was both his partner and his sales representative in that venture. "We were lucky we had it," David says, "because without it there would be no Chesky Records."
David Lander: You once told me that, when you were a youngster, you thought Latino music was the music of America.
David Chesky: It was the music of Miami, and it was the music I was exposed to. There was the cha-cha rage, it was the bossa nova age. My mother was really into bossa nova—Jobim—and she got me into jazz. She took me to my first jazz concert, the Buddy Rich Big Band.
Lander: That helps explain all the Latino music in your catalog, as well as the jazz titles. After coming to New York, you studied privately with the jazz pianist and composer John Lewis, best known as part of the Modern Jazz Quartet.
Chesky: I studied piano with John Lewis. I was 17, and at the time I couldn't appreciate him—when you're a kid, you want everything crazy and fast and loud. It took me years to really appreciate John Lewis, because he was a man of subtlety and elegance. Even at the session, I couldn't call him "John." He was my teacher.
Lander: The session you're referring to was for your most recent Clark Terry recording, One on One, which features Lewis on one track. At that point, you weren't his student; you were his producer. Did that intimidate you?
Chesky: No, not at all. It was very nice. John Lewis, when I was like 19, got me a job one summer as the writer for the Monterey Youth Orchestra, a jazz orchestra. And the guest was Clark Terry. I was awestruck by Clark Terry, and I flew back sitting next to him on the plane. It's just funny that, 20 years later, he's on my label.
Lander: You also studied with the Pulitzer Prize–winning classical composer David Del Tredici—again, privately. Conventional academic settings have never appealed to you, have they?
Chesky: I came to New York because it's Rome. This is a university in itself. I got a job in a jingle house writing music for television, and there were a lot of great orchestrators there, guys in their 50s and 60s. I learned from them. And that's when I became very interested in sound.
Lander: In 1986, you paid a call on Earl Wild, the distinguished classical pianist. He was a friend of your uncle's, and you approached him for advice on composing. Wild gave you a budget LP copy of Rachmaninoff's second piano concerto, which he had done for Reader's Digest, but you said it didn't sound good.
Chesky: It didn't, and I noticed it was recorded by Charles Gerhardt and Ken Wilkinson, guys with a great reputation, so I said, "Maybe we can hear the master tape one day." Earl arranged it, and I went to hear the tape, and it was amazing—such a great, lush record. Charles Gerhardt, Ken Wilkinson—they started this whole audiophile recording ballgame. They laid the groundwork for everybody. That's how I started the label. I went to Reader's Digest and said, "Look, I like this. Can I reissue it in high-quality vinyl?"
Lander: Chesky Records was initially in the business of reissuing classical titles on vinyl, but by 1988 you were actually producing recordings, the first of which featured the violinist Johnny Frigo with both Pizzarellis, Bucky and John. Now that your catalog contains more than 200 releases, what qualities do you feel are most essential to audiophile recordings?
Chesky: For me, there's got to be total transparency and a realistic sense of imaging. Tonality must be realistic. Dynamics must be real, not compressed. If the engineers from the '50s and '60s heard what was going on today, they'd freak out, because those guys were audiophiles. What we're doing is applying their philosophy, but with much better equipment. We go into a studio with one stereo mike, and we put a band in front of us. This is our mantra: one mike, natural perspective, real musicians in a real space. There's real interplay between the musicians, and it makes them play differently. A lot of musicians hate it at first, because they're used to an artificial environment where everything's assembled, pasted together, and airbrushed, but after a few days they get used to it and really like it.