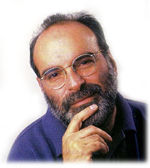 Setting the Music Free?, by Ken Kessler
Where you stand on profit-making will determine which side you take in the current debate about the record companies vs the public. I, a militant capitalist, believe firmly that a provider of goods or services deserves to be recompensed, tempering this only with the words within reason. You will never, for example, see Kessler defending UK bank charges. Thus, if Warner or CBS or EMI sank $2 million into a new act, and said act worked for years to get where it is, and a retailer bought, stocked, and then resold its discs, they all deserve to make some money out of it.
If, on the other hand, you're a Che Guevara-worshiping, closet-Commie hippie, then you probably think music should be free. Leaving aside how even the Grateful Dead, Paul Weller, Pete Seeger, or Billy Bragg might feel about a reduction in their royalties, the biggest upset caused by downloading music files via the Internet has been the removal of a range of real-world expenses for all concerned: manufacturing overheads, the materials in the discs and packaging, packing the finished discs, warehousing, shipping, retail overheads, shopping bags—all gone when it comes to downloads. So we grow closer to (theoretically) free music.
(There are also green issues at play. The complete removal of the physical disc saves all sorts of resources, from plastics to paper to energy. Even I, who prefer holding a disc to clicking a mouse, accept that this is A Good Thing. Actually, it may be the only Good Thing about downloads—unless you're agoraphobic or misanthropic, in which case not having to go to a store is also A Good Thing.)
This newsletter has already covered the backlash against downloading, especially in Europe, about based on such concerns as the failure of Apple iTunes and others to produce price parity between countries, and especially the failure of the record companies to pass on even token savings to those who have eschewed the possession of a factory-made, decorated, annotated disc. After all, aren't downloaders sparing the record companies all of the above-listed costs related to physical music carriers? Surely a downloaded album should cost at least 20% less than a disc in a jewel box?
For the time being, this debate rages at the government level. As I said, I believe in profit within reason; thus, I will be the first to argue that downloads should sell for less than physical carriers. In this respect, the same mentality applied to downloaded software should apply: I pay less for downloading, say, my preferred antivirus program than I would buying it on a disc, in a box, from a computer store.
However, at least in the UK, it's not the prices of downloads that have substantially decreased, but of CDs and DVDs. Those of you savvy enough to know that the US is the biggest bargain-hunter's paradise on earth are probably thinking, "Dropping chart CDs down from £15.99 ($30.40) to £11.99 ($22.78) is still a ripoff." True: the UK remains criminally expensive for everything. But the major stores here are chopping prices to the point where some chart CDs now cost only £9.95 ($18.90). I've even found recent DVDs at that price. (This was written on August 10, when the exchange rate was a scary-for-Yanks £1=$1.90. To put these prices in the context of true cost relative to the UK's cost of living, it's like Americans getting chart CDs for $8.99 each.)
Most common of all are deals like "3 DVDs for £20," or piles of CDs at £5.99 apiece. And I'm not talking about swill, but almost the entire catalogues of Led Zeppelin and the Eagles, Motown's dazzling new two-CD best-ofs, recent chart stuff like the Zutons and Franz Ferdinand, and shelves full of heavy metal, thrash, and hip-hop. It's Christmas in August.
I asked a colleague of mine, who owns a film-distribution company that moves a lot of foreign-language DVDs, if there was some deception going on—were these just overstocks? I mean, the Sideways DVD for £2.99??? It's recent, it's great, and it's neither Dude, Where's My Car? nor Battlefield Earth!
No, he assured me. The stores were genuinely buying in loss leaders, fighting back against downloading. In addition to the pressures of downloading and online shopping for discs—and we have yet to see the massive bite that downloading feature films will take out of DVD sales when that becomes commonplace—retailers have been suffering badly of late, not least because unleaded, regular-octane gas is up to $6.84 a gallon in the UK. (That's 99p a liter, deducting 20% for the smaller US gallon.) But the biggest threat may be UK supermarket chains such as Sainsbury's and Tesco (the latter soon to enter the US market), which sell CDs and DVDs at prices far below the specialists' prices. Recently, at a Sainsbury's, I snaffled up Cinderella Man on DVD for £5.99.
London's Financial Mail reported in July that HMV, one of the UK's biggest record-store chains, is fighting both Internet vendors and the supermarkets with slashed prices in its 200 stores. (HMV also sells online.) As a general policy, chart CDs have been cut by a third, to the aforementioned £9.95, while back-catalog titles sell for £5, £7, £10, or £12. Virgin, a primary retail rival, offers similar deals, as does W.H. Smith. And if you have too much time on your hands, it's fun charting the movement of prices online: I notice that amazon.co.uk now sells Cinderella Man for £6.97. The list price is £19.99.
So, ironically, in the UK there's never been a better time to buy CDs or DVDs. I mean, why download a disc, then burn it to a blank, and produce your own ham-fisted artwork, when you can buy "the real thing" in nice packaging for the same price or less?
This downpricing simply reduces prices to levels that are far more realistic, though it's a shame that it took the threats of downloading and online sales to do its. But will this mean a boost in interest in the quality of playback hardware? Will people start going back to hi-fi stores? A cynic would suggest that this computer-oriented society, especially the under-25s, will still turn to portables or the computers themselves for playback, even if their music is on CD rather than on a hard drive or in an MP3 player. What they'll be missing is the concurrent drop in the price of hardware.
Last week, I bought a standalone DVD player-burner for my home-theater system, something strictly for time-shift. Its case is 16.75" wide and 1.5" high, and it looks nice. It bears the name of a now-defunct, very famous, "extreme" high-end make that probably had nothing to do with it, because this unit most assuredly came from China. It will play back any CD or DVD and burn any type of blank (though not, I hasten to add, SACD or DVD-Audio!). With the exception of HDMI it has every output I need, including S-video, SCART, stereo analog audio, and coaxial digital audio. It came with a full remote control, plays all regions of DVD, and outputs DTS and Dolby 5.1. It even came with a free blank DVD. And it ain't bad at all.
Best of all, it has a timer and a TV tuner, so it will replace my aging VCR, delivering a watchable six hours of video on a standard DVD-R. I bought it online, from a company I'd previously used strictly for computer wares: toner, cables, memory cards. Including sales tax of 17.5% and shipping, it landed on my doorstep for £54. Don't get out your calculator: that's a hundred bucks.
Kinda puts that £2.99 copy of Sideways in perspective. <!- ------------------------INTERNATIONAL AUDIO NEWS ADVERTISER 2----------------------------> <!- ---------------------------------------------------->