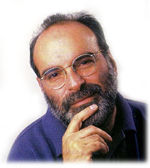 Super Decks, by Ken Kessler
Both a romantic and a cynic could liken the infrequent appearance of cost-no-object turntables to the gestation period of elephants—and Lord knows, the price tags of these superdecks are truly elephantine. But their frequency of appearance has been increasing, if still at a leisurely pachyderm pace. Just look at the gaps in years between the launch of the original Goldmund Reference and the Rockport, and then between the Rockport and the Continuum. Now, with almost indecent haste, the Continuum Audio Labs Caliburn has been followed by the Clearaudio Master Reference.
For some reason (here cynic might voice the odd observation), superdeck builders seem to like price tags in the $60-$100k region, yet nothing anyone writes can justify a sticker on a turntable approaching that of a seriously well-equipped BMW. Conversely, something is worth precisely what the customer is willing to pay, and I can tell you that both the Continuum Caliburn and the Clearaudio Master Reference are currently back-ordered. As I was placed in the possibly unique position of listening in ideal circumstances to both turntables in the same week—in private audiences, as it were, with a similarly papal feel—my observations might prove interesting.
This is not a travelogue, but I must tell you that I heard the Master Reference in Clearaudio's magnificent listening room at their factory in Erlangen, Germany, via an otherwise exact replica of my own reference system: McIntosh C2200 preamplifier, McIntosh MC2102 power amp, and Wilson WATT/Puppy 7 speakers, with a Clearaudio Goldfinger cartridge. Three days later, I was on a plane to New Jersey to spend an ear-opening two days with Mikey Fremer, listening to his Continuum Caliburn through the ASR Emitter II integrated amp and Wilson MAXX 2s, with Lyra Titan and Clearaudio Goldfinger cartridges.
Neither is this a review, but a set of observations. Burying my cynicism about price—I can, after all, justify with ease the $350,000 asked for a certain tourbillon wristwatch, or the £50,000 Dunhill charges for its Sakura Rose fountain pen—I sat back and listened to a steady diet of familiar recordings. And while neither turntable's sound would ever be mistaken for the other's, they shared certain qualities that lifted them above the "sane price" threshold.
First and foremost was the sense of scale, which hit me immediately—wider, deeper, and taller than just about any other playback system I had ever heard. Next, I noticed bass so palpable, fast, controlled, and solid that it made me want to go running for that mint copy of "Papa Was a Rolling Stone." Third was the presence of a three-dimensional variety, an in-the-room experience that most systems only just graze. Then there was a blackness to the background that belied any notions of vinyl scrape or tracing noise.
Should those with other great turntables quake and wring their hands? No. I returned to the UK, switched on my SME 30, and slid into the same blissful reverie I had enjoyed while listening to Brenda Lee's debut LP at Mikey's, or Mr. Big's "To Be With You" in Erlangen. But I did leave this one-two analog punch with a simple realization: The new superdecks are worth every dollar—if, that is, you can spare that many of them.
Good news for one of audio's Good Guys: In May in Paris, Professor Malcolm Omar Hawksford was awarded the Silver Medal (formerly the Emile Berliner Award) of the Audio Engineering Society, at the opening ceremony of the 120th International AES Convention. His gong bears this citation: "For major contributions to engineering research in the advancement of audio reproduction." The award was presented by Neil Gilchrist, current president of AES and a BBC broadcast engineer.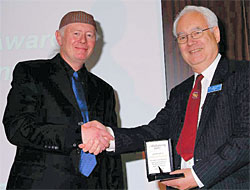 Hawksford has been at the University of Essex since 1971. The audio community knows him through his contributions to Hi-Fi News and Stereophile—see www.stereophile.com/features/396bits and www.stereophile.com/reference/1095cable —and his work with companies such as LFD, whose Mistral integrated amplifier was long a Sam Tellig fave. I'm proud to have participated in one of Hawksford's classes; he boosts real hi-fi wherever and whenever he can, and I was his tame captive audiophile in a show-and-tell for his students. As the AES put it, "Malcolm is a strong advocate for systems and engineering practices that advance the quality of audio reproduction systems, an ethos he tries to instill in his undergraduate students on the B.Eng. degree in Audio Engineering."
Hawksford currently chairs the AES Technical Committee on High Resolution Audio, and has organized and contributed to numerous workshops and technical sessions. Recently, he applied his knowledge in sound reproduction to staging a concert of Asian music at the University of Essex, the concert recorded in April 2006 during a visit to Marrakech, Morocco. And if you know Malcolm, Marrakech is an ideal environment for him. Congratulations, Malcolm, and keep up the good work.
Lastly, I thank the myriad correspondents who wrote in response to my anti-Apple diatribe last month. Thank you so much for proving my case. In 32 years as a journalist, I have never received so much hate mail. More to the point is the frightening realization that not one of the angry e-mails contested even a single criticism I voiced about Apple or its products [other than Dan Frakes in the September issue's "Letters" column—Ed.] Rather, every e-mail I saw attacked me personally rather than the content of the column. Which, as I said, proves my case. If Apple fanatics will turn violent when someone slights their computers, it's anyone's guess how they'd react to insults aimed at their mothers.
In all my years as a computer user, I have never seen one PC user form a relationship with his or her computer beyond what one usually feels for one's toaster or alarm clock. This speaks volumes for the Apple mindset: Mac-offs would argue that PCs don't encourage such affection—which, as one who'd rather love a human being than a plastic box full of electronic bits, amuses and worries me. To those who attacked me rather than what I wrote, all I can say, in my best Apple/Valley Girl patois, is: Get a life. <!- ------------------------INTERNATIONAL AUDIO NEWS ADVERTISER 2---------------------------->
NAGRA
NAGRA. Legendary in professional audio circles since 1951. Crafting uncompromising products for the finest home music systems since 1998. Enter the PMA and PSA amplifiers: unmatched NAGRA performance for less than you would expect. Visit your NAGRA Dealer today for an unforgettable listening experience.
NAGRA. Ultimate Engineering for Ultimate Performance. Click Here!.
<!- ---------------------------------------------------->

21st Century Vinyl, by John Atkinson

A highlight of recent Home Entertainment Shows has been the Sunday-afternoon "Analog Clinic" presented by Stereophile senior editor Michael Fremer. In these clinics, Michael, who writes about vinyl playback every month in his "Analog Corner" column, spends an hour showing Show attendees how to set up a turntable and how to optimize the tonearm geometry. To judge by the attendance at Home Entertainment 2006, held at the end of May in Los Angeles, this is a popular subject these days.

It seemed a no-brainer, then, for Michael to produce a DVD covering the subject in even greater depth. The result is 21st Century Vinyl: On this almost three-hour-long, double-layer DVD, Mikey sets up three popular turntables. Using close-ups, illustrations, animation, and straight talk, he takes you from leveling the platter to spinning a record. Mikey "guarantees" that, after watching the disc, even a totally inexperienced audiophile will be able to set up a turntable (though he recommends first attempting it with an "inexpensive" cartridge).

There's a chapter on selecting tools, and even one that suggests the proper setup mood. You'll never confuse this often entertaining, sometimes funny, and always informative DVD with one of those cadaverous home-theater setup discs. Bonus features include a "tour" of Sterling Sound mastering engineer George Marino's cutting lathe, and a 20-page PDF containing more setup tips and easy-to-understand explanations of fun stuff, such as tonearm mass vs cartridge compliance.

In his review for Home Theater magazine's website, Mark Fleischmann praised Mikey's DVD, concluding that 21st Century Vinyl is "a helpful bridge between the first flush of analog enthusiasm and a long-term survival strategy."

The information in 21st Century Vinyl will be found useful by veteran audiophiles and tyros alike. The DVD is available from this website's secure "Recordings" page for $29.99 plus S&H.