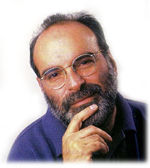 From the News Desk: Size Matters, by Ken Kessler
Far be it for me to pre-empt analog deity Mikey Fremer with news of a fresh turntable and tonearm, but I've got a wee scoop to share. Well, "wee" doesn't really apply—this is about up- rather than downsizing. And if its initiator inspires you as much as he has me, this could be the start of a—pardon the expression—revolution.
Those who know and love SME tonearms and turntables, and who know something of the company's history, will recall that the company has been making 12" versions of their tonearms ever since they shifted from making scale models to making tonearms. On the most basic level, the extra 3" provided one thing: a reduction in tracking error. The arc described by a cartridge mounted in a 12" arm is closer to the theoretically ideal straight line than anything possible with a 9" arm. Simple geometry; no PhD required.
But, as users of 12" arms have always known, the mass added by increasing an arm's length from 9" to 12" is simply too much for most cartridges. The classic 12" arms—the Ortofons, and SME's own 3012, M2-12, and 312, etc.—have all suffered from this to varying degrees, and have worked best with, primarily, cartridges of low compliance. This was fine with certain moving-coil cartridges, but clearly, any sense of universality with cartridges of more normal compliance was compromised. Even SME's Model 312, with its aluminum armtube, was much heavier than company founder Alastair Robertson-Aikman wanted.
But the allure of a 12" arm was too strong to deter Robertson-Aikman. He extended the magnesium barrel of an SME Series V arm to 12", along with careful sleeving, superb pressure fitting, the right touch of adhesive, and that inimitable SME finish. The result is the SME Model 312S, which probably has the lowest mass of any 12" arm ever made. It can be used with cartridges in the normal weight range of 6-15gm, and with compliances not deemed too low or too high by most makers.
While its armtube is made entirely of magnesium, like the Series V's, the 312S's use of the 300 series' counterweight arrangement and a special detachable headshell mean that it isn't directly comparable with a regular 9" Series V. If reviewers hear a difference between the arms, they'll be scratching their heads as they try to discover the cause: the reduction in tracking error? the different counterweight system? the different masses? Cleverly, impishly—nay, mischievously—Alastair Robertson-Aikman is forcing us to listen without recourse to earlier references, because more than one aspect of the arm's design has been changed.
<!- ------------------------INTERNATIONAL AUDIO NEWS ADVERTISER---------------------------->
Burwen Bobcat
CD sound is limited by 1977 computer technology, unless you have Burwen Bobcat. Ready for 2006?
www.danielhertz.com
Software and USB DAC $1,500. CD and MP3 touch your heart.
<!- ---------------------------------------------------->

In itself, the 312S is cause to rejoice. But then AR-A also realized that a 12" tonearm would not fit any of SME's three turntable models: the 10, the 20/2, or the 30/2. Although the Model 10's open, plinthless design has space enough for an extension without having to do much more than design a longer armboard, AR-A was not about to do any such thing. Even with SME's penchant for building the unbreakable—you can stand on an SME Series V armtube and it will not bend—he felt that any armboard even partially unsupported by a turntable's top plate would not provide sufficient rigidity.

So AR-A chose SME's middle turntable model, the 20/2, as the candidate for what he wryly calls "the extended wheelbase." And there was another reason: because the price gap between the 20/2 and 30/2 was one of many thousands of dollars—far greater than the difference between the 10 and the 20/2—it was better able to accept an additional price increase. Also, SME ensured that the new 'table's price would still be far enough away from the 30/2's for most consumers to leave the SME 30/2 securely in its position of King of the Hill.

Moreover, in recent months SME's entire turntable line had seen the introduction of new power supplies that added clever fine-speed adjustment for all three, plus 78rpm and magnetic braking for the Model 10. The new power supply, the bigger chassis, the longer arm, and a bigger platter added up to no mere modification but a new design deserving a new name: the 20/12.

(Note: Owners of Model 10s can have their power supplies upgraded by SME, probably through an exchange program yet to be set up, but the new power supplies for the 20/2 and 30/2 are completely different from the originals. Owners of existing 20/2s and 30/2s can, however, purchase the new supplies separately, without a "trade-in." All SME turntables now ship with the new power supplies.)

As one visitor to SME noted, not only does the SME 20/12 turntable with 312S tonearm sound incredible, it even looks more "right"—as if the deck had all along been waiting for its width to be extended. Owners will need to find space for a record spinner with a footprint of 15" x 20.75".

For those who want to compare the SME 20/12 (if not the 312S) with other 'tables, there's lots of fun in store: If you flip the armboard around, it provides the correct cutout for a 9" arm (with SME fitting). The 20/12 turntable will be available without tonearm, but the 312S arm, at least for the time being, will be sold only with the 20/12.

Raising a number of obvious questions, the new package elicited a smile from AR-A, who seems incapable of not tweaking his impressive system daily. When asked if there might one day be a Model 10/12 or a Model 30/12, or a 312S arm for the masses, or even a 12" version of the Series V, he would say only, "We shall see." As for the possibility of a revolution, could we soon witness an increase in the popularity of foot-long tonearms? Watch this space . . .

For US prices and availability, contact www.sumikoaudio.net.