Kharma Midi-Grand Ceramique 1.0 loudspeaker
Not for nothing did I name the Kharma-Lamm room at Home Entertainment 2002 the "Best Sound in Show." Show attendees slotted it 17th best [
see September 2002, p.59—Ed.
], behind other rooms to which I also gave high marks—mostly larger rooms featuring far bigger loudspeakers—but to me, the sound emanating from the Kharma Ceramique 3.2 ($19,000/pair), driven by Lamm electronics, possessed a sublime balance of sonic qualities heard in few other rooms.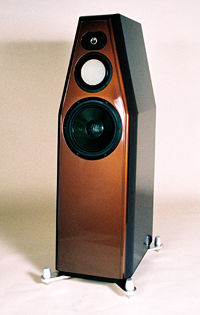 While the 3.2's bottom didn't extend as deeply as some other speakers', the Kharma delivered rhythmic clarity and outstanding bass definition down to what sounded like the low 40Hz area. From there up, the presentation was seamless, creamy-rich, and packed with detail. For a relatively small speaker in a small room, dynamics were impressive at both ends of the scale, and transparency was first-rate.
I figured it was high time I reviewed a pair of Kharmas—specifically, the 3.2s that had so impressed me at HE2002. But importer Bill Parish, of GTT Audio and Video (Kharma is based in the Netherlands), had other ideas. He wanted to give me an exclusive on the new $32,500/pair Midi-Grand-Ceramique GRCe-M-1.0, a model intended, according to designer Charles van Oosterum, to close the gap in the Ceramique line between the top-of-the-line Grand-Ceramique and the Ceramique 1.1.
Though fairly large, the Midi-Grand-Ceramique is slightly smaller than the Rockport Technologies Antares, which worked so well in my room (see my review in the August 2002 issue), so I agreed. Shortly thereafter, Bill Parish showed up with a gleaming pair finished in what the instruction manual called "Piano Black." Closer inspection revealed it to be a dark purple embedded with tiny sparkles. One color option is "Aubergine" (eggplant). Apparently, that's what I got.
Whatever its color, the gleaming finish was dark, rich, and masterfully applied. For $32,500 you should demand physical perfection, and the overall fit'n'finish of the Midi-Grand was commensurate with its price. Sitting on sturdy SDSS stands (included), the slope-baffled Midi-Grands cut attractive figures in my listening room.
There's nothing revolutionary about the Midi-Grand's straightforward, rear-ported, three-way design: an 11" Nomex/Kevlar Eaton woofer from Germany (same as is used in the Grand Ceramique) crosses over at 150Hz to a concave, 7" Accuton ceramic midrange driver featuring a titanium voice-coil former from Thiele and Partner in Germany (see my review of the Lumen White Whiteflame in the October 2002 issue for more about these drivers), in turn crossing over at 2kHz to a 1" titanium-dome Focal tweeter similar to what's used in JMlab's Grand Utopia.
All three drivers are built to Kharma's specs and modified by the company in-house. The tweeter's titanium-dioxide ceramic coating is carefully removed by hand (not a job for beginners) and the ferrofluid is "sucked out" (hopefully not with a straw). The midrange driver is treated with a proprietary acoustical compound; so is the woofer, though with a different compound, AVT-RC-01, claimed by Kharma to be particularly effective at transforming vibrations into heat (which is the job of all damping materials, of course).
As with the Rockport Antares, the key to the Midi-Grand's performance is in the execution and attention to detail—no "breakthrough" technology or revolutionary design is claimed. Designer van Oosterum says that the "specific shape of the mid/hi section of the Ceramique series is very important to the sound, allowing the acoustical energy to move freely around the cabinet and give the listener the experience of an acoustical event rather than sound emanating from two points in space." Based on what I heard, and the fact that many other successful designs use similarly shaped mid/hi cabinets, I have no reason to argue the point.
According to van Oosterum, the Midi-Grand is essentially a two-way system in its own enclosure, atop a subwoofer. The cast mid/hi section, made from a special polymer obtained from UK-based Spectra-Dynamics, is claimed to have optimum energy absorption in the lower midrange. The bass enclosure is made from 38mm Isorel MDF and lined with a patented acoustic absorption foam. The two enclosures are bonded with Elmer's Glue, and both are acoustically treated with AVT-RC-01. How the enclosures are mated to each other was not specified.
Charles van Oosterum says he's come up with a "seamless" crossover technique (they all say that) that he calls a "subtractive crossover technology" and uses in the midrange/tweeter handoff. He claims "absolute unity performance," meaning that adding the high- and mid-frequency energies totals "exactly one," ie, unity gain, instead of there being an excess of energy in the crossover region.
The notes van Oosterum sent me go into detail about other aspects of the crossover circuit that I'm not sure are critical to this review, though he stresses that the crossover is "tailored to correct acoustical phase above 20Hz." When I applied DC from a battery to the speaker terminals, the Midi-Grand's woofer traveled in one direction and the midrange in the other. However, van Oosterum claims that when AC musical signals are applied, "the actual acoustic phase of the units match in the transition region." [See the measurements Sidebar.—Ed.]