Ypsilon Electronics Hyperion monoblock power amplifier Measurements
Sidebar 3: Measurements
I measured the Ypsilon Hyperion with my Audio Precision SYS2722 system (see the January 2008 "As We See It"). Before performing any tests, I ran it at one-third its specified clipping power into 8 ohms for an hour. At the end of that time the top panel was warm, at 104.4°F (40.3°C), the heatsinks slightly hotter at 109.8°F (43.3°C). With the 6H30 Pi input-stage tube, with which I did almost all the testing, the gain at 1kHz at the speaker terminals was 26.4dB for both the balanced and single-ended inputs. With the alternative 5687 tube the gain was 0.5dB higher. The output preserved absolute polarity (ie, was non-inverting) with both tubes and inputs.
While the Hyperion's input impedance is specified as a moderately high 47k ohms, my measurements indicated a lower value at low and middle frequencies: just over 21k ohms for both the balanced and unbalanced inputs. This is still high enough not to be an issue, but at 20kHz the impedance dropped to just 3k ohms, which will be marginal with some preamplifiers, rolling off the top octave. Fortunately, this shouldn't have affected Michael Fremer's listening, given his associated equipment: His Ypsilon PST-100 preamplifier has a low output impedance, and his darTZeel preamplifier has a fairly uniform, if high, output impedance across the audioband.
Despite the Hyperion's large number of output devices, its output impedance was relatively high for a solid-state design, at 0.35 ohm. As a result, the modification of the amplifier's frequency response with our standard simulated loudspeaker reached ±0.25dB (fig.1, gray trace). Of more concern is the ultrasonic peak in the Hyperion's response, centered between 40 and 50kHz and reaching 2dB in height. The peak gave rise to a single damped cycle of oscillation with a 10kHz squarewave (fig.2) and was not affected by the load impedance, which suggests that it occurs before the output stage, perhaps at the input transformer. Figs. 1 and 2 were taken with the balanced input; the peak was also present with unbalanced drive and with both tubes, though it was slightly lower in height with the 5687 than with the 6H30 Pi tube.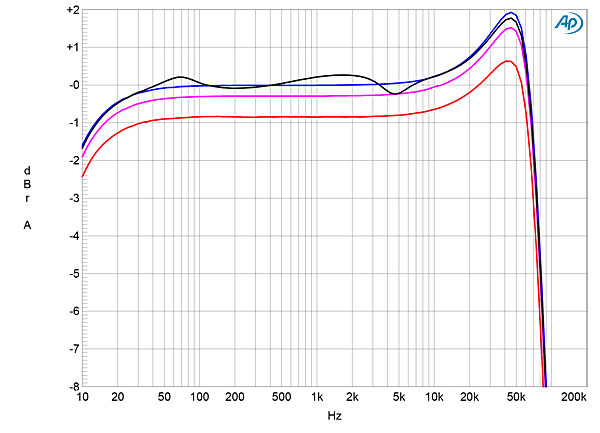 The Hyperion's wideband, unweighted signal/noise ratio, ref. 1W into 8 ohms and taken with the input shorted to ground, was good at 72dB, despite the presence of some very low-frequency noise, presumably from the input tube. The ratio improved to 84.1dB when the measurement bandwidth was restricted to the audioband, and to 94.9dB when A-weighted.
Befitting its size and 209 lbs—oh, my achin' back—the Ypsilon Hyperion is a very powerful amplifier with specified power deliveries of 370W into 8 ohms (25.7dBW), 650W into 4 ohms (25.1dBW), and 1150W into 2 ohms (24.6dBW). However, as figs. 3–5 reveal, at our usual definition of clipping, at which the THD+noise reaches 1%, the Hyperion delivered 239W into 8 ohms (23.8dBW), 400W into 4 ohms (23dBW), and 315W into 2 ohms (19dBW). It did meet its specified power when I relaxed the definition of clipping to between 1.4% and 2% THD+N, but these are disappointing results.
Of more concern in these graphs is the Hyperion's linear increase in distortion with increasing power output above a few hundred milliwatts. While the THD+N percentage remains acceptably low below 10W or so, above that power, and especially at low frequencies, it reaches levels that will be audible with continuous pure tones (fig.6). Why wasn't MF bothered by this behavior? First, his Wilson speakers are very sensitive (I measured 91.3dB/2.83V/m); most of the time, they would not have been asking the amplifiers to deliver more than a few watts each. Second, the Hyperion's distortion signature is almost pure second-harmonic in nature (figs. 7 and 8). Provided the harmonic distortion is not accompanied by high levels of intermodulation distortion, the ear is surprisingly tolerant of second-harmonic distortion, which adds consonant tones an octave above the fundamentals, these heard as a "fattening" or even a "sweetening" of the sound—and as these consonant tones are spectrally fairly close to the fundamental, they tend to be masked. (You can test this for yourself with the examples I included on Stereophile's Test CD 2.) When MF comments on "the immediately obvious added harmonic and textural richness," that it is what I would expect from this distortion signature. In addition, the Hyperion's intermodulation distortion was not as low as I would have liked. Fed an equal mix of 19 and 20kHz tones, the combined signal peaking at 100W into 4 ohms (fig.9), the Ypsilon's difference component at 1kHz lay at –48dB (0.4%).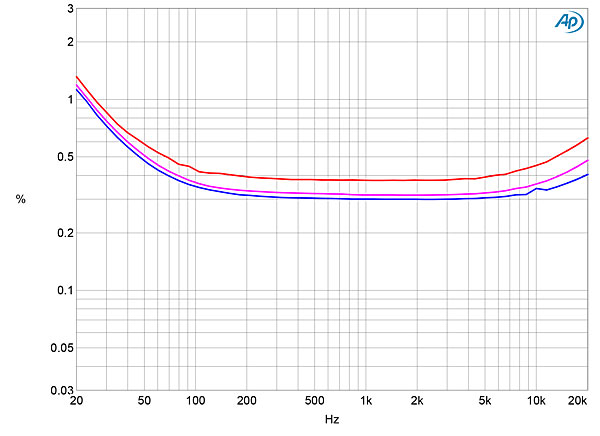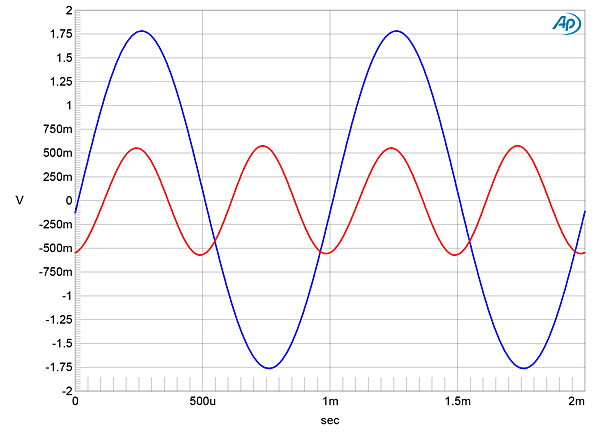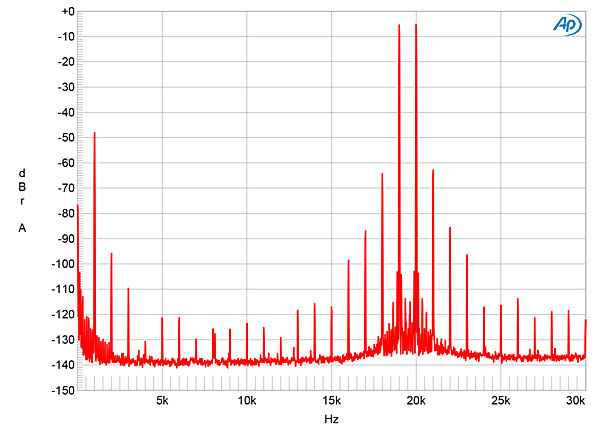 I have no reason to believe that this sample of the Ypsilon Hyperion was broken and my measurements are not out of line with its specifications. Given that, it is not an amplifier that I would recommend, especially given its price. While I have found that power amplifiers tend to sound different from one another, I feel they should be engineered to be as close to neutrally balanced as possible, and not designed to produce a "tailored" sound, as the Hyperion seems to be.—John Atkinson