Wadia 27ix & Wadia 270 transport Measurements part 3
The linearity was also superb, as can be seen in fig.8. The amplitude error is negligible down to -110dBFS. This and the low noise are confirmed by the waveshape of an undithered 1kHz tone at -90.31dBFS (fig.9), where the three voltage levels and the transitions between them are clearly defined. With 24-bit data, the result was a reasonable if noisy sinewave (not shown).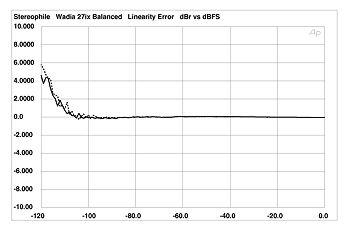 Fig.8 Wadia 27ix, balanced outputs, departure from linearity. (Right channel dashed, 2dB/vertical div.)
Fig.9 Wadia 27ix, waveform of undithered 1kHz sinewave at -90.31dBFS (16-bit data).
The Wadia's steady-state distortion, if still very low in absolute terms, was a little higher than I've seen in other state-of-the-art players and processors. Fig.10, for example, shows the 27ix's output spectrum outputting a 50Hz sinewave into 100k ohms. The second harmonic, at 100Hz, is apparent at around -73dB (0.02%) from both balanced and unbalanced outputs, though this will be subjectively innocuous. However, dropping the load resistance to a punishing 600 ohms both increases the level of the second harmonic and introduces fourth and sixth harmonics (fig.11). Again, this was typical of both balanced and unbalanced outputs.
Fig.10 Wadia 27ix, balanced outputs, spectrum, DC-1kHz, 50Hz at 0dBFS, 100k ohm load. (Linear frequency scale, 20dB/vertical div.)
Fig.11 Wadia 27ix, balanced outputs, spectrum, DC-1kHz, 50Hz at 0dBFS, 600 ohm load. (Linear frequency scale, 20dB/vertical div.)