Volti Audio Rival loudspeaker Page 2
After kitty-cornering each speaker into my listening room, Roberts handled setup duties, aiming the Rivals at roughly the same listening position that John DeVore had carved out for his Orangutan O/93s. I wasn't satisfied. Placing the Rivals too deep in their corners cheated the sound of punch and definition; too close to my listening seat and the bass response diminished. After some trial and error, I lessened their degree of toe-in from 45° to where I could just see each inner side panel. In short, the Rivals ended up 66" from my listening chair, with the centers of their panels 32" from the front wall—a few inches back from the DeVores' positions. I did all of my listening with the grilles removed. (If you want grilles, they cost $500/pair extra.)
Although Roberts's directions were easy to follow, I wasn't really interested in swapping out resistors. Nonetheless, I felt that the Rivals' bass response was weak, considering those 15" woofers. Roberts suggested that I switch a midrange resistor, and that created a slightly deeper tone overall. LPs now produced reasonably tight bass notes, while acoustic and electric basses from CDs sounded absolutely stupendous!
Listening
Driven by my Shindo Laboratory Haut-Brion, a 25Wpc tubed amplifier, the Rivals startled me from Note One. Once their installation and setup were finalized, I was treated to aural images of every size and shape, in every frequency range, dancing before me completely free of the enclosures, which managed the sort of "disappearing" act I've heard only from electrostatic panels. And the clarity! The Rivals exhibited an utter lack of congestion and of tonal coloration, and absences of grain and treble glare that were revelatory. Played on my newly set-up Kuzma turntable and tonearm and Goldring cartridge, familiar LPs came newly alive—a word that pops up repeatedly in my notes.
One disadvantage of the Rivals' immaculate transparency was their tendency to emphasize every pop, tick, and surface-noise goblin on less-than-perfect LPs. Records whose well-played surfaces had barely troubled me before now bit my ears like sonic vampires. But undamaged vinyl uniformly revealed clarity and dynamics, without anything resembling analytical, hard, or sterile sound.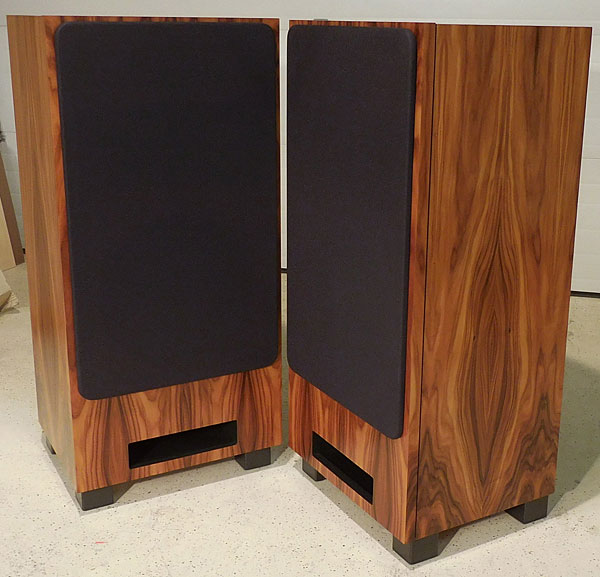 As for CDs, one of my go-to discs is Tom Petty and the Heartbreakers' Mojo (Reprise 523971-2). Well-recorded, natural-sounding, and broad in frequency range, Mojo packs wallops of steamin' rock'n'roll from start to finish. The Rivals beautifully reproduced what sounds like a large, live recording studio—color me floored. Not only did the Voltis re-create the huge depth and height of that venue, they did so with great resolution, naturalness, and transparency aided by musicality—pure joy. In "Running Man's Bible," Steve Ferrone's drums and Mike Campbell's electric bass were delivered with freshness, neutral (in the best sense of that word) tonality, powerful force, and air. Typically, I hear in this song the ping of Ferrone's ride cymbal and the deep, low growl of Campbell's bass. The Rivals re-created the cymbal pings, but now joined to them varying dynamic levels, changes in Ferrone's sticking patterns and stick pressure, and the barely perceivable ebb and flow and wash of his ride cymbal as it released overtones, stick definition, cymbal swell, and ambience. The Rivals placed me in front of the Heartbreakers, every note mine for the listening!
For music of orchestral-like complexity, I enjoy the Vanguard Jazz Orchestra's Up from the Skies: Music of Jim McNeely (CD, Planet Arts 100454). Via the Rivals, the late Dennis Irwin's double bass solo in "Don't Even Ask" was a treatise in transparency and dynamics. Certainly benefiting from the rich tonality of my Shindo separates, Irwin's instrument sounded refined and effortless, and so revealing that the image presented was 3D. I could "see" Irwin's hands moving on the neck and clasping the strings, hear the minuscule changes in string pressure against the fingerboard, the pacing of fingers on strings in walking passages. The Rivals presented every note as if it had emerged from black space, not a pair of box speakers. Time and again, the Rivals made me forget "hi-fi" and peer deep into the music.
That the Rivals had no "sound" of their own was proven repeatedly. As I played various CDs of acoustic jazz, different bass drums sounded different: some boomy, some dry, some low-down and boxy. The Rivals were the most neutral, transparent, dynamic speakers I've heard, all while consistently "disappearing" in service to the music, producing images that were astonishingly and consistently free of the speaker enclosures.
I'd never heard the character of the late drummer Paul Motian's stumbling percussion reveries reproduced so accurately as they were through the Rivals. On Motian's Time and Time Again (CD, ECM 1992), Bill Frisell's enveloping guitar fog and Joe Lovano's woeful tenor-saxophone calls are prodded, at times bullied, by the drummer's irregular cymbal patterns, huffing snare-drum ruffles, and juggling bass-drum patter. The Rivals put me first row in the Village Vanguard, Motian and company playing live, for me alone. I don't cotton to the notion that hi-fi should replicate the aura and ambience of a concert performance, but the Rivals made that a real possibility. Hearing Motian dropping bombs, raising hell, and playfully attacking his toms was like joyfully raising the dead.
At the opposite end of the jazz spectrum, Italian saxophonist Francesco Cafiso's Happy Time (CD, Cam Jazz CAM 5014) is all hard-bop wailing and straight-ahead jazz jubilation, the joyous young musician leading a quartet that seems barely able to contain itself. As Cafiso scorches every register of his horn, drummer Stefano Bagnoli surges through, playing a drum set overwhelmed by his booming, boisterous bass drum. Aldo Zunino's double bass is equally woolly, but the grand piano, played by Riccardo Arrighini, is miked to create a stereo effect that permeates the music. The Rivals unleashed Cafiso's swing message and unharnessed his quartet's sounds, bouncing them off the walls of my small listening room like a drunken, partying army.
As I said, the Rivals had no house sound; their treble was smooth, wide open, and grain-free, their midrange transparent and revealing, their bass performance as riveting, powerful, and forceful, and as full of tone, texture, and energy, as I've ever heard. The perfect speaker? My DeVore Fidelity Orangutan O/93s are more colored than the Rivals, but thereby perhaps add to the music a greater sense of drama and warmth; colorations can be good things. The Rivals suspended images entirely free of their cabinets—an amazing feat, considering the combination of their large size and my small room (12' by 10' by 12'). They revealed the true nature of every recording, warts, beauty, and all.
Conclusions
At a base price of $7900/pair, the Volti Audio Rival, like the Vittora before it, is a true bargain. Adding a snazzy veneer increases the price by a wallet-crunching $3500: not so much of a bargain. But the Rivals played music with supreme fidelity, openness, lifelike images, transparency, impact, touch, timing, dynamics, and flat-out musical fun. They sang with tubed amplification, and worked equally well with solid-state (as I discovered when I drove them with the Heed Elixir integrated amp). They gloried with both LPs and CDs. The Volti Audio Rivals are inspirational music-makers. Magnifico!