Two Days in August: Stereophile's First Jazz Recording The Musicians
The Musicians
Jerome Harris
(Taylor acoustic bass guitar, composer, leader) is also an accomplished guitarist who has played with Sonny Rollins and, most recently, drummer Jack DeJohnette. He has recorded many records as a session musician and bandmember. Jerome Harris' albums as leader include
Algorithms
(Minor Music),
In Passing
(Muse), and his tribute to Eric Dolphy,
Hidden in Plain View
(New World/Countercurrents).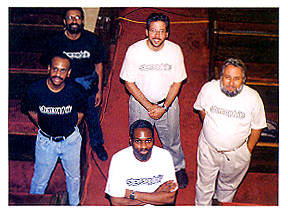 For the Rendezvous sessions, Harris decided to concentrate on his acoustic bass guitar, a Taylor AB-1. "I've become fascinated by the instrument," he explained. "It has a deep, sonorous tone that is quite organic, dark, and woody. You're hearing the sound of the instrument, really—in a very different way from a conventional electric bass." The AB-1 was strung with La Bella 760N strings for this CD. For amplification, an Aguilar DB 680 tube bass preamplifier and a Rocktron Velocity 120 transistor power amplifier drove an Eden D-210T speaker cabinet; instrument-to-preamp and preamp-to-power-amp signals traveled via Alessandro Guitar II interconnects.
Marty Ehrlich (alto sax) is a noted multi-instrumentalist (clarinets, saxes, flute), but he concentrated on alto sax for this recording. A much sought-after accompanist, Ehrlich appears on over 80 recordings by artists such as Muhal Richard Abrams, Bobby Previte, John Carter, Anthony Braxton, Don Grolnick, and Jerome Harris. He leads the well-respected Dark Woods Ensemble, and is the musical director of the Julius Hemphill Sextet. His recordings as leader include New York Child and Can You Hear a Motion? for Enja, and Just Before the Dawn and Emergency Peace for New World/Countercurrents.
Art Baron (trombone) is adept on the lower brass instruments as well as recorders, flutes, didjeridoo, and mandolin. He played with the Duke Ellington Orchestra during the maestro's final year, and has also played with Roswell Rudd, the Olympia Brass Band, Saheb Sarbib, the George Gruntz Jazz Concert Jazz Band, Illinois Jacquet, and Stevie Wonder. (He was responsible for the great trombone solo on Wonder's "Love Havin' You Around," on Music of My Mind.) Art can be heard on guitarist Anthony Wilson's 1998 recording on the MAMA label.
Steve Nelson (Müsser vibraphone) is one of the most exciting and creative vibraphonists on the scene today. He has played with Mulgrew Miller, Bobby Watson, Kirk Lightsey, Ray Drummond, Donald Brown, Victor Lewis, and Dave Holland. His records as leader include Communications (Criss Cross) as well as several albums on the Sunnyside and Red labels.
Billy Drummond (Gretsch drums, K. Zildjian cymbals) is one of the most sought-after musicians on the New York jazz scene. He has played with Sonny Rollins, Pat Metheny, Joe Henderson, J.J. Johnson, Nat Adderley, Bobby Hutcherson, James Moody, Andrew Hill, Freddie Hubbard, Steve Kuhn, Javon Jackson, Renee Rosnes, Christian McBride, and Chris Potter. He has released three CDs as leader: Native Colors, The Gift, and Dubai (all on Criss Cross).