"Through singing, opera must make you weep, shudder, die."
—Vincenzo Bellini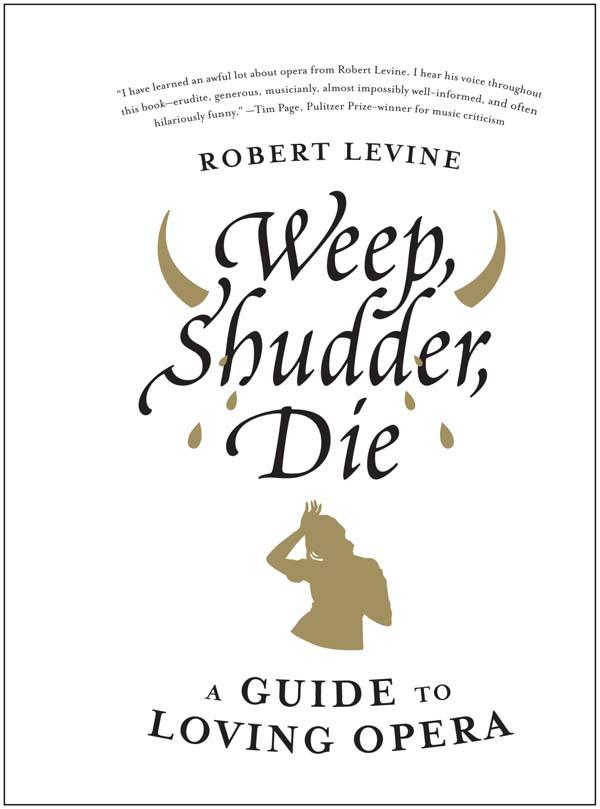 Usually, when friends become book authors, you tend to fawn a little too much over their golden meanderings. In my case, the opposite unwittingly happened when I tacked a short mention onto a recent
Aural Robert
that did not begin to do justice to
Stereophile
Contributing Editor Robert Levine's
Weep, Shudder, Die, A Guide To Loving Opera
(It!/Harper Collins, 2011)
What's best about Bob's new book—and I must admit right up front that he and I are old friends as well as our editor–writer relationship—is that through humor and his very readable writing style, he manages to defeat most of the trepidations or misconceptions or anti–intellectual leanings that everyday folks—not aficionados who will also find much to like about this book—have about this rather rarified art form.
This is in all likelihood the funniest book ever written about opera—and I mean that in a good way. There are many instances when he breaks the looking glass and addresses the reader directly, often with the plea—"Could I make this up?" The book's cutlines, all penned by the author, are wickedly hilarious. Under a vintage black and white shot of Madame Butterfly dying next to her blindfolded child who waves an American flag, appears "Mom Commits Suicide; Baby Waves Flag." And the beat goes on like that throughout the entire book.
In the introduction he sensibly begins, "This book is for anyone who has ever been curious about opera for any reason: whether you've discovered a sudden fondness for an aria used in a movie or an advertisement or an appealing singer seen on a billboard or a TV show, whether you've found yourself wondering how opera has lasted for more than four hundred years and seems to have recently caught on with new fervor, whether you want to know how to get into opera without causing any physical or mental harm to yourself or are simply tired of the singing on American Idol."
But then comes the humor with a hip, new century edge, that in this and many other cases is used to disarm any fears that a novice opera fan may harbor about opera being too lofty or elite or stuffy for them to understand and/or like.
"This book is also for people who want smarter babies, the ability to earn big bucks in their spare time, to take advantage of foreclosed properties, and to learn a foreign language and have flatter abs without leaving the comfort of their own homes."
Knowing the author as well as I do, his sense of mischief is the delightful sauce that gives his very meaty little tome its appealing flavor and ensures, as he mentions in an early chapter about opera history that, "the Hoi Polloi remain(ed) interested."
Put into a very palatable, unthreatening form, the information and opinions here, all organized into easy to chew bites, make a lot of sense. What one reviewer called his "pithy, well-informed judgments," (Mr. Levine is a longtime pith master) are level headed and generally very forgiving, at times perhaps too much so— but then this is a book about loving opera. And despite his gentle joshing, the fact that the author genuinely loves the medium and revels in its many eccentricities is the radiant heart of the book. The section in the first chapter on why some do not like opera or are afraid of it is particularly enlightening as it works through a list of the most common objections, one at a time, each answer outlining the very essences of why opera can be so glorious. Priceless gems of fine writing abound throughout, with some turned to devious comic purpose-- and yes, because we are friends I probably find these instances more hilarious than most. Speaking to the ever popular perception that opera singers, male or female are all of the "Diva" persuasion, i.e. a self–obsessed pain the ass, Levine effectively demolishes this with curt common sense: "…who cares if they're bratty—they're not your siblings, they're entertainers—but more important, it is no longer true." Similarly, his suggestion that opera does not have to be a sonic death march is logical in the extreme—listen to it in bits and then stop and digest. To anyone who's been trapped inside the Metropolitan Opera in New York City for four hours enduring the company's latest shameless marketing ploy—keep them inside the building as long as possible and eventually they'll buy a ten dollar bottle of water—this is thankfully sound advice.
The book goes on to discuss 50 operas and how and what to love about them. Using repeated subheads like "Achtung! Moments," (in the section on German operas) and "Far Morire" (in one on Italian Operas), Levine highlights the opera's key moments. In the chapter on German operas, he clearly and with an interesting sprinkling of detail— France's Le Figaro called the Ring Cycle "the dreams of a lunatic"—demystifies Wagner, which for many the novice fan would be reason enough to read this book. The long section on Italian Opera, (subtitled, "If you can hum it, it's probably Italian,") is particularly useful to novice and also the more experienced operagoer alike. Again, amidst the summarizing and compacting of information there are humanizing and in some cases tantalizing details that will hook those who think they know their opera. About Giacomo Puccini he writes, "A heavy smoker (lung cancer killed him) and womanizer (his wife tormented a local girl to suicide by accusing her of having had an affair with Giacomo;a postmortem autopsy found the girl to be a virgin)…"
One reviewer mentioned that the book concentrates too much on what might be called opera's standard repertoire and in the process gives the twentieth century short shrift, but perhaps that's grist for a further volume on the next 50 operas you need to see and hear. Writing for the uninitiated is often much harder than writing for an audience that already has all the context. And it's really a trick if you can keep the final product from being something other than a tarted up version of Cliff Notes. In Weep, Shudder, Die Robert Levine who very successfully made orchestral music fun and understandable for children in his excellent kids book, The Story of the Orchestra: Listen While You Learn About the Instruments, the Music and the Composers Who Wrote the Music! has done that and more for the musical form he loves the most. Bravo!