Technics Premium Class SB-C700 loudspeaker
1918:
Konosuke Matsushita founds Matsushita Electric Industrial Co., Ltd. (Japan).
1965: Matsushita Electrical Industrial Co. (Japan) introduces the first Technics product, a two-way acoustic-suspension loudspeaker designed to compete with the increasingly popular line of sealed-box speakers made by Acoustic Research (US).
2008: Matsushita renames itself Panasonic Corporation.
2010: Panasonic halts production of the revered Technics SL1200 turntable, thus ending an era and the Technics brand name, whose wide-ranging audio products had become synonymous with smooth sound, elegant styling, and rugged construction.
2014: Panasonic revives the Technics brand.
2015: I listen carefully as Michiko Ogawa—former Technics engineer, renowned classical and jazz pianist, and current director of Panasonic's Technics division—speaks these words: "In honor of our 50th anniversary, we at Technics are determined to blaze a new audio path and deliver new and emotionally engaging musical experiences for another 50 years." (my emphasis)
All the turntables of my youth had natural wood plinths and staid, European-looking chassis. When Technics introduced the sleek, futuristic-looking SP-10 direct-drive turntable in 1969, and followed that in 1972 with the snappy, pro-style SL1200, I scratched my head. I was a confirmed Dual 1019–Shure cartridge kind of guy. But in 1974 I moved from Chicago to New York, and all my new reggae/ska/punk friends were spinning LPs on silver Technics 1200s. Then, in 1980, a stoned party guest punked my Dual, so I abandoned wood plinths and bought a shiny new Technics SL1200 Mk.2 at J&R Music World. The salesman swore out loud: "Your drunk buddies will never break this one!"
I remember a demonstration at Manhattan dealer Sound by Singer that featured a high-powered, DC-coupled, class-A Technics power amplifier, the SE-A1. At the time, I thought it was the most beautiful-looking and -sounding amplifier I had ever experienced. I remember Andy Singer saying that he loved it, too, but that he couldn't sell it because American high-end buyers think megabig Japanese receiver manufacturers make only mid-fi products. "Shame on them," I mumbled. "Their loss."
Description
I urge you now to take a moment to look at the photos and contemplate the Grecian form of Technics' new stand-mounted loudspeaker, the Premium Class SB-C700 ($1699/pair). Note its bulging, wider-in-the-middle profile when viewed head-on. Like the Doric columns supporting the Parthenon, the walls of the SB-C700's cabinet thicken toward the middle (in this case, to absorb and diffuse internal resonances). Technics calls this their High Rigidity Entasis Form Cabinet. Its MDF walls range in thickness up to 42mm, and it weighs 18.7 lbs and measures 13.1" high by 8.9" wide by 11.2" deep. On the rear, note the substantial binding posts and the opening to its parabola-shaped (in cross-section: it flares at both ends) port. Note the sticky, sturdy rubber feet on the bottom. Pythagoras would be impressed.
Technics has used flat cones (I'll come back to that oxymoronic description) and coaxially mounted tweeters in their top speakers for decades. But, like the company's aforementioned class-A amplifiers, those high-tech speakers simply never caught on outside Asia. In the late 1980s, Technics' beautiful and very similar (but wood-veneered) SB-RX50 speaker visited the high-end markets of the US and UK, in hopes of giving those nations' domestic brands some worthy competition. But despite rave reviews, the handsome, well-made SB-RX50 failed to make headway. (Historically, Technics has made many different high-end products, but only their classic turntables and tape decks have earned appropriate respect in the US and Europe.)
Just like the SB-RX50, the mid/woofer of the new Technics SB-C700 has a flat, circular diaphragm, supported at its inner and outer edges by concentric rubber surrounds. That diaphragm is driven from behind—at its "geometric balance point," according to Technics—by a separate "coupling" cone. Attached to the cone is a short-voice-coil former with its own accordion-fold spider. This driver's flat diaphragm, which measures 6.5" in diameter, is a sandwich of two sheets of carbon cloth over a honeycomb aluminum core. (The SB-RX50's driver measured 9" in diameter and used a one-piece cross-carbon diaphragm.)
Also unlike the earlier SB, which had flat-diaphragm mica tweeters with samarium-cobalt magnets, the tweeter of the new SB-C700's is a 0.75" aluminum dome with an even more powerful neodymium magnet. The entire coaxial tweeter-woofer assembly is mounted on an unusually massive, "energy dissipating" die-cast aluminum frame.
Listening I auditioned the Technics SB-C700s in a variety of rooms, large and small, using a wide range of amplification. In each context, they sounded best from farther out in the room than I usually place speakers: a little wider apart than my favorite monk's-cell distance, and pointed directly forward, with no toe-in. In every room, the SB-C700s projected not the biggest but perhaps the most properly scaled soundstage I have encountered. Images were the opposite of ghostly; soundstages had a kind of linear tangibility, seeming more firm around the edges than usual. Energy projection in my smallish room was more even and businesslike than I'd experienced before. Dispersion seemed wide in both the vertical and horizontal planes. Impressed by the SB-700s' sound, an audiophile friend said, "Cabinet coloration seems nonexistent." I agreed.
With the Line Magnetic LM-518 IA: With any new loudspeaker, it's important that I begin each review session with music I love and an amplifier whose character is well known to me. To that end, I wired my Line Magnetic LM-518IA reference integrated amp to the Technics SB-C700s, the latter sitting on 24"-high Sound Anchor stands. Then I began with some beautiful black discs from EMI.
Using my multicultural front end of Technics SL1200 Mk.2 turntable, SME M2-9 tonearm, and Soundsmith Carmen cartridge, I enjoyed the Rondo in G, Op.129, "Rage Over a Lost Penny, Vented in a Caprice," from Vol.5 of Artur Schnabel's set of Beethoven's piano music (LP, EMI RLS 769). It left me dizzy and winded. Forward momentum? Feverish pace and rhythm? I could hardly keep up with this fun, sarcastic side of Herr Ludwig. No matter how fast Schnabel played, it was never too fast for the SB-C700s to expose the exact feel of each keystroke, the precise tone of each note. Throughout this entire Schnabel-Beethoven set, my brain received, grasped, and admired every note, better than with all but a few speakers I have experienced. Pedalwork was vividly clear to the point of being visual—as if I could see the master's shoes touching the brass levers. These Technics speakers had a unique way of presenting piano notes that was extremely close to their live-performance texture.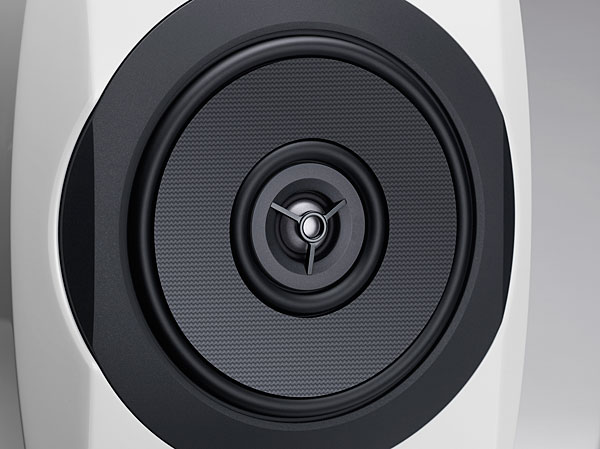 From another disc of Vol.5, I experienced Schnabel playing the Diabelli Schusterfleck (cobbler's patch), on which Beethoven had based his 33 Variations on a Waltz by Diabelli (Op.120), in full, widescreen "texturecolor." And while I was playing Beethoven's "alterations" (Ludwig van's term) for the third time, I realized that Schnabel and the modestly priced Technics weren't just getting the pace, texture, and tone right—they were putting me in touch with the full momentums of Beethoven's mind.
To determine the SB-C700's maximum potential as a reproducer of piano sound, I listened to Todd Garfinkle's glorious recording of Ito Ema playing J.S. Bach's Goldberg Variations at Harmony Hall, in Matsumoto, Japan (CD, M•A Recordings MO24A). I lost some of that goose-bump EMI analog texture, and I missed the force of Schnabel's hair-raising Beethoven-ism, but in return I received the most pure, liquid, golden tones. The tonality of Ema's piano was so mesmerizing that, half the time, I forgot what music I was listening to. I just dreamed about the beauty and elemental force of pianos as human-fashioned instruments of expression.
Going straight from the beauties of Bach and Beethoven to pissing and screaming in hell, I played Two Penny Opera by my longtime favorites, the Tiger Lillies (CD, Tiger 009). This (Kurt) Weill–ian, Brecht-ian, British punk-cabaret trio play St. Anne's Warehouse in Brooklyn every year, and I'm always in the fifth or sixth row. Their drummer, Adrian Huge, plays a tiny, toy-sized drum kit. Their bassist, Adrian Stout, plays double bass, musical saw, and Theremin. The group's founding madman is Martyn Jacques, who wears a derby, paints his face white, and sings in a squeaking, squawking, ridiculous falsetto. Jacques also plays toy piano, dime-store guitar, harmonica, ukulele, banjolele, and my favorite instrument of all: accordion. If you're a conservative bourgeois person and/or easily offended, do not buy this CD! Jacques's unique pan-genderism makes the Pogues' Shane MacGowan look and sound like an archdeacon. The Tiger Lillies take rudeness and avant-garde provocativeness to the highest levels of smirking irony and biting social parody.