TAVES Day 2 Part 2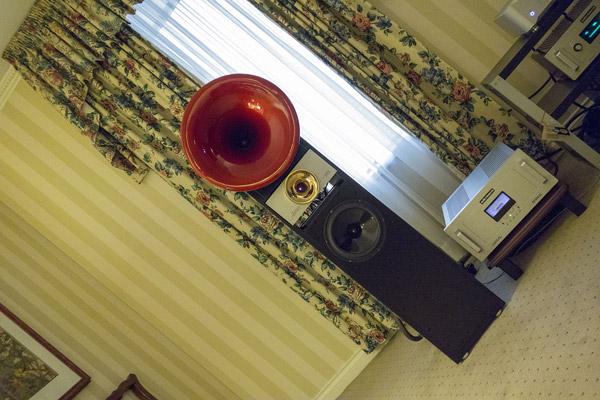 John Atkinson reviewed the Acapella High Violoncello II speaker—an esoteric item with a horn-loaded midrange and ion tweeter—
two years ago
. His conclusion: "This admittedly expensive German speaker really is one of the finest-sounding speakers I have had the pleasure of using."
How expensive? $80,000/pair. Is that too much for you? Well, TAVES 2012 had a demo of the Acapella Violin 1, which is a "mere" $45,000/pair. In a system with Audio Research Reference electronics, the Acapella Violin 1s sounded magnificent.
Described as "Audio Italian Style," the Casta Model C ($28,000/pair) uses a horn-loaded midrange and tweeter with "zero compression direct front loading technology, and a 15" woofer with an ALNICO magnet and cellulose fiber diaphragm. The drivers are all hand-made.
Audio Plus/Plurison, distributor of several well-known lines including Focal, Devialet, Cambridge, Micromega, Pathos, Rega, and MartinLogan, had no new product introductions, but my eye was caught by a piece of electronics from Focal, a company that I didn't think made anything but loudspeakers. It's called the Bird, and what I first thought was an integrated amp/CD player is in fact a combination integrated amp/subwoofer! What I had thought was a CD player tray is actually the grille on the port for the downward-firing 75W powered subwoofer that shares the chassis with the integrated amp. It's called Power Bird, and can be combined with three sizes of satellites ("Little Bird," "Bird" and "Super Bird"). It's shown here by Daniel Jacques of Audio Plus/Plurison. The System 2.1 Bird on display includes two Birds, and is priced at what, for a system of its pedigree, seems like a very reasonable $1195.
Totem goes all out to provide an effective listening environment at shows, and TAVES 2012 was no exception. The speakers demoed this time were Tribe III on-wall speakers (six at $1750 each), a Tribe center channel ($2500), and two Tribe subwoofers ($1750 each). The sound, with Cary Audio electronics, was lively and spacious. Totem's Vince Bruzzese (pictured here) says that their Torrent-technology drivers allows their speakers to have more extended bass response, with more control, than conventional drivers, and that Totem's crossover-less design has major sonic advantages. Based on what I heard at TAVES, I can't disagree.
French manufacturer Cabasse is best-known for their spherical loudspeakers, including the outrageous-looking and outrageously-priced Le Sphère, but they actually make a wide range of speakers. The Pacific 3 SA ($22000/pair), demoed with great enthusiasm by Patrick Sereault of Cabasse Canada, is a three-way floorstander with a powered sub, and features the Cabasse BC 17 coaxial midrange/tweeter driver. In a more affordable price range, they had the CinéOle ($1800) sub-and-two-satellites system, whose satellites feature another implementation of the Cabasse coaxial driver, and which includes cables and a universal remote control.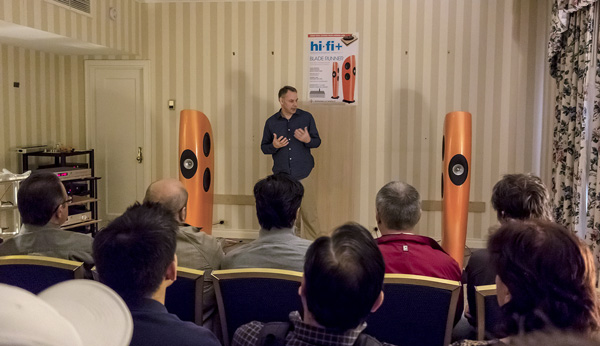 TAVES 2012 included no fewer then ten seminars, dealing with topics as general as entertainment rooms and internal design and as specific as HDMI connectivity. The one that was probably of greatest interest to hard-core audiophiles was by Roy Gregory, founding editor of Hi-Fi+ magazine, currently European Editor for www.audiobeat.com, dealing with system optimization and setup. This seminar was repeated 11 times during the show, and I understand that they were all Stranding Room Only. I managed to catch one of them—and I was one of the standees. Roy (pictured here during the seminar) dealt with all the usual aspects of setup (speaker positioning, the use of component supports, etc.), as well as some non-standard tweaks, including the use of special grounding arrangements which should not have an effect on sound but they do. His final comparison was between the sound of the KEF Blades using two identical set of electronics and cables (mid-priced from Simaudio and Nordost, respectively) but differing in component supports (Stillpoints component stand vs ordinary Target stand), exact speaker position, and various other tweaks. The tweaked system sounded vastly superior, the Blades sounding much better than I have heard them sound.
TAVES 2012 cannot make the claim of having a lot of new product introductions, but there was one from Ron Sutherland that could barely be newer: the show opened on a Friday, and Sutherland's Insight phono preamp ($1400) was finished just two days before! I asked Sutherland why a consumer would choose the Insight over the PH3D, which is $1000. His answer: the Insight looks better and has an AC power supply. The PH3D has a rather utilitarian-looking case (he had one on hand for comparison), whereas the Insight looks like a more expensive product, with an impressively thick faceplate. The PH3D has a battery power supply, which apparently turns some people off. I consider that an advantage, myself, but I guess it's a matter of different strokes . . .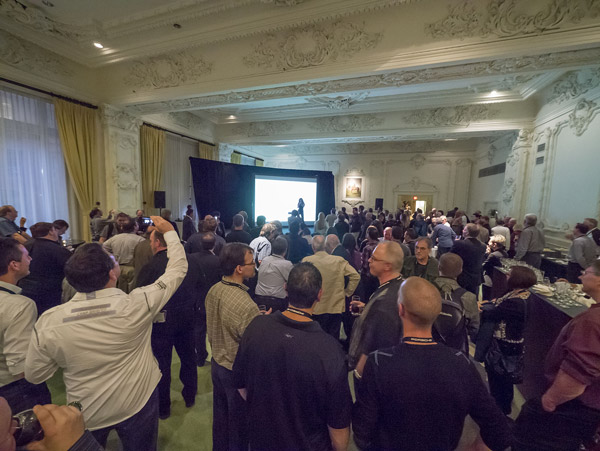 Saturday evening featured the usual cocktail party for the industry and media, this one featuring Cindy Gomez, a singer with a powerful voice, and, as you'll see from the photo below, not unattractive. (She's a former model, and was Miss Latin Canada.) Here are some photos taken at the party. The first is an overview, and if you look closely you'll see Cindy on stage in the distance. The second group is, from left to right, Mike Porter, graphic designer for Paradigm, Doug Schneider of SoundStage! Network, Erin Phillips and Mark Aling, both of Paradigm. The third group consists (again left to right) of Roy Gregory, his wife, Louise Ford (VP Marketing for Nordost), and Paul Wakeen of Stillpoints. Finally, a photo of Cindy Gomez. A good time was had by all.