TAVES 2013 Report Part 1
No, you're not accidentally visiting www.motorcyclistonline.com. With some out-of-the-box thinking, Suave Kajko, President of the Toronto Audio Video Entertainment Show (TAVES), and Simon Au, Vice-President Sales of TAVES, approached Harley Davidson Canada about exhibiting at TAVES 2013 this past weekend, and the HD people agreed to participate.
What does this have to do with audio or video? Well, the top-of-the-line Ultra Limited Harley ($30,000) includes an "infotainment system," with all kinds of audio/video goodies, including surround sound. Here it is, with Suave looking suitably...suave (Sorry!).
The Harley exhibit certainly attracted a lot of attention—and, who knows, some of the people having their picture taken on one of the bikes in the lobby may have decided to check out the TAVES exhibits upstairs.
If you're the sort of cool guy who's into motorcycles, high-end audio, and curved video displays, you might want a watch that doesn't look like a watch. These were on sale in the hotel lobby, right next to the Harley exhibit.
One of the major "show business" stories of 2013 was the sale of the Montreal Salon Son & Image to the Chester Group, Sarah Tremblay staying on as show manager, with Michel Plante (right) accepting a position with audio distributor Plurison/Audio Plus. TAVES was the first time I saw Michel since his moved to Plurison, and, ever a cheerful, upbeat guy, he seemed even more cheerful and upbeat. Asked to describe his role at Plurison, he said he said it was to coordinate sales training in North America, and that he was learning to be a "Mini Daniel"—(Daniel being Plurison president Daniel Jacques, Daniel on the left in my photo.)
Plurison had what I think may have been their greatest representation ever at a Canadian audio show (including SSI): a total of seven rooms, the brand list including Focal, Devialet, Wharfedale, Naim, Cambridge, Pathos, Mordaunt-Short, Micromega, BDI, Martin Logan, Rega, and others. With such a long list, all potentially with new products, I was reluctant to ask "What's New?" Instead, I asked Daniel Jacques what is the one new product he would name if asked to nominate just one product that was new and exciting. He demurred—for someone like him, this may be like saying which of your children you love most—but I persisted, and he finally said that the new Focal Aria speakers, which use flax as part of the cone material, were really special.
Ian McArthur of Plurison gave me a demo of the Aria 926 ($3000/pair), the least expensive speaker in the floorstander series, driven by the Devialet 170 DAC/preamp/amplifier ($9495). I was most impressed with the clarity and lack of box coloration in the sound. The midbass was particularly clean, with a lack of smearing or overhang on transients. I'm told that part of the reason for developing the flax sandwich material was to reduce the labor cost that the W sandwich process involves, but in the process they discovered additional benefits of the flax material. There's also a new tweeter with surround made of material called Poron, which allows the tweeter to have considerably lower distortion.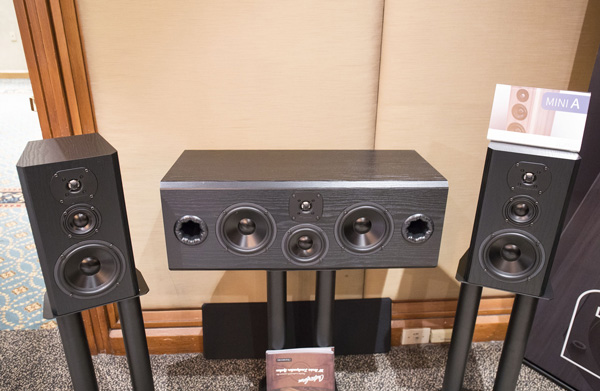 Bryston is truly becoming an all-round manufacturer, with a full line of speakers as well as their well-known audio electronics. Adding to the Model T series, they now have speakers in the Model A series, which are said to have the same sort of sound, just not quite as dynamically extended, at lower prices. At TAVES, they had a (non-playing) prototype of the Mini A ($1200/pair), which, unusually for a speaker of its size, is a three-way.
But apparently not everyone got the memo about Bryston making speakers. James Tanner of Bryston told me an amusing story of his encounter with an attendee at a recent audio show (not TAVES), who , looking at the speakers but apparently not noticing the electronics, said to him "Aren't you afraid of being sued? There's a company that makes amplifiers, called Bryston."
If Bryston, a manufacturer of audio electronics can start making speakers, then what's to stop a speaker manufacturer to start making electronics? Focus Audio, well-known for their speakers, has done this, although in a more limited way than Bryston. The Liszt Prelude ($7,800) and Liszt Sonata ($12,00) are tube-based integrated amps that can function as just power amps.
Coup de Foudre is a Montreal audio dealer, well-known for their parties held at the time of the Montreal show (SSI). I was surprised to see their name listed as an exhibitor at TAVES. Are they trying to attract customers to their Montreal store? Toronto dealers would be pretty upset about that.
As it turns out, the presence of Coup de Foudre did not represent a raiding of the Toronto market—quite the opposite. Coup de Foudre is also the sole Canadian dealer of several highly-regarded lines, which they supply to Toronto dealers. They were just supporting them with demonstrations of equipment that may not be in the stores but that audiophiles would be interested in. Coup de Foudre had several rooms, too. The demo system in the room pictured included Avalon Compass speakers with Spectral Electronics (DMA 200S amp, DMC-15SS preamp), with a Luxman DA-06 DAC as source. Coup de Foudre's Danny Labreque and Erik Fortier (left to right) look relaxed and confident that people will be really impressed with the sound—and I certainly was.
The Cyrus brand—originally Mission— has been around for a number of years, and is well known in the UK and Europe, but has not had Canadian distribution. This has been remedied: Monitor Audio, well-known for their speakers, has undertaken Cyrus distribution. There have a lot of products, including no fewer than six streamers, four CD players, DACs, preamps, and power amps. Monitor Audio is not planning to import all of them, just a selected sample. The Cyrus equipment seems well-made and attractively-priced. An example, shown at TAVES: the Pre Qx DAC ($2600) full system preamp with DAC built in, capable of handling 24-bit digital files and upsampling to 192kHz for all digital inputs.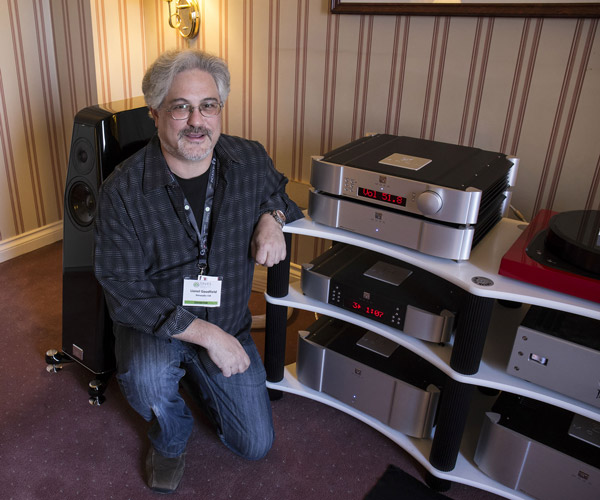 Simaudio went all-out in their participation at TAVES: they were in six rooms, with equipment covering the range from entry-level to the top end. Simaudio has had a recent change of ownership, which— according to Lionel Goodfield, Simaudio's director of marketing and PR, shown in the photo— is making additional funds available to allow the company to expand their offerings, and at the same time making production more efficient, enhancing competitiveness.
Simaudio and Dynaudio have a long history of association, and, sure enough, one of the rooms had equipment from these companies. At TAVES, the demo system consisted of what Dynaudio's Mike Manousselis (in the photo) referred to as a "high value" system: Dynaudio X-14 speakers (a new model, $1500/pair), Moon Neo 250i integrated ($2400) 260D CD transport/DAC ($3000), and modestly-priced Nordost Blue Heaven cables. "Very pleasant sound" was the highly analytical comment that I wrote in my little notebook.