Sunday Morning at AXPONA with John
I hit the ground running Sunday morning, with many rooms to visit but only six hours to do so. I started with the 16th floor suite featuring horn speakers from German company Avantgarde. Pink Floyd's "Another Brick in the wall" was playing on the humongous, four-way Trio XD horn system ($150,000 with four bass horns) and the kick drum did indeed kick me in the chest. (Peak spls, measured with the Studio Six iPhone app, reached 102.3dBC, slow.) Rest of the system included Esoteric source and amplification, Transparent cabling, and an HRS racks. There weren't any colorations that could be laid at the feet of the horns, though voices were projected forward in the soundstage. An extraordinary sound and a great way to start the day.
In another of the Avantgarde room were the latest version of the Uno speaker that Robert Deutsch had reviewed reviewed back in Y2K, the Uno XD ($32,600/pair), which features reworked drive-units. With an Aurender media player sending data to a Meridian UltraDAC and Phasemation preamp and power amps, this system produced dynamic, detailed, yet transparent sound with Miles Davis's Tutu.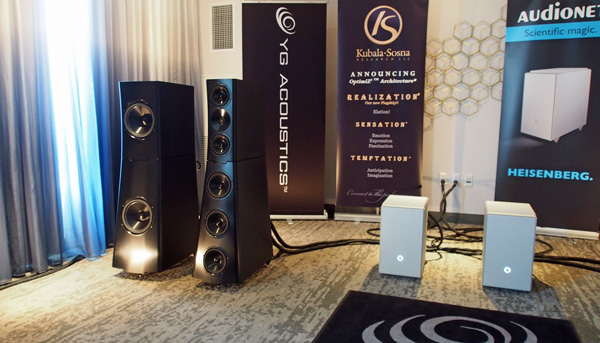 Across the corridor from Avantgarde was GTT Audio & Video's large room. The New Jersey-based dealer and distributor was introducing YG Acoustics' new XV Junior ($189,600/pair), which has smaller subwoofer towers than the top-of-the-line XV, with two 10" drivers instead of three, and dispenses with the 10" woofer in the HF/MF tower, but is otherwise the same. With an Audionet Planck CD Player ($18,800) fitted with the Ampere Power Supply ($11,200), an Audionet DNC Streaming DAC ($10,100) with EPS G2 Power Supply ($4050), a huge Audionet Stern line preamplifier ($45,000) and Audionet Heisenberg monoblocks ($105,000/pair), all hooked up with Kubala-Sosna Realization cables, this system was one of the best I heard at the show.
Whether it was playing a recording of Brian Bromberg extemporizing on bass guitar, a cellist playing the first Bach Suite, or Blood, Sweat & Tears' "Spinning Heel," it let the music through without coloration, editorializing, or restriction of dynamics or soundstage. At the end of "Spinning Wheel," where the arrangement degenerates into sonic chaos, the system untangled the musical threads. You can find out what Herb Reichert thought of this system in his binaural video report elsewhere in our coverage.
I was looking forward to hearing Magico's new "entry-level" speakers, the A3, and I wasn't disappointed. Priced at $9800/pair, the three-way A3 combines two 7" woofers, a 6" midrange unit, and a 28mm beryllium-dome tweeter in an enclosure formed from aluminum panels and bracing. With a hi-rez file of the Reference Recordings Fanfare for the Common Man played on a Naim Uniti server, with Dan D'Agostino preamp and power amp, the A3s played loudly without strain, the infamous bass drum on this record filling the room with well-controlled sound. But the least-expensive Magicos did delicacy as well as dynamics, Diana Krall's "A Case of You" sounding new again.
In one of Chicago dealer Kyomi Audio's rooms, Gamut's RS7 speakers (39,900/pair), which I favorably reviewed in September 2015 produced a big, friendly, easy-on-the-ears sound on "Nobody" from Ry Cooder's classic LP Jazz and Patricia Barber's "The Thrill is Gone." Like many rooms, Gamut had placed damping material at the first reflection points on the room's sidewalls. Sources were a Pear Audio Blue Kid Thomas turntable with Cornet 2 tonearm and My Sonic Lab HyperEminent cartridge or a Bricasti M1 LE Gold DAC driven by an Aurender A10 server; amplification and cables were all by Gamut; and equipment rack and isolation stands and pneumatic feet were by Pneuance.
I hadn't heard of the Pneuance devices, but had a disturbingly effective demonstration of how letting the air out of the ones under the Bricasti DAC produced a sound on a John Lee Hooker recording that was less coherent. Pumping the feet up again brought back the sense that the musicians were playing in the same room, listening to one another. As I said, disturbing.
The USA Tube Audio room featured Lumenwhite's Kyara loudspeakers ($49.900/pair–$69,000/pair, depending on finish). It's been several years since I last auditioned Lumenwhite speakers at a show, when I was impressed by what I heard, but as I entered this relatively small room at AXPONA, with a track from Muddy Waters' Folksinger playing, I could hear an uncontrolled bass hump, a ubiquitous room acoustic problem that other exhibitors had managed to better control. Stereo imaging was good, vocal tonalities were good, but I couldn't get past that hump on the other recordings I listened to in this room.
The Lumenwhite speakers were being driven by Ayon's new Orthos XS Gen4 monoblocks (300W into 8 ohms, $28,800/pair). Despite each amplifier having 10 KT-150 output tubes, they didn't run as hot as I was expecting. Digital source was an Ayon CD-35 SACD player/streamer/DAC ($10,500) and preamp the tubed Ayon S-10 ($8300).
LA dealer High End by Oz was driving a pair of MBL's 120 stand-mount speakers ($21,500/pair) with the new Vitus RI1010 "entry-level" integrated amplifier (300Wpc, $15,800 or $18,360 with DSD128-capable DAC card), all hooked up with Ansuz cables. A tonally neutral sound, but Dave Brubeck's "Take Five" sounded a little too reverberant, the omnidirectional MBLs perhaps needing a larger room to perform at their best.
Long Island's Nola was showing the new Contender S3 two-way tower speakers ($6900/pair), biwired with Nola's Blue Thunder cable from a VAC Sigma 170i IQ amplifier, with source a no-longer-available Audio Research CD8 and interconnects and AC cables all Nordost Odin. The sound on the Reference Recordings Rachmaninoff Symphonic Dances was larger than I was expecting from these relatively small speakers, with good large-scale dynamics from the two 6½" woofers. There was also excellent resolution of low-level detail, like the interplay between the oboe, clarinet, flute, and saxophone in the Rachmaninoff's second section.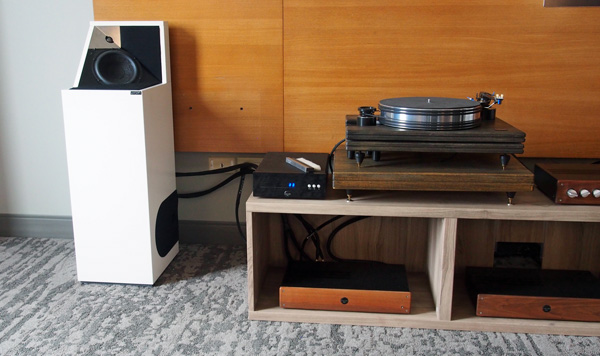 The Dr. Vinyl room featured the idiosyncratic Larsen 8 speakers that Art Dudley reviewed in ($6995/pair) driven by a Pear Audio Blue Reference preamp ($6495) and Pear Audio Blue monoblocks ($6495) hooked up with EnKlein cabling. I listened to Entre Amigos a jazz LP by Rosa Passos and Ron Carter, then a classic audiophile recording from the LA Four, played on a Pear Audio Blue Kid Thomas/Cornet 2 player ($10,000), fitted with an Etsuro Urushi Cobalt cartridge and have to say that the sound in this room, if lacking image focus, was very easy on the ear.
And who did I spy in this room but Ron Sutherland, who was debuting his current-mode Phono Loco phono preamplifier ($8200) in this system. "Current mode?" I asked. (In this mode, the cartridge drives a virtual short circuit, the opposite of what those us who cut our circuit-design teeth on voltage mode topologies learned.) "The circuits talk to me," replied Ron, "and told me that I should try a current-mode design."