Stereophile's Products of 2016 Joint Accessories of the Year
Joint Accessories of the Year
Audeze LCD-4 headphones ($3995; reviewed by John Atkinson, July 2016, Vol.39 No.7 Review)
AudioQuest Niagara 7000 Low-Z Power Noise-Dissipation System ($7995; reviewed by Michael Fremer, February 2016, Vol.39 No.2 Review) We finally come to one of only two ties for first place in 2016: between an expensive pair of headphones and a no-less-expensive power conditioner.
Are the Audeze LCD-4s the best headphones you can buy? In his review, John Atkinson came close to saying just that, describing them as "the best-sounding headphones I've heard in the 45 years since I bought my first high-end cans." Based on Audeze's tried-and-true planar-magnetic technology and enhanced with the company's trademark impedance-matching waveguides (Fazors), the easy-to-drive if somewhat insensitive LCD-4s seem on the verge of tempting many headphone holdouts into giving up their loudspeakers.
One of last year's Joint Accessories of the Year (along with the Roon music-playback software) was AudioQuest's JitterBug, a USB noise-reduction device ($49) that shouldn't work but does. This year's other Joint Accessory of the Year is also from AudioQuest, and also a noise-reduction product—but it costs 163 times as much as the JitterBug and is considerably less portable. On neither of those counts is the Niagara 7000 AC conditioner unreasonable: It provides 12 grippy outlets and incorporates noise-reduction technologies both active and passive, the latter including isolation transformers enhanced with AudioQuest's signature Dielectric-Bias System (DBS), found in many of their audio cables. And it impressed the heck out of Mikey.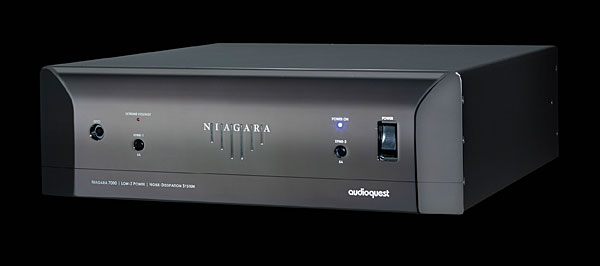 Notes on the vote: Density, schmensity—this vote wasn't terribly interesting. The two first-place winners received more votes than the second-place winner, the Focal Utopia headphones, which in turn received more points than the third-place winner, UpTone Audio's USB Regen USB buffer: nothing to see here, folks. Sadly, of the products that placed in this year's running, only the USB Regen ($175) sells for less than $200—an outcome that confounds some hobbyists' understanding of the concept of accessory, if not the word's literal meaning.
Finalists (in alphabetical order)

Audeze EL-8 headphones ($699/pair; reviewed by Herb Reichert, December 2015, Vol.38 No.12 Review)
AudioQuest NightHawk headphones ($599/pair; reviewed by Herb Reichert, December 2015, Vol.38 No.12 Review)
Focal Utopia Reference headphones ($3999/pair; reviewed by Herb Reichert, October 2016, Vol.39 No.10 Review)
Master & Dynamic MH40 headphones ($399/pair; reviewed by Art Dudley & John Atkinson, February & July 2016, Vol.39 Nos. 2 & 7 Review)
Nordost Valhalla 2 Reference cables ($7599.99/1m pair, interconnects; $14,849.99/3m pair, speaker cables; reviewed by Robert Deutsch & Brian Damkroger, February & July 2016, Vol.39 Nos. 2 & 7 Review)
PS Audio P10 Power Plant ($4999; reviewed by Jim Austin, July 2016, Vol.39 No.7 Review)
Synergistic Research Active Frequency Equalizer ($995; reviewed by Michael Fremer, December 2016, Vol.38 No.12)
UpTone Audio USB Regen USB buffer ($175; reviewed by Michael Lavorgna, Kalman Rubinson & John Atkinson, November 2015, Vol.38 No.11 Review)