Stereophile's Products of 2014 Joint Loudspeakers of the Year
Joint Loudspeakers of the Year
Vivid Audio Giya G3 ($39,990/pair; reviewed by John Atkinson, April 2014, Vol.37 No.4 Review)
Wilson Audio Specialties Alexia ($48,500/pair; reviewed by John Atkinson, December 2013, Vol.36 No.12 Review)
This year's Loudspeaker of the Year finalists span a wide range of sizes, prices, and design technologies. Yet in 2014, as in 2013, the top honor is shared by two rather large, rather expensive, and decidedly high-tech entries: Vivid Audio's distinctive Giya G3, and the no less eye-catching Alexia from Wilson Audio Specialties.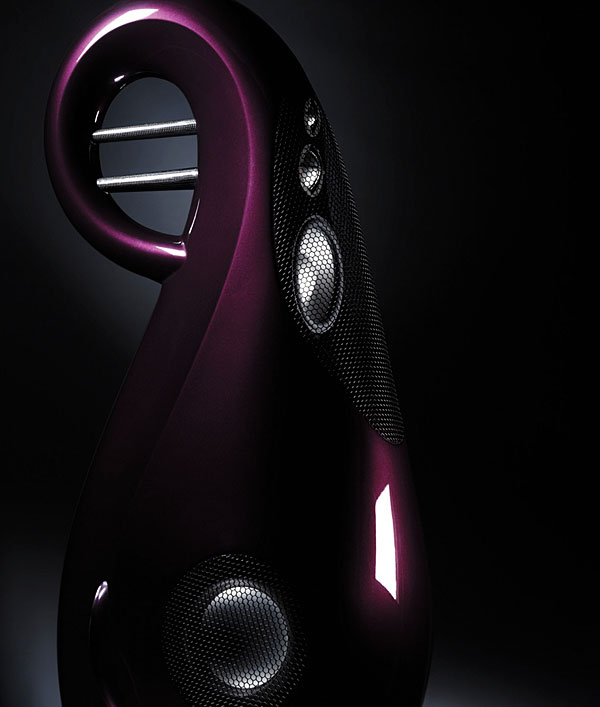 The Giya G3 is two steps down from Vivid's flagship Giya G1, and shares much of its big sister's secrets, including proprietary metal-diaphragm drivers and a molded, glass-fiber-plus-balsa enclosure, the shape of the latter calculated to eliminate diffractions and internal standing waves, and to load its higher-frequency drivers with a true transmission line. Apart from its performance in the low bass, where he found that "the Giya G3's signature was just too good to be true," JA admired the Vivid speaker's clarity, and an "easy-on-the-ear yet revealing balance that proved addictive."
Remarking on last year's joint winners, one of which was the Wilson Audio Specialties Alexandria XLF, Stephen Mejias wrote, "With any luck, the technologies employed in [these] flagship designs will soon find their ways into more affordable models." Prescience is a virtue: By removing from the Alexandria one tweeter, one midrange driver, a bit of woofer real estate, and 399 lbs—and, from its name, the letters andr—David Wilson came up with this year's joint award winner. (Well, perhaps it wasn't that simple.) JA, who is scheduled to next review a Wilson loudspeaker in 2024, noted his very positive take on Wilson's $200,000 flagship, yet observed, "I am actually more impressed by the Alexia, which, at one-fourth the [Alexandria] XLF's price, gets remarkably close to its bigger sibling in terms of musical satisfaction."
Notes on the vote: This year as last, no subwoofers appear among the Loudspeakers of the Year—not even in the corners. Also this year, the proportion of US-made loudspeakers among the finalists—the DeVore Fidelity Orangutan O/93, the Joseph Audio Perspective, and the Wilson Alexia—holds steady at three out of nine.
Finalists (in alphabetical order)
DeVore Fidelity Orangutan O/93 ($8400/pair; reviewed by Sam Tellig, January 2014, Vol.37 No.1)
Dynaudio Excite X14 ($1500/pair; reviewed by Robert J. Reina, October 2014, Vol.37 No.10 Review)
GoldenEar Technology Aon 2 ($799.98/pair; reviewed by Robert J. Reina, November 2013, Vol.36 No.11 Review)
Joseph Audio Perspective ($12,999/pair; reviewed by John Atkinson, July 2014, Vol.37 No.7 Review)
Revel Performa3 F208 ($5000/pair; reviewed by Erick Lichte, July 2014, Vol.37 No.7 Review)
Revel Performa3 M106 ($2000/pair; reviewed by Robert J. Reina, September 2014, Vol.37 No.9 Review)
Sonus Faber Venere 2.5 ($2498/pair; reviewed by Kalman Rubinson, November 2013, Vol.36 No.11 Review)