Stereo Exchange's Spring High-End Audio Show
Stereo Exchange's annual Spring High-End Audio Show was held Friday, April 12, through Sunday, April 14, at 627 Broadway in Manhattan's bustling SoHo neighborhood. I visited on Sunday afternoon, just as the weekend festivities were winding down, but nevertheless in time for some outstanding demonstrations.
On the main floor, a Rogers EHF-100 integrated amplifier ($6500) took pride of place among a host of Totem Acoustic loudspeakers, using its KT88-powered 100Wpc to drive the Canadian company's Model 1 Signature two-way stand-mounted speaker ($2550/pair). Source was NAD's modest C515 BEE CD player ($300)—the same model I've enjoyed at home for over a year. Speaker cables were Kimber's reliable 8VS ($260/10ft pair); interconnects were Kimber's entry-level Tonik ($80/1m pair).
Now, this was a system with which I could relate! The sound was detailed, delicate, and dynamic—easy to listen to, easy to enjoy, and easy to imagine myself owning.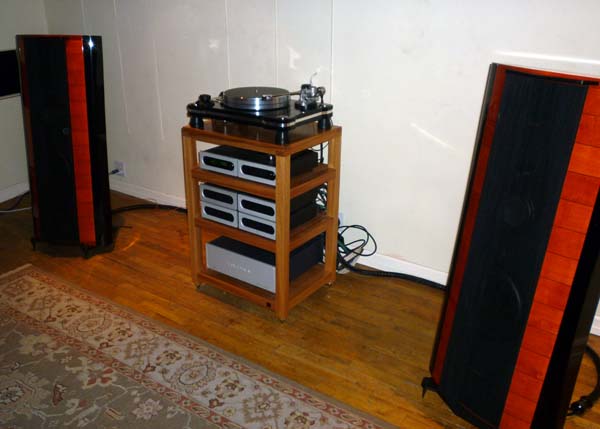 In a moderately sized listening room, Sound Representation's Jon Zimmer, played a couple of tracks from the new James Blake LP, Overgrown, on a handsome VPI Aries turntable ($5000, with a Classic 3 tonearm, plus $2350 for the Ortofon Jubilee moving-coil cartridge). The speakers were Sonus Faber's gorgeous Elipsa SE ($22,900/pair), partnered with a neat array of Bel Canto electronics: Reference DAC control system ($7800, including DAC3.5VB Mk.II, RefLink, and VB power supply), Ref500M monoblock power amps ($4000/pair), Phono 3VB phono stage ($1800), and CD2 CD player ($2995). Speaker cables and interconnects were Kimber's Select; Shunyata's Hydra Triton power distributor and Anaconda power cord completed the chain. Digital files were sourced from a MacBook using Kimber Select's new KS-2436AG USB cable ($800/0.5m). The gear was supported by Box Furniture's attractive 4-shelf rack ($3200), which is handmade in the nearby Brooklyn Navy Yard.
The system created a wide and stable soundstage with fine image focus and an exceptional sense of drama and scale. It was easy to appreciate the RZA's smooth, in-the-pocket delivery, even as the system revealed a smoker's wheeze punctuating the rapper's words.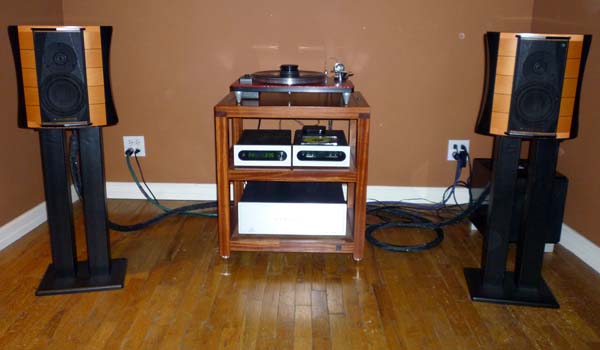 To the right of the Elipsa system and set up along the room's shorter side wall was a smaller system—something of a miniaturized version, adorable by contrast—comprising Sonus Faber's Elipsa Auditors ($5500/pair) driven by Bel Canto's versatile C7R receiver ($2995). The primary source was VPI's popular Traveler turntable ($1500, in gloss red) fitted with Ortofon's excellent 2M Black moving-magnet phono cartridge ($699). The equipment rested within Box Furniture's 3-shelf rack ($2550). Speaker cables were Kimber's Monocle X ($1145/6ft pair), interconnects were Kimber's outstanding Hero ($210/1m), and the power cables were Shunyata's Venom ($150).
I loved the sleek, simple, and practical look of this system and, while the sound was not as enveloping or sensational as that of the larger Elipsa system, it was similarly easy to enjoy, with natural tone colors, fine midrange clarity, and a smooth overall delivery. The only thing the smaller system really sacrificed was size, but it did so while taking up less space—a compromise I suspect many people, especially those living in apartments and smaller homes, would be happy to make.
In Stereo Exchange's largest listening room, I enjoyed a demonstration of Kimber Kable's IsoMike 4-channel DSD recordings. Using a McIntosh system capable of properly playing back the information in the recordings, the sound was remarkable and unlike anything I've heard—huge, transparent, and eerily lifelike, with an especially impressive sense of space.
Elsewhere, Rogue Audio introduced its Pharaoh integrated amplifier ($3495), the beefier and more powerful (175Wpc) sibling to the Sphinx we saw at CES. The Pharaoh is a tubed/solid-state hybrid with a discrete tubed headphone stage, moving-magnet/moving-coil phono input suitable for high- and low-output cartridges, and sets of balanced and unbalanced inputs. Like all Rogue Audio products, the Pharaoh is made in the US, using as many locally sourced components as possible.
The best music I heard all weekend came, not surprisingly, from a friend: John DeVore started off with James Blake's "Limit to Your Love," a torture test for a system's bass performance. Partnered with Rogers High Fidelity's EHF-200 Mk.II integrated amplifier, which has been made more versatile with a preamp input, a preamp output, and a substantial remote control, DeVore's new three-way Gibbon X (Price TBD, but estimated at around $11,000 to $12,000/pair) showed off tight, tuneful, and generous low frequencies. The source was VPI's Classic 2 turntable, equipped with a Shelter 501 moving-coil cartridge going into a Simaudio phono preamp.
Soundstaging was exceptionally wide and stable with well-focused, three-dimensional imaging. Better than that, tones were right: cymbals, snare, shakers, and piano sounded as they should. But what I found most impressive was the system's dynamics and outstanding sense of bloom. The deepest, purest silences seemed to last longer than usual, the system lingering on every drop of quiet before erupting into sweet and effortless sound. "Limit to Your Love" sounded more purposeful, more deliberate, and still somehow more physical and emotionally compelling: Near the end of the song, there's a long pause where every instrument and voice falls out, creating some tension before the chorus is reprised and the song concludes. I know that that long pause is there, but hearing it through this system, I was fooled into thinking that the song had actually ended.
DeVore's Gibbon X partners the tweeter found in the company's flagship Silverback with two 6.5" woofers and a transmission-line–loaded midrange unit. DeVore claims a stable 8 ohm impedance and a sensitivity of approximately 91dB.
The demo ended with Billie Holiday's sweet and soulful performance of "One for My Baby (and One for the Road)." The sound was appropriately seductive, but I took the song's message to heart, and as Holliday sang, "I know you're getting anxious to close," I decided it was time to go—the fitting end to a long and lovely weekend of music and sound in New York City.
For more on Stereo Exchange's Spring High-End Audio Show, visit AudioStream.