Spendor Classic SP100R2 loudspeaker Page 2
For review purposes, Spendor distributor Bluebird Music arranged the loan of a pair of Skylan 4P18 loudspeaker stands ($510 Canadian, footnote 2), which raise the height of the SP100R
2
cabinet by about 18" when used with threaded spikes or blunt-bottomed feet (both are included). The Skylans, whose painted MDF platforms are fastened to extruded PVC posts by means of long, threaded rods, must be assembled by the user—a bit of a hassle, especially since the threads on those rods were rather sharp in places—but that wasn't hard to do, and I came away impressed with the stands' appearance and functionality. Incidentally, the Skylans seem easy to fill with sand—or rice, or kitty litter—but I passed on that for the time being.
The SP100R2 required more care in placement than I'd expected, although it wasn't as daunting as a dipole, nor were the results of my setup work at all ambiguous (as they were with, say, the rewarding but challenging Gradient Helsinki; see Stereophile, August 2010): There was no doubting when I'd gotten it right, and right, in this case, was achieved when the center of each baffle was 32" from the nearest sidewall and 68" from the wall behind the speakers. Those positions gave both the smoothest bass-response curve and the deepest low-bass response, with useful content down to 31.5Hz but little or nothing below that. Nearfield listening à la the Quad ESLs suited the Spendors, though they were also enjoyable when listened to off axis.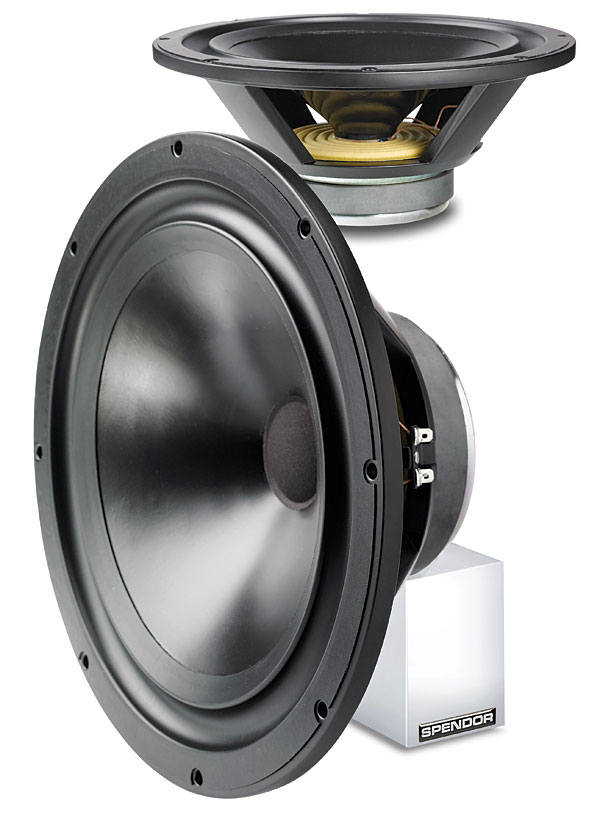 Toe-in was tricky: I began with the big Spendors aimed directly at my listening seat, which worked well for popular and folk music. But when I moved on to solo-piano music, that setup produced a small and overprecise piano image with no real sense of scale. Minimizing the toe-in by 15 or 20°, such that the Spendors' inner cabinet walls were slightly visible from a centrally located listening seat, eliminated the fussiness and increased the scale by a surprising degree, while maintaining good bass and midbass balance, as well as preserving sufficient stereo-image specificity with studio recordings.
Listening
No need to listen. No need to even measure. Just read the reviews: Classic British speakers all sound warm—meaning they all have a soft, rolled-off treble range, and a mild to moderate rise in response through their upper-bass/lower-midrange regions.
Right?
Yes and no. The Spendor Classic SP100R2 did indeed sound warm—I would also say human and organic—but it was not a pervasive quality, in the sense of a filter that imposed a character on everything that came through. Rather, it seemed that the SP100R2 was a device so naturally clear that it had the quality of allowing the warmth of individual sounds to come through, unscathed and unscraped. (This isn't a fresh observation, but an opinion I've long harbored about most of the old-style Spendors and similar products I've heard over the years—including those SP100s I used to own.)
In fact, before I optimized their positions in my listening room, the SP100R2s actually sounded a bit lean. Happily, once the cabinets were in their proper locations, the Spendors filled out and allowed pianos, double basses, cellos, timpani, and singing voices to sound more tonally substantial, if never overly rich. Throughout the days ahead, and in comparison with my differently balanced Audio Note AN-Es, I enjoyed the extra measure of clarity brought by the Spendors to the sounds of large string instruments in particular, as in the first movement of Mahler's Symphony 2 with Hermann Scherchen and the Vienna State Opera Orchestra (LP, ABC Westminster Gold WGS-8262-2). Deep-bass clarity was also fine; the Spendors clearly described the subtle differences between the orchestral bass-drum sounds in the Adrian Boult/New Philharmonia and Benjamin Britten/London Symphony recordings of Elgar's The Dream of Gerontius (LPs, EMI SLS 987 and London OSA-1293, respectively)—although the very deepest plucked-string notes showed a trace of overhang in the Britten recording.
The Spendors' reproduction of a record that's become for me a sort of a go-to disc for evaluating loudspeakers—the Sonny Rollins/Coleman Hawkins collaboration Sonny Meets Hawk (LP, RCA/Classic LSP-2712)—was superb. The sound was more spacious and airy than through either my reference Audio Note loudspeakers or the recently reviewed DeVore O/96s, with a clearer sense of the deep performing space. The Audio Notes, perhaps by dint of their more generous bass or the very different manner in which they load the room, sounded earthier and more impactful, although the Spendors were nonetheless satisfying.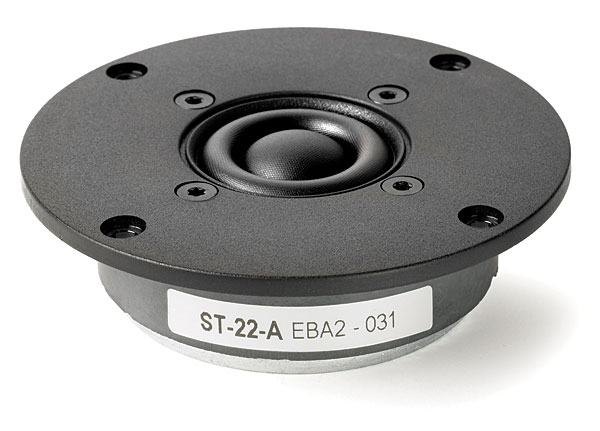 Spatially, the wide-bodied Spendor was extremely accomplished without exaggerating depth or detail: It allowed dry sound to sound dry, as in Miles Davis's Lift to the Scaffold (LP, Fontana/Speakers Corner 0660213). Not only did the Spendors present the horn, sax, and—especially—the upright bass as extremely clear, physical, and present, it did so in a manner that was appropriately stark. (Among the other speakers in-house, only my Quad ESLs shared that strength.) At the other end of the recording-style spectrum, the Spendors reproduced the great Georg Solti/Vienna Philharmonic recording of Wagner's Das Rheingold (LP, London OSA 1309) with its strong spatial content intact, as in the electrifying Scene Two entrance of the Giants with Walter Kreppel as an intense Fasolt. There, the horns seemed to be playing from farther away in my room than I'd heard before, even through my Quads, yet they still had believable senses of body and bite. The Spendors were never more colorfully involving than they were at that moment.
The Spendors' dispersion was surprisingly consistent, surely enough to reward the sort of casual listening I sometimes enjoy. The inevitable distinctions between their sound as heard from a central listening seat and from an off-axis or even standing position were small, and pertained more to the way the speakers conveyed force, presence, and touch than to the sorts of tonal effects usually associated with dispersion quirks (dullness, midrange suckouts, etc.). On the other hand, the Spendors' facility with mono recordings was good but not great. A fine mono recording from East Germany of the Khachaturian Violin Concerto performed by soloist Gustav Schmahl, conductor Gerhard PflÅger, and the Gewandhausorchester Leipzig (LP, Eterna 8 20 385) had quite good color, substance, and presence through the Spendors, though not quite as good as my corner-mounted Audio Notes. (This recording, too, displayed the overly resonant plucked bass strings referred to earlier.)
Pacing? Impact? Involvement? The Spendors sounded awesome with the surprisingly well-recorded "I Will Dare," from the Replacements' Let it Be (LP, Twin Tone TTR-8441; just as shockingly, the 12" 45rpm single version, also on Twin Tone, isn't as good). More important, the very emotional "Unsatisfied," from the same album—arguably their best song ever—was screamingly, tearily good through these speakers. A stronger recommendation does not exist.
Incidentally, from my listening seat, the Spendors sounded only slightly less sensitive than my reference Audio Note AN-Es, presumably because the former were installed much closer to my seat than the intentionally corner-mounted Audio Notes. The Spendors did, however, sound notably less sensitive than the similarly located DeVore Orangutan O/96s. Make of that what you will.
Conclusions
The Spendor Classic SP100R2 was certainly a more neutral loudspeaker than my reference, with dividends in a great many other areas: midrange detail, vocal articulation, and convincing reproduction of the "room sound" available from certain well-made recordings. If the Spendors left anything to be desired in their timbral balance, it was simply the extra care in setup they demand in order to avoid making pianos and the like sound lean and light. The Spendors were never, ever bright—but at the same time, I wouldn't have wanted a single molecule more of treble content: They were just right.
The Spendors lived up to their BBC heritage as monitors. They were open, articulate, correct, and, without sounding the least bit cold, cerebral. They communicated the wondrous sense of structure and flow with which Glenn Gould could play a line of notes, yet they also told me when he was humming too loud. They let fun music sound fun and warm instruments sound warm, even as they rewarded a listening approach that emphasizes thoughtful repose over booty-shaking. (My reference Audio Notes, for their part, offer an earthier experience: They wear stripes with plaids, drink too much, and laugh too loud; they aren't always timbrally correct, but they are emotionally explicit.)
With work, one can find loudspeakers—virtually always more expensive than the Classic SP100R2—that perform better at one or two tasks: more impact, more tautness, more presence, whatever. But in my experience, it's extremely difficult to find one that does better at all the many things the Classic SP100R2 does so well. And while I wish it could still be had for the 1996 price of $3300/pair, the current price seems quite reasonable for all the SP100R2 has to offer. Sixteen years later, Spendor's flagship Classic model is just as recommendable, if not more so—and is all the more deserving of its status as a reference.
---
Footnote 2: Skylan Manufacturing, 4604 Maryvale Road NE, Calgary, Alberta T2A 2V2, Canada. Tel: (403) 273-1735. Web:
www.skylanstands.com
.