Sony SA-Z1 nearfield active speaker system Page 2
The four digital inputs (USB, Walkman, optical, and stereo mini) are on the "A" speaker's left side. A's rear panel offers pairs of unbalanced (RCA) and balanced (XLR) analog inputs and a left/right switch, which determines whether speaker A or speaker B receives the right (or left) signal. Here, also, are the aforementioned digital sync cable and the power inlet.
Speaker B's front panel holds four acoustic adjustment knobs. Addressed from left to right, the D.A. ASSIST (D.A. Hybrid amplifier analog assist) allows you to choose whether to use the analog amplifier only for error-correction ("Standard") or to also use the analog amplifier to help drive the speakers ("Blended"). "The Blended setting adds just a bit more analog signal to create a slightly smoother, more analog sound," Carlsson said.
A.WF MOTION allows you to disable the rear woofer. Carlsson explained, "The Active position gives you more bass, but Fixed might sound a little tighter."
A.WF FREQ RANGE (Assist Woofer Frequency Range) widens or narrows the frequency range of the rear woofer. "The Standard setting means that the rear woofer reproduces the same frequency as the front woofer," Carlsson said. "The Narrow setting reduces the frequency range a bit and makes the bass a bit tighter, while Wide gives it a slightly wider bandwidth than the main woofer but makes it not as tight. We think Standard is the ideal setting, but you can either make it a little fuller or narrower."
Finally, the A. TW TIME ALI (Assist Tweeter Time Alignment) adjustment synchronizes, delays, or advances the two smaller tweeters in relation to the main woofer. "Advance" brings the highs forward in time, making the sound more immediate and potentially sharpening or brightening the sound. Delaying the tweeter can compensate for bright recordings, producing a more laid-back, relaxed sound.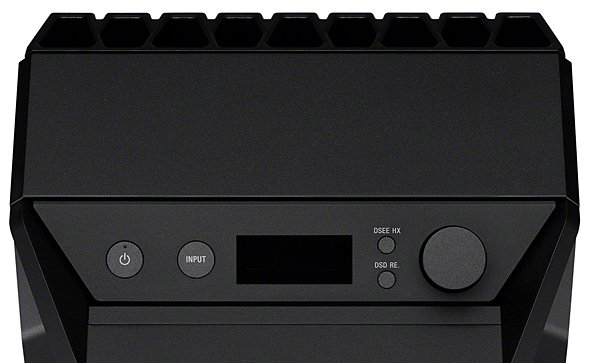 Setup is crucial
The SA-Z1 system arrived in a single large box. Significant portions of the velvet-covered Styrofoam meant to hold the speakers in place inside the box were in pieces, the speakers askew and with a few dents that did not compromise their sound. Two of the four plastic locks designed to keep the box sealed were also missing. A Sony rep apologized, telling Stereophile that these samples and their packaging had seen some miles. Sony sent new packaging so that I could send the speakers to John Atkinson for measuring.
If you initially do what this overeager dolt did—angle the speakers inward so that the tweeters fire toward your ears and then move your desk chair back so that you're directly in the line of fire—you'll discover that the tweeters sound way too bright. If you try to compensate for a listening pace's unusual symmetry by moving the speakers too close to the wall, the sound will be too warm. If the speakers are too far from the wall, you'll lose bass, and the sound will be clinical. If the speakers are too far from you, you'll lose color and sense of immediacy.
Using a guide provided to reviewers, I started by placing the speakers on a desk (instead of on desktop stands) and aiming them straight ahead. Start with the speakers 28.75" (730mm) apart and 5.9" (150 mm) from the front wall and adjust from there. There's lots more information on setup in the manual. Read it.
If your front wall is curved, your desk is in a corner (like mine), or your listening space is configured like rococo architecture, all bets are off. For example, Sony recommends that the main tweeters be situated at the same height as your ears. In my diagonally bisected corner space, I preferred the sound with the tweeter array below ear height. I was able to achieve that, though, by following Sony's advice and putting the speakers directly on my desktop.
Shortly after I began listening, I realized that positioning a 27" iMac between the speakers, on the same level, created a bass prison into which the inside side vents of each speaker's assist woofers fired. Further, my iMac's size limited how close together I could move the speakers. Bass, imaging, and all the rest improved when I replaced the big iMac with a 15" MacBook Pro, which sat on the lower tier of my desk, where it had no effect on soundstage, bass response, or anything else. Now I had room for an optimal SA-Z1 setup. A large monitor will tend to inhibit any desktop system, but some more than others.
Power and purity
I asked Carlsson how he felt about aftermarket power conditioning. Sony's design team had not employed power conditioning in developing the SA-Z1, but then the speakers were designed in a purpose-built listening room in Sony's Tokyo headquarters, which was supplied with fully isolated, clean power. Power conditioning was the closest I could get to Sony's dedicated transformers, so I felt confident stealing Tweak Geek's Dark Matter Stealth AC Conditioner from my reference system and using it in the review.
I also sought Carlsson's views on aftermarket power cords. "When we set up the SA-Z1s in our San Diego headquarters and at the 2019 Rocky Mountain Audio Fest, we definitely heard an improvement using some high-end Kimber power cables and a Kimber USB-C cable from my MacBook," he told me. "It was definitely an audible upgrade."
For this review, I used a combination of Nordost Valhalla 1 and Odin 2 power cables, plus a Valhalla 2 USB cable connected with a Frey 2 USB-C–to–USB-A adapter.
"Cables are one of those interesting topics. I'm an engineer, and the scientist in me says they shouldn't make much difference. But on the other hand, when you listen, a lot of times there is a clear difference. In this case, it was for the better. One of the most fun parts of audio, for me, and the reason I got into it, is that it's a bit of a mix between art and science. There's a lot of science to it, but at the end of the day, it comes down to making a decision about what sounds best—by listening."
Lifting off
Inspired by the speakers' visual aesthetic, I led off with the theme from Kubrick's 2001: A Space Odyssey: the deep-rumbling organ pedals, blazing brass, and pounding bass of Richard Strauss's Also Sprach Zarathustra. This (literally) pull-out-all-the-stops blockbuster recording by the Seattle Symphony, which pairs this beloved Strauss tone poem with Scriabin's The Poem of Ecstasy (24/96 WAV, Seattle Symphony Media SSM1025), was a supreme test for a small desktop system.
There was some low-level woofer fluttering caused by the small woofers' inability to reach as low as a mighty organ can go, but bass was otherwise tight and convincing, the midrange was warm, and highs were as rousing as one might wish for. Images weren't gigantic, but the way the soundstage expanded beyond and through the speakers was awe-inspiring. I wouldn't have minded more transparency and deeply saturated color (although color increases as one sits closer), but the sense of immersion in an all-encompassing soundfield was the closest a small pair of speakers, desktop or otherwise, has ever brought me to the wonders of fine headphone listening.
Equally impressive was the clarity. Especially when I leaned closer to the speakers—distance won't be an issue with a conventional desk and laptop—the differentiation between violins in the Seattle Symphony's large string section was ear-opening. Clarity also reigned supreme on Cecilia Bartoli's rendition of the almost 10-minute aria "Se mai senti spirarti sul volto" from her wondrous 2018 album Antonio Vivaldi (Qobuz 24/96 FLAC); it's a miracle of deeply felt, perfectly controlled, hushed intensity, made possible by her extraordinary breath control and seemingly limitless musical intelligence. Listening in awe, I wondered why I hadn't been playing the album more.
The singing was heavenly, and the SA-Z1's presentation was so detailed that it was as though I was right there with her at the microphone.
I indulged in a few standbys. Yo-Yo Ma, Chris Thiele, and Edgar Meyer's recording of J.S. Bach's "Sleepers, Awake!" from their Bach Trios album (Qobuz 24/96 FLAC)—one of John Atkinson's choices for last month's Records to Die For—delivered bass tight and right. Ma's cello sounded wonderful, and the mandolin's texture was convincing.
Once again, colors could have been more saturated. My very different reference desktop system, Audeze designer Dragoslav Colich's Dragonfire system, which includes a powered subwoofer, a proprietary DAC that doesn't handle ultrahigh resolutions, and Dirac room correction, scores in the color, transparency, and delicacy departments, but the SA-Z1s play far louder and produce soundstage depth I never thought possible from a desktop system.
What about all those buttons?
The Chesky Records recording of Priya Darshini's Periphery (24/192 WAV) was up for a Grammy Award for Best New Age Album. During the opening track, "Jahaan," switching D.A. ASSIST from "Blended" to "Standard" tightened percussive snaps and produced more impact. Setting A. TW TIME ALI to "Advance" delivered more color. As superbly recorded as the album is, moving from 24/192 PCM to DSD256 by engaging DSD Remastering yielded even smoother, more refined sound, with excellent depth.
Roon Radio capriciously took me to Michael Jackson's "Liberian Girl" from Bad (Qobuz 24/96 FLAC). Inspired to leave classical behind, I turned to the New York Times story on the 50th anniversary of "Lola" by The Kinks. Here, it seemed, in the video embedded in the Times website, lay the roots of Lou Reed's "Walk on the Wild Side" and other, more salacious contemporary fare. (Think Cardi B's "WAP.")
Low-rez, lossy files were brought to life and sounded 3D. For anyone who watches music videos on their desktop, I cannot recommend Sony's DSEE-HX highly enough. The first active speaker I reviewed, Dynaudio's larger Focus 200XD, produces bigger, weightier images and more bass rom sonically compromised video sound sources, but it cannot deliver the astounding three-dimensionality of Sony's SA-X1 system with DSEE-HX.
San Francisco–based new/experimental music organization Other Minds, founded by tireless new-music advocate Charles Amirkhanian, recently released a 320kbps MP3 of Charles Shere's long-lost Trio for Violin, Piano and Percussion, performed by the lamented Abel-Steinberg-Winant Trio (footnote 1).
Rescued from a cassette and available to Other Minds only as an MP3 supplied by the ailing 85-year-old composer (footnote 2) (who as I write this is under hospice care), it should have sounded mediocre or worse. But with DSEE-HX, Shere's music sounded air-filled and 3D, and Winant's percussion had much life and impact.
You won't want to use DSEE-HX with lossless recordings, but with MP3, it's great.
My listening returned to deep space with "Yoda's Theme" from Star Wars, performed by Gustavo Dudamel and the LA Philharmonic on Celebrating John Williams (Qobuz 24/96). Recorded and mastered by the Grammy-nominated father/son team of Dmitriy and Alexander Lipay, who also record the Seattle Symphony, the music possessed a captivating gentleness I'd forgotten existed in the Star Wars soundtrack.
For contrast, I ended with the "Throne Room and Finale." As Williams's familiar theme roused my senses, I realized that within the context of small-scale personal listening, the SA-Z1 system can deliver all the biting brass and French horn/woodwind warmth one might need, want, or desire.
Debriefing
With the SA-Z1 nearfield active loudspeaker system, you can sit at the comfort of your own desk, close the office door (or not), and without needing to fasten your seat belt, launch into an air-filled galaxy of sound that you may not have thought possible with a desktop system. With a host of controls that enable you to tailor each excursion to your liking and compensate for the vagaries of poor recordings, compressed music, and an imperfect listening environment, the SA-Z1 is capable of opening up entire new realms of personal listening.
Footnote 1: Analog lovers will recall David Abel and Julie Steinberg's two justly celebrated recordings for Wilson Audio; the Beethoven and Enescu sonatas are available in 24/176.4 on Qobuz.
Footnote 2: As a music critic for the Oakland Tribune, Shere once reviewed one of my early whistling performances, describing me as a personable young man with a winning smile and big feet. What he did not understand was that my income was so low that I was wearing the only nice black wingtips I could find at local thrift stores, which were a size and a half too large.