Sons & Daughters: Mirror Mirror
Mirror Mirror
, the third album from Glasgow band
Sons & Daughters
, opens with a single note from a vintage synth. Barely audible at first, it grows and grows and rises vertically in the soundstage—for 15 seconds it grows: a sharp white light in an otherwise dark room—building tension, warning of some sort of danger, as it goes. This high-pitched note is met first by stomping feet, then by clapping hands—single file and far, far off, but growing in size and intensity—before finally being joined by the voices of Adele Bethel and Scott Paterson, singing, strangely singing, barely singing at all, more chanting, intoning, repeating,
casting
:
Drown it down, down, down
Will you show me right now?
In this mirror you can be surmised
The fog of green that casts your eyes
Too close to the water
Nothing stands solid
Don't touch the cracks too much
Your eyes will sink to floods
Oh, silver spell, broken by luck
Oh, silver spell, broken by luck
And there the music (what little there was of it) dies completely, leaving the listener, the viewer, in utter darkness. It's as if the tape has stopped, the world has ended, the mirror cracked, the light vanished—everything is in silence, blackness, nothingness, gone—a neat trick played by JD Twitch and Gareth Jones, the album's producer and engineer. You might wonder what's wrong with this music. Something feels fractured, mutilated, wrong. You might feel sick. That would be good.
Through the hi-fi, the silence of the music looms large and imposing. That first handclap is a million miles away, ignorable, a whiff, but before you can prepare for it, you're standing inches away from some sort of death-mask. The stomps are shaking the walls, threatening to toss the records right from the shelves. The voices are spread far apart and seem to be turned toward the center of the stage, as if Bethel and Paterson are staring into a mirror, singing to one another.
The simplicity of this music recalls the folk and blues of the rural American south—these are love cries and death chants—but there are also echoes of Lydia Lunch's 8-Eyed Spy, No Wave's intersection of blues, punk, and noise, and of course the inescapable Scottishness of Bethel and Paterson's voices, alternately lovely and gruff, and always steeped with urgency.
While the album's strange opener, "Silver Spell," could be a fine demo track for any good hi-fi, my favorite song on Mirror Mirror is "Rose Red," a driving, delirious dance, with a steady, pounding beat (beat beat), heavy bass line, angular guitar, and delicious vocal harmonies. This is clearly pop music, but it's pop music interested in witchcraft, myth, death, and glamour: "The Model" is the story of a model who throws herself from a balcony ("Lipstick smile across your face spells danger"); "The Beach" opens and closes with the lovely sound of falling rain and tells of a young girl found dead in the woods; "Axed Actor" refers, indelicately, to Elisabeth Short, "the Black Dahlia," a beautiful, young woman who was brutally murdered near Los Angeles in 1947.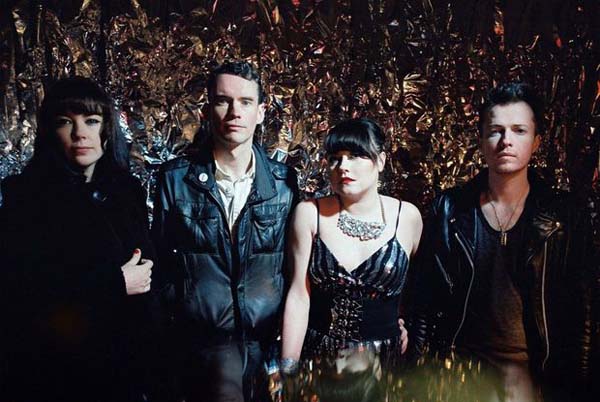 Bethel says her songwriting was inspired by Italian giallo cinema: "If any film represents this record, it would be Dario Argento's Suspiria." The sound quality throughout is very good, filled with space, darkness, and terror—lots of fun to listen to (alone or with someone you love), late at night, on the hi-fi.
Sons & Daughters is Adele Bethel (vocals, guitar, piano), Scott Paterson (vocals, guitar), Ailidh Lennon (bass, mandolin, piano), and David Gow (drums, percussion). Mirror Mirror is available now, as a CD, LP, or download, from Domino Records.