Sonny Rollins Newk's Time in 45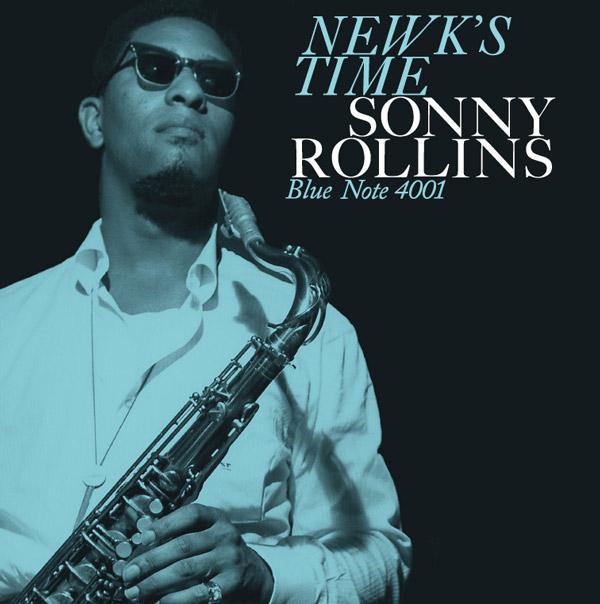 Newk's Time
was the third of four albums that Sonny Rollins recorded for Blue Note, and it's the second reissued by Music Matters Jazz, the audiophile house that does up the Blue Note classics right, each title mastered at 45rpm and spread out across two extremely quiet slabs of vinyl. MMJ has already released
Sonny Rollins, Vol. 1
. That leaves
Sonny Rollins, Vol. 2
and
Night at the Village Vanguard
(itself a 2-volume album). I hope they put them out too at some point. If they do (does this need to be said?), get them all.
Rollins was signed to Blue Note in 1956–57, one of several transitional periods and an almost absurdly prolific one. He recorded not only the four Blue Notes but also Saxophone Colossus and Freedom Suite for Prestige, Way Out West for Contemporary, and over a dozen sessions as sideman, for various labels, with Miles Davis, Max Roach, Thelonious Monk, Dizzy Gillespie, Kenny Dorham, and Abbey Lincoln. Listening to all these albums (for the most part, a riveting experience), you can hear the subtle-then-transformative changes in Rollins' sound—and thus in modern jazz itself.
Newk's Time is particularly revealing in this sense. There's a warmth to his tone, almost a mellowness, laced not quite with a vibrato (he would never do a full Coleman Hawkins, though he was flirting with that husky romanticism around this time), but with a wisp of air in his mouthpiece at the end of a phrase. Yet Rollins' phrases are also fleeter than before, extending scales and arpeggios much farther out and taking much sharper Alpine twists; he's rivaling Coltrane, with whom he had a high-profile rivalry, for sheets-of-sound speed, though Rollins sprints and dances more insouciantly.
The sound, by Rudy Van Gelder, is terrific, one of his early stereos, recorded in his parents' living room in Hackensack. This is one of Rollins' best-sounding horns on record (exceeded only by the Contemporary LPs and Our Man in Jazz on RCA). Even the piano, by Wynton Kelly, sounds less hooded than on several RVGs, Doug Watkins' bass has a wood vibration, and Philly Joe Jones' drums slam and shimmer.
There's a very good-sounding CD of this album, put out in 2004 on EMI/Blue Note's RVG Editions series, but it's not as vivid or dynamic as these LPs.