Smoke Sessions on Vinyl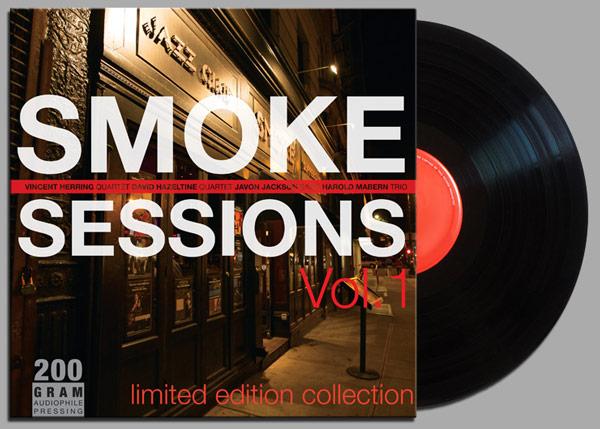 With so few "major record labels" left standing, the music-loving audiophile stands alert for new venture—indies by the measure of indies—that offer very good music, excellent sound, and (is it too much to ask?) the occasional slab of vinyl. As first reported by Robert Baird in
Stereophile
's August 2014 issue, there is another worthy prospect worth celebrating:
Smoke Sessions Records
, the creation of Paul Stache, proprietor of Smoke Jazz Club on upper Broadway in NYC, where most of his discs are recorded live, with Stache himself at the controls.
Smoke Sessions released nine CDs and one limited-edition LP sampler in 2014, its first year of operation, and there's not a bum in the lot. The session leaders are top-flight staples of the New York jazz scene, musicians who never quite hit it big (such as "big" can be in jazz) but who would make any star' "A list" for a sideman; if you hear them here for the first time, you'll open your eyes wide and mutter, "How is it I've never heard of him?"
Among the leaders here are Cyrus Chestnut (whom I remember from the DC scene in the 1980s and who remains one of the most swinging pianists around), Harold Mabern, Orrin Evans, Eric Reed; Vincent Herring and Javon Jackson on reeds; Louis Hayes and Jimmy Cobb (the last survivor of the Kind of Blue session) on drums.
And many of the sidemen on these albums are stellar figures too: Brad Mehldau, Victor Lewis, Curtis Lundy, J.D. Allen, Joe Farnsworth, Seamus Blake, as well as some of the leaders on the other albums. There's a classic Blue Note vibe going on here.
The music is energetic post-bop jazz of a high order: nothing very adventurous by today's standards, but virtuosic foot-tapping, head-swaying, very pleasurable, sometimes riveting.
And the sound, almost uniformly, is as crisp, vivid, colorful, and dynamic as any recent live jazz albums I've heard in a while. Stache told in a phone conversation that he records on ProTools HD, but check out his other tools: a matched pair of Schoeps Mk. 4 and a Neuman U87 microphones on the piano; U47 and Royer 122Vs on tenor sax; RCA 77 ribbons on alto sax; a vintage RCA 44 and a Coles 4038 on trumpets; an RCA 44 and Sennheister 409 on bass; and, for drums, a pair of Neuman KM84s and a Coles 4038 overhead, a D12 or FET47 on the bass drum, and an SM57 on the snare.
He mixes, live-to-2-channel, on a Neve 8038 or Rupert Neve-designed Amek Angela 2 analog mixing board. After his first few sessions, he started mixing to analog tape on a Studer mastering deck.
The LP sampler was mastered by Kevin Gray and pressed on 200 gram vinyl at Analogue Productions' QRP plant. There's no compromising here, and the purity glows in the sound. It sounds as good as you think it might sound, maybe better.
For music, I'd particularly recommend Chestnut's Midnight Melodies, Herring's The Uptown Shuffle, Cobb's The Original Mob, and Evans' Liberation Blues. For sound, they're all excellent, but I should note that the Chestnut, Hayes, Cobb, Evans, and Reed sessions were those mixed to analog tape—and they do sound warmer, fuller.
Stache is an audiophile himself. His home stereo rig includes a Rogue Audio Cronus Magnum tube amp and a pair of Totem Staff speakers. He plans to keep up a steady release schedule of CDs in 2015, shifting to studio dates at places like Sear Sound, though only after the band's played some live dates at his club. He plans to do more vinyl releases too, though probably pressing on 180 gram, to cut costs. (When he took the files to QRP for the sampler, only 200 gram slabs were available. I've never heard much of a difference.)
Again, this is a modernist's traditional jazz. Vincent Herring's The Uptown Shuffle sounds like something Cannonball Adderley might have made in 1960 (Herring sounds a bit like Adderley). But hey, what's wrong with that?