Skullcandy Crusher Wireless Over-Ear Sealed Headphones with Haptic Bass Drivers Page 2
Haptic Drivers
In addition to the standard 40mm dynamic drivers, each ear capsule contains a haptic driver that creates vibration driven by the low frequencies of the music signal. Here you can see the driver within its housing mounted within the ear capsule of the Crusher Wireless circled in red.
Basically this driver uses a voice coil similar to that found on regular dynamic drivers, but rather than being attached to a diaphragm, it magnetically drives a metal slug to create mechanical vibration. The metal slug is suspended in position around the voice coil by a thin metal plate that has what seems to be laser cutouts allowing it to act like a spring and letting the mass move freely up and down. The downside of this design is that the combined mass and springiness of the metal have a very strong resonant frequency (about 50Hz), which makes the action of this driver fairly narrowband around that frequency. The exploded view below is from the previous Crusher model but appears essentially the same as the current driver.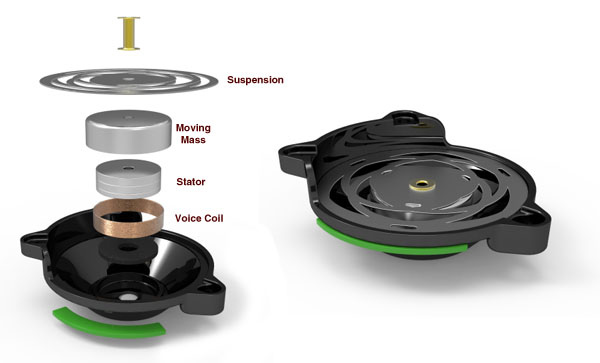 The current driver is a little bit different visually. There is a cover plate over the spring now that may act as an air damper, and the "spring" now appears to be a little lower tension as the cut-out is now a spiral rather than a web shape. Here's a picture of the Crusher Wireless haptic driver element.
The problem I have with this type of driver is that it's fairly narrow band with a very high-Q resonance. I did find the haptic driver of the Previous Crusher to be somewhat "one note" in its response. I does appear Skullcandy did damp and broaden the response somewhat in this iteration.