THE Show: Day One Discoveries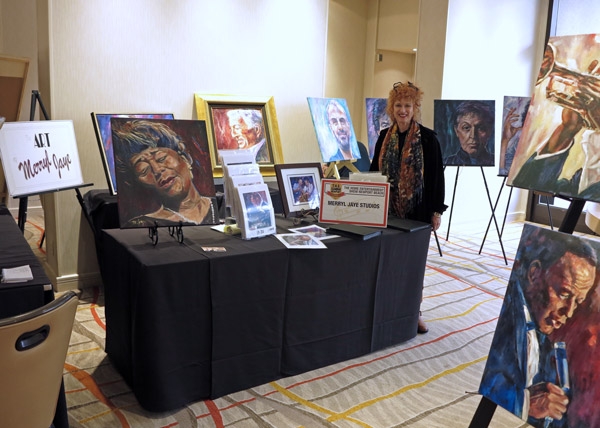 In the lobby of the Hotel Irvine, Meryl Jane was not only showing her paintings of famous audiophile-approved artists, but also extremely eager to have her picture snapped in their midst. By all laws known to God, human, and those strange outlaw beings known as Texans, opening day at an audio show is when systems, usually not fully dialed in, often sound sub par. Yet in Hotel Irvine, the most consistently fine sound I encountered was on Day One, in the extremely hard-to-tame cubic conference rooms on the lobby level.
Right next to the superb-sounding rooms from GTT Audio (YG Acoustics/Audionet . . .) and On a Higher Note (Vivid/Luxman . . . sang the best IsoMike presentation I have witnessed in many a year. With a retail cost of $521,520, the system's combination of EMM Labs, Merging Technologies, Pass Labs, Sony, and Kimber Kable products sounded positively lovely on an IsoMike multi-channel recording of Chausson's Concerto Violin, Piano, and String Quartet. A bit of the 3rd movement of Mahler Symphony 9, as performed by Iván Fischer and the Budapest Festival Orchestra on a new Channel Classics SACD, was especially impressive for the air surrounding the orchestra, and the manner in which the system clearly conveyed the composer's emotional turmoil. Brass sounded especially convincing. So was the bass . . . until we turned up the volume and the fixtures in the room began rattling.
Frankly, if so many other systems hadn't needed coverage, I would have stayed for a long, long time. I really didn't want to leave.
Doing the honors—take a deep breath—were, from EMM Labs, the Pre2 x2, TSDX, XDS1v2, DAC2X (for two-channel), MA-1, and MA-2; and from Merging Technologies, the Horus, Hapi, US premiere of the NADAC that I previewed in Munich (for multi-channel), and Pyramix v9. That was just for source and control. For speakers front and around, add in the world premiere of EMM Labs MTRX x2 for the front channels, Pass Labs X350.5 x2, and Sony SSAR-1 x4. Throw in a helluva lot of Kimber Select cabling and Kimber Palladian power cords, and about as much money as some CEOs make in a day, and you had a system whose sound left many a home theater set-up sounding pallid by comparison.
In an exhibit that include a Bergmann Sindre turntable ($22,000) with Orpheus cartridge, Ypsilon Step-up transformer ($2800), Ypsilon PST-Mk.III preamp ($37,000), Ypsilon CDT-100 CD transport ($26,000), Ypsilon VPS-100 ($26,000), Ypsilon Aelius power amp ($36,000), Perfect8 Technologies The Point Mk.III loudspeakers ($100,000/pair), Perfect8 proprietary cabling, and a Perfect8 The Rack ($2200/shelf), a host of lovely colors distinguished an LP of Reiner's rendition of Rimsky-Korsakov's irrepressible Scheherazade. If only the presentation had been totally clean, without bass booming and a slightly muffled midrange. Here's hoping I can hear this set-up again in a friendlier environment, or in a room with more treatment.
Not only do Balanced Audio Technologies (BAT) electronics deliver some of the finest and most compelling highs I've ever heard from audio equipment, but they also sound superb when allied with Nordost cabling. That was certainly the case in the Cake Audio of San Clemente room, where the timbres on Rachel Podger's recently released recording of Vivaldi's L'Estro Armonico (Channel Classics) were as beautiful as they get.
Three cheers as well for the BAT REX II linestage ($25,000), whose volume control's small increments allow you to find the ideal volume for music and room without having to settle for either too soft or too loud. Ditto for its fade feature.
I must not be the only person on the planet who thought the vinyl pressing of Shelby Lynne's Just a Little Lovin' sounded fabulous on this system. Storeowner Ken Boyce reports that he sold at least one pair of Rockport Avior loudspeakers ($37,500/pair) on the spot, as well as a BAT integrated amplifier ($9000) that he hooked up for a potential customer after hours. Also heard in this very impressive system: Esoteric K-01 CD/SACD player ($20,000), BAT VK-P12 SE/SuperPak phono stage ($12,495), Brinkmann Balance two-arm turntable supported by Herzan TS-140 Active Stabilization platform ($14,999), Kuzma 4 Point tone arm and Dynavector XV-1t cartridge, Nordost Valhalla 2 cabling, and Nordost QX4 power purifier, QB8 AC distributor, and QV2 line harmonizers.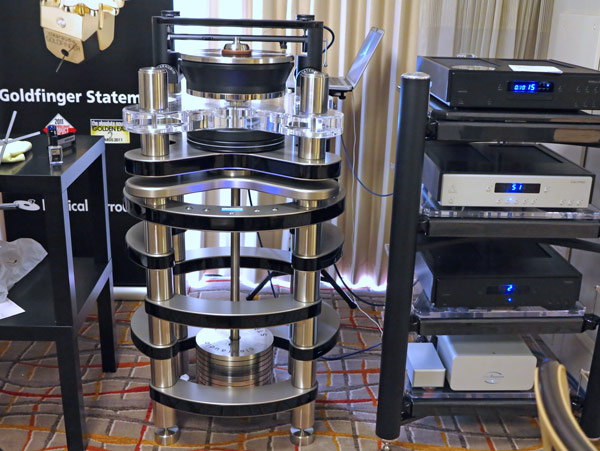 Moving up to the 2nd floor, musical glories continued in the form of Nojima Plays Liszt, which sounded fabulous on the on the recently released Clearaudio Statement V2 turntable ($200,000) equipped with Clearaudio Goldfinger Statement cartridge ($15,000). That I was impelled to write, "Just gorgeous," in my notes has more than a little to do with the speakers, the superb Wilson Audio Alexias ($52,000/pair). Let us not forget the world premiere Aesthetix Calypso Eclipse linestage ($10,000), new Aesthetix Rhea Eclipse phonostage ($10,000), less than new but equally stellar Aesthetix Atlas monoblock amps ($16,000/pair), Cardas Clear Beyond and Clear cabling ($21,000 total), audience adeptResponse aR6-TSS power conditioner ($7550), superb Grand Prix Audio Silverstone 4-shelf isolation system ($19,175) and two Grand Prix Audio Monaco Amp isolation systems ($3900 total).
But the glories did not stop with piano. Peter Mc Grath put on a track of his recording of an amateur chorus from South Florida singing Bach with a pickup orchestra. Even though the recording was 16/44.1, the astoundingly realistic depiction of acoustic space, as well as the timbres of voices and instruments were so breathtakingly real that I could not help but exclaim, "Fuck, this is fabulous!" I trust that Bach would have approved... at least of the sound. Then again, he was so busy having children that he probably would have understood my language as well.
It may not have been a cost-no-object system, but I owed it to Costa Koulisakis and Lionel Goodfield to cover the US premiere of Simaudio Moon's 780D DSD-capable DAC with network player ($15,000) in Newport Beach/Irvine after missing its world premiere in Munich. In a room also graced by handsome Vienna Acoustics loudspeakers, excellent depiction of cymbals and lovely warmth on piano further distinguished the DAC's very smooth and pleasing presentation of "'Round About Midnight" by The Great Jazz Trio.
Doing the honors in the Simaudio Moon department were the 610LP phono preamp ($7500), 740P preamp ($9500), brand new US premiere 780D DSD-capable DAC with network player ($15,000), 820S power supply ($8000), and 860A amplifier ($15,000). As for the not so shabby rest, let us now praise the Vienna Acoustics: Imperial Series–Liszt loudspeakers ($15,000/pair), E.A.T. C-Sharp turntable with Ortofon Quintet Black cartridge ($4500), and IsoTek EVO3 Sigmas power mains conditioner ($4500).
When I asked Brian Ackerman of Aaudio Imports of Colorado if his system qualified as cost-no-object, he replied, "How about two Stage III Leviathan AC powercords at $14,500 each, and Lansche No.3.1 plasma ion-tweeter loudspeakers ($36,000/pair)?"
"Okay, you win," said I, as Copland's Fanfare for the Common Man signaled his victory. Despite a touch of brightness, the system depicted brass and percussion with great impact and control. A Thales TTT Compact turntable with Simplicity II tonearm and Thales line cable ($24,600 total), KAI MC cartridge ($8500), Ypsilon Phaethon integrated amp ($24,800), Ypsilon VPS-100 valve phono stage ($26,000), Ypsilon MC26L Step-up transformer ($6200), HB Cable Design PowerSlave Marble power distributor ($9900), Pagode APS HiFi rack ($8970), and $32,200 in additional Stage III cabling made for an impressive system.
Unhappy with how his Boulder system sounded on the first go around, Rich Maez moved the entire kit and caboodle 90° onto his room's long wall many hours after "press day" had concluded. I'm sure his cables' feathers got a bit ruffled in the process, but he nonetheless drew very, very nice timbres from Joe Stilgoe's "Almost Like Being in Love." Boulder's 2120 D/A converter ($60,000), 2110 preamplifier ($54,000), and 1060 300Wpc amplifier ($25,000); Focal Maestro Utopia loudspeakers ($52,500nd/pair); XTC custom racks; Clarus cabling, and bottled water by Fiji ($3 when purchased in all the wrong places), and a whole lotta lovin' did the trick.
The much-coveted "What A Difference a Change of Calibration Setting Makes" Award for 2015 goes to Esoteric and Cabasse, whose system, identical to that shown at AXPONA just six weeks earlier, sounded a mere 1000 times better. All but gone from the company's coveted SACD transfers of classic opera recordings was the irritatingly sharp edge and electronic glare that would have otherwise spoiled baritone Hermann Prey's beautiful singing on Claudio Abbado's recording of Rossini's Il barbiere di Siviglia. The timbres on Muddy Waters' "Good Mornin', Little Schoolgirl" from Folk Singer were equally pleasing.
So what was different? It seems that La Sphère employs eight channels of amplification. Once choosing between three adjustable bass filters on the speaker's active crossover (which has changed since Michael Fremer's review appeared years ago in Stereophile), the crossover software tells the user how to set the remaining amplifiers. Given the glass wallboard behind the speakers in Chicago, the software's recommendations had been way off.
This time, despite the much smaller size of the room, everything fell neatly into place. As did I, who, after this room, bid adieu to Day 1 of THE Show Newport Beach, 2015 Edition in the Hotel Irvine.