T.H.E Show 2014: Day 3 Afternoon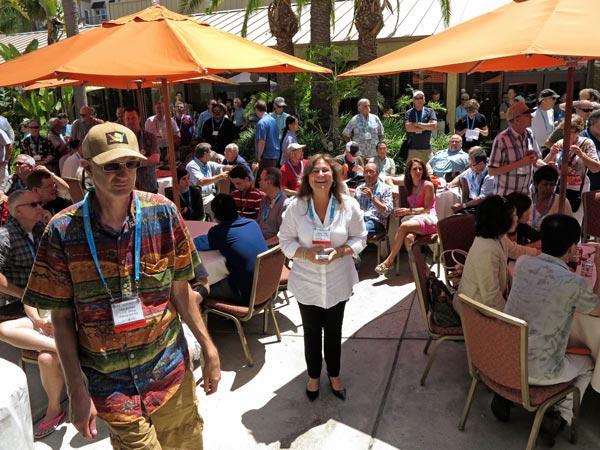 Speculation has it that a big reason for such large attendance at the Los Angeles & Orange County Audiophile Society meetings are their raffles of valuable cabling and electronics. T.H.E. Show Newport Beach followed suit, with hundreds of people gathering in the Hilton Courtyard at 2pm Sunday for the "must be present to win" opportunity to win over $25,000 worth of High-End Audio Give-Away goodies. This photo, which shows white-shirted publicist Lucette Nicoll snapping a photo of the raffle stage, only pictures part of the large crowd.
Assembled on the stage were (from left to right): raffleers Bob Levi, President of the LAOCAS; Richard Beers of T.H.E. Show; Wan Chen, violinist during lunches; and the raffle MC, Bubba Jackson, DJ at KJAZZ radio LA. Richard swore that he would move the raffle right along, but Bubba's propensity to kibbitz got the best of him. After God knows how many minutes that I could have spent covering rooms, the drawings commenced.
If Don Childers (left) is smiling in this photo, it's because Quentin Bernard (center) is about to hand him his prize, a Devialet 120 ($6495), as John Bevier (right) of Devialet's North American distributor, Audio Plus Services, closes his eyes. After the prizes were awarded, it was time to head back to the trenches.
The bass of the Pearl Evolution Ballerina 401/8 DPG open-baffle loudspeakers ($17,000/pair with passive subwoofers) has been enhanced since I first encountered them at T.H.E. Show Las Vegas. Music rather than the English language being this company's strong suit, I'm not too clear on the associated gear other than Marantz monoblocks and, judging from the sign, Musical Cable. Regardless, these fabulous looking loudspeakers, whose shape intentionally resembles a cello, produced nice life on top, fairly good bass in such an untreated room, and a really lovely balance. Perhaps the bass had a slightly different quality than sounds higher up, but it was still very fine.
Inspired by the speaker's design, it seemed appropriate to audition a track from my Yarlung CD of Antonio Lysy playing cello at the Broad. The sound was exceedingly clear and warm, as in luscious. Here's hoping these speakers find adequate distribution in the United States.
Having heard Pass Labs top-of-the-line Xs electronics sound fabulous at several shows, I greatly anticipated their pairing with a Walker Audio front end and Raidho loudspeakers. Alas, on the fabled Witches Brew recording that, like Take 5, will follow many an audiophile to their grave, excessive bass booming obscured air and dimensionality.
As I learned from a post-show exchange with Carl Marchisotto of Nola, who struggled and struggled with bass issues in his similar-sized room until he found the best compromise by turning his system 90°, the room was simply too small to allow this system (and many others) to bloom. I'm sure the fault did not lie with the excellent components: Raidho Acoustics "Diamond Series" D-3 loudspeakers in walnut burl, the superb Pass Labs Xs300 monoblocks, Walker Audio Black Diamond 5 turntable with Walker Audio phono stage and Sound Smith Hyperion cartridge, and Silent Source Audio cable for everything including phono cable and power.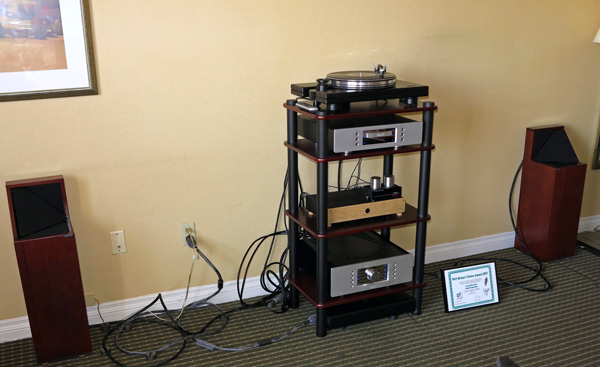 Thanks to Michael Vamos' Audio Skies of Los Angeles, the intriguingly designed, diminutive Larsen 8 ortho-acoustic loudspeakers ($6995/pair), which are intended for placement against a wall, delivered really fine spatiality and lovely sound. Credit is also due a Pear Audio Blue front end (turntable, arm, phono stage), Ortofon and GamuT electronics, and Anzus power conditioner and cabling.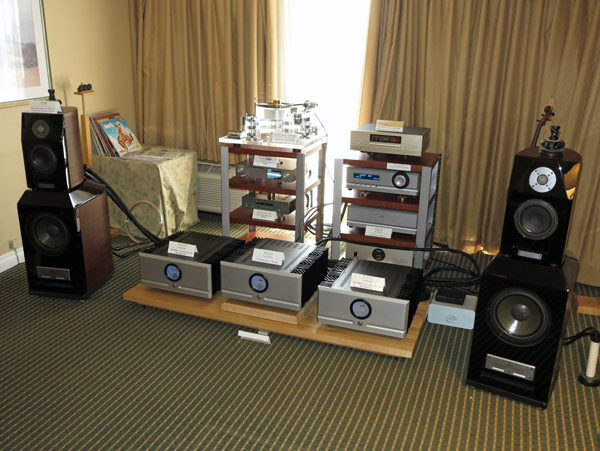 In room 603, Fred Kat of Katli Audio Company in Chino Hills paired Usher Audio Xtower 3-way loudspeakers ($12,950/pair) with the Pass Labs XA 100.8 monoblocks ($19,300/pair) driving their tweeters and midrange and a Pass Labs X-250.8 stereo amp ($9600) for the woofers. The rest of the system included Pass Labs' flagship XS preamp ($38,000), an Accuphase DP-550 SA-CD player ($17,500), Transrotor/Triplanar analog set-up, Tara Labs cabling, and other goodies.
After discovering that the system sounded much better from a second row seat than from front-row center, I found bass control extremely impressive for such big speakers sandwiched into a small room. Despite a lack of brilliance on top, the system sounded extremely spacious and musical.
Brian Ackerman's Aaudio Imports of Parker, CO showcased a system that paired the North American debut of BMC's Purevox loudspeakers ($6490/pair) with BMC's CS2 stereo integrated amplifier ($8390), BDCD1.1 belt-drive CD player ($5990), and DAC1 24/192 DAC/preamp ($6290). In a system that also used HB Cable Design's PowerSlave Marble power distributor ($8995) and cabling from Stage III Concepts and Thales, a fine three-dimensional presentation helped compensate a dark top and room-related bass problems. "The room was really reflective so we had to damp it," Brian told me.
AudioEngine unveiled its B1 Bluetooth receiver ($169). The unit transmits 16-bit audio, and will probably pair really well with the due-in-six-week AudioEngine 24-bit upsampling DAC.
Abetted by Stein Music's Harmonizer System ($3995), pictured in the room corners in its new white enclosures, the room assembled by Peter Selesnick of Venice Audio sounded quite wonderful. I loved the great big midrange of the Harbeth 30.1 loudspeakers in Rosewood ($6390/pair), which thanks to Naim Audio's SuperNait 2 integrated amplifier and phono stage with HiCap DR power supply ($11,250 total) and UnitiServer/hard disc player with NDS network player and 555PS DR power supply ($25,800 total), also conveyed top-end bite and grit.
A special treat was a 16/44.1 track of Seu Jorge & Almaz's "Everybody Loves the Sunshine." An LP of young and fresh-sounding soprano Jessye Norman fared less well, with the midrange predominating and top a little wiry through a Well Tempered Lab Amadeus GTA Mk.2 turntable/tonearm w/DPS power supply and EMT TSD14 MC cartridge ($6200 total).
In the room sponsored by Walter Swanborn's FidelisAV of New Hampshire, Tchaikovsky's Violin Concerto sounded very live and open on top, albeit a little wiry, on a DSD recording Anne Sophie Mutter performing the finale with the Berlin Philharmonic. Vocalist Dawn Langstroth, on the other hand, sounded exceedingly smooth in 24/96. I'm more than a bit confused by an equipment list that only partially corresponds to what's pictured, but I'm pretty sure I heard Wilson-Benesch's Square Series Three loudspeakers ($8995/pair), Bricasti's M1 DSD-capable, fully differential DAC ($8995) and Bricasti's new M28 monoblock amplifiers ($14,995 each).