I've posted here before about the marked improvements you can make by putting your gear on a partially inflated inner tube, and Jan Vigne has posted some great advice about using squash balls and QuikCaps as well. Barry Diament of Soundkeeper Recordings and Barry Diament Audio has been recommending something similar for quite a while now on Steve Hoffman forums. Barry has been a proponent of inner tubes for quite a while as well as recommending using them in combination with "roller blocks" (in fact, I posted my roller block TT setup here a while ago, based on Barry's guidelines). Well, while I've had my TT's in this type of set up for a quite while, and now, it was time to get the preamp and amp set up this way as well.
My C-J PV12 pre now sits on three homemade roller blocks (glass marbles and concave furniture cups) which sits on top of a plywood board which rests on a 16" inner tube inflated just enough to keep the board off the audio shelf.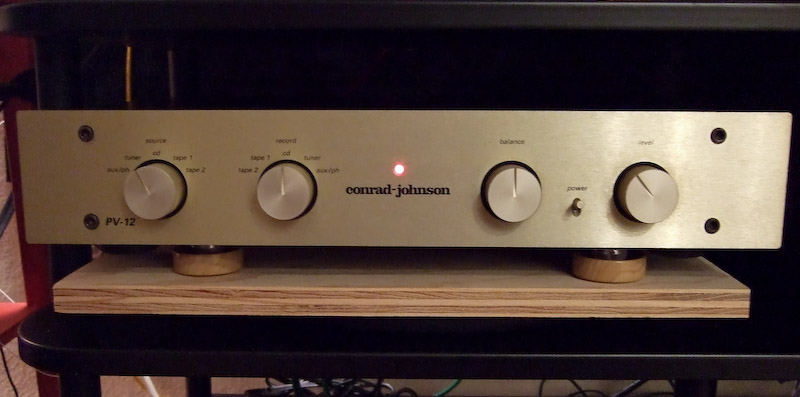 The inner tube is in the gap between the board and the audio shelf. You can see the blocks and marbles under the preamp.
The C-J Premier 11A sits on roller blocks which sit on a plywood board which rests on an inner tube. As the Premier 11A is quite heavy at the back, I took a page from Jan's book and put some squash balls under the back of the plywood board to help support the weight of this 55 lb amp, most of which sits at the rear of the chassis.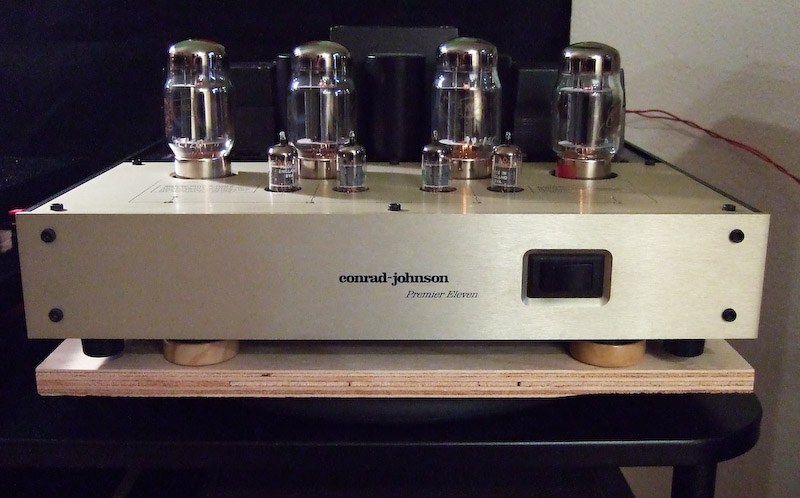 All components now move vertically when pressed and "roll" to a stop when pushed from the side.
All I can say is that the system sounds fantastic.
Those of you that don't have some or all of your gear at least resting on inner tubes if at all practicable, you haven't heard what your system is really capable of. These are tweaks that you will never see recommended by high end audio stores because, well, they can't make any money off them. But the roller bearing/inner tube approach does work, and it works really, really well. The improvements are not subtle. You don't need to spend a ton of money on $6000 carbon fibre grand prix audio racks, finite element-designed stands, or little myrtle wood blocks with stamps of high-end vendors on them to get obtain significant improvements. All you need are some inner tubes, some plywood boards, and some furntiture cups and 25 mm marbles or steel ball bearings. And they are cheap. Three 16" inner tubes will cost you $18, three 4-packs of Shepherd Pro furniture cups will cost $22, and a dozen 25 mm marbles costs about $3 from a toy store. This is enough for three components, e.g. TT, pre and amp. I paid $9 to have three 18 X 14" 3/4 inch plywood boards cut from lumber yard scrap pieces.
To take things further, I now have my speakers resting on roller blocks. Per Barry's recommendation, I have each floorstander resting on a 12"X12" marble floor tile which rests on three roller blocks. The smooth side of the marble rests right on the marbles, so the speaker is isolated from rotational or horizontal seismic resonances. Speakers need isolation, too, and this approach works really well for improving the performance of your speakers.
The improvements you will get from using these items this way will flat smoke just about every other approach including 4" maple boards and brass footers, expensive carbon fibre trick stands, $400 cones, spikes, isolation pods, etc. Improvements noted are notably better air, sparkle, transparency, openness, imaging, soundstanding and most importantly, naturalness and musicality, not to mention bass improvements.
Everytime I have tried resting components on something other than some sort of seismic filter like inner tubes (or Jan's squash ball/QuikCaps), I always go back to inner tubes because it quite unequivocally sounds better. It sounds even better when using the inner tube/roller blocks in combination.
__________________